Some days, like today, it seems totally pointless to try to say anything substantive about a film like Iron Man 3.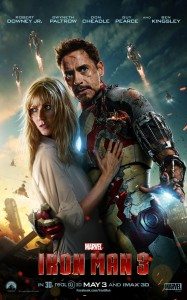 The world is a vastly complex place. Over an almost indistinguishably small portion of it, colors, light, and sound unspool in such a way so that humans with working sensory organs can observe and join in the common fantasy of Robert Downey Jr. continuing the anti-heroic escapades of Iron Man.
Of what importance is this? Well, you're reading and I'm writing, so I suppose the only coherent answer is, "some." I am reminded of the great Harlan Ellison's review of Star Trek III: The Search for Spock in which he writes "Both the most and the least a responsible film critic can say is that the third Star Trek movie is out, and Trek fans will love it."
I find myself in much the same position here. Not because I didn't enjoy Iron Man 3, or because Iron Man 3 wasn't good (it was), or because there isn't a lot to enjoy in the script, the performances, and the set pieces, but because the minutia of these things is less important to investigate than which of three dipping sauces you'll opt to dunk your fries in.
I suppose I am in a philosophically dark mood. I will try to hoist my pantaloons though and share, if not what I should, than at least what I can.
You are aware of Iron Man or god knows what you've been doing with your life. Teaching children English, perhaps? In this third installment of the well-received saga, familiar characters behave in comfortingly familiar ways, and yet they grow in ways that are unexpected and occasionally refreshing. Robert Downey Jr. is among the current Hollywood pantheon's greats when it comes to performing snappy patter and he finds a deft doubles partner in Shane Black. If what you seek is a chance to snap a Z and say sotto voce (as you're in the theater) "oh no you didn't", then yes, he does and he did in Iron Man 3.
We're not talking leaden, Schwarzenegger word droppings like, "I'll be back," but lines of dialogue that are exfoliatingly sharp. This is surprising and occasionally even shocking, particularly in a piece of mass-market entertainment.
The bulk of the film is bits of computer effects swirling violently around other bits of computer effects, like a Jackson Pollack painting strapped to the nose of a V-2 rocket aimed at your uvula. You either have an appreciation for such things or your don't. I most often find an overwhelming amount of CGI to approach zero on the axis of meaning. That is the case in this film. I do not recall feeling especially moved or unmoved by any particular computer generated action sequence in Iron Man 3; they simply were.
Although the college girls behind us gasped mightily whenever anything on screen moved, or spoke, or changed hue. Some found this irritating but it only made me miss the days when I could get so emotionally engaged in pure fantasy. As it is, in my dark philosophical mood, I remained distant but amiable towards the projected events.
The most and the least a guy can say is that Iron Man 3 will satisfy those that saw the first two and wanted a third. Asking whether it is better or worse than the others is like asking if the water is any wetter over by where you live.
Does it matter? This water is plenty wet.
I found a lot to enjoy in the production and more to reluctantly accept as standard, like the requirement to sit through 12 minutes of third-unit production driver credits and a listing of the staff of Marvel Studios to see a post-credits tag. Whose idea was this gimmick, anyway? Can we shoot him or her? What is the point?
Certainly producers don't think anyone who doesn't personally know someone in the lower 9/10ths of the credits scrawl is doing anything but looking for funny names to mock? And those that know they know someone included already know they're included. Can't we just say, "A whole lot of talented people worked on this production. For their paid assistance, we are grateful. Please find a list of everyone involved online at your convenience" and leave it at that? Who would suffer?
For the love of humanity, people, enough is enough. We aren't molly-coddled 1st graders. Everyone doesn't need an award for participation: that's called your fucking salary.
As to the specifics of the plot of Iron Man 3, I do think Shane Black did an admirable job of blending novelty with the unalterable pillars of the genre. I could tell you what the premise of the film is and how elements of it worked while others did not, but you don't want to know. Either you've been reading the blogs and the press and the comic books and know all about the Mandarin (Ben Kingsley, having a grand time) and Guy Pierce, and Gwyneth Paltrow, and Jon Favereau, and Don Cheadle, and the undersold Paul Bettany (as Jarvis), or you'll find out.
There are many on the internets who will discuss the intricacies of Blacks' writing style with you. They are right and just to do so.
As for me, this is all I find I can say: Iron Man 3 is a job well done for a job that may not have needed doing.
In the beginning of the film, Tony Stark says something along the lines of "I don't know what I should do; I just know what I can do." That pretty much sums it up. Should you go see Iron Man 3? I don't know. I just know that you can.