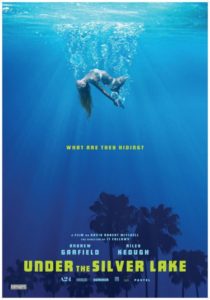 For the first hour of Under the Silver Lake, a feckless layabout, Sam (Andrew Garfield), lurks in his apartment, wanders around town, and has desultory sex with an acquaintance, all the while attempting, in vague, half-assed fashion, to learn what happened to an attractive neighbor, Sarah (Riley Keough), he spent a lone stoned evening with.
So far as he knows, what happened to her is that the morning after, she'd vanished, along with almost everything in her apartment.
He spies a different woman returning to the abandoned apartment to fetch a forgotten box. He follows her. One thing leads to another, in investigative neo-noir fashion, or at any rate in L.A. based neo-stoner-noir fasion, ala Altman's The Long Goodbye, the Coens' The Big Lebowski, and Anderson's Inherent Vice, and our tripped-out hero finds himself deep inside a mystery.
The difference here is that the stoned meanderings of The Long Goodbye and Inherent Vice are set in the hippie era, and The Big Lebowski in the those distant, carefree days of the '90s. Under the Silver Lake is very much set in the millennial era, or whichever era we're in now. Post-millennial? Are we there yet? Do we care? Does Sam?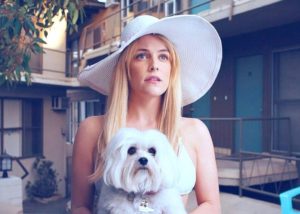 Sam cares. He cares in the way someone cares who has no reason to care. He cares like a man who, directionless and purposeless, has found a direction and a purpose. Not because it makes any sense; it doesn't make any sense. But without it, he'd be lost. He needs a purpose, this is it, and there he goes, leaping into one rabbit hole after another.
Signs abound. Signs equally compelling and incomprehensible. Sarah was mixed up with, maybe, among other people, a group of call girls who've had at least one movie/TV appearance, cult band Jesus and the Brides of Dracula, a pirate, and L.A. impressario and world famous billionaire Jefferson Sevence, who recently burned to death in a fiery car crash.
Then there's the underground comic book, Under the Silver Lake, that details unsolved murders and urban legends in the Silver Lake area. Sam tracks down its author (the marvelous Patrick Fischler), who fears he's being hunted by the fabled Owl Woman and is certain a map he found on a cereal box, once deciphered, will reveal the answers. Which answers? You know—the answers.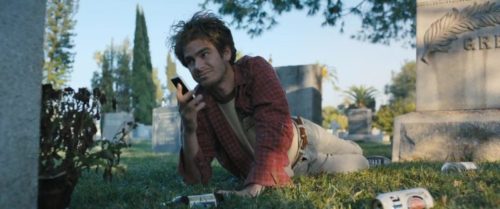 At this point, an hour or so into Under the Silver Lake, my impression was that here was a movie in which endless mysterious threads twist and turn, knot and fray, and, eventually, go nowhere. That this would be a classic tale of mysteries never solved, of the unknowable never known, of a man consumed by conspiracy only to find that the answer is that there is no answer. There is only the question.
And it is that. In one way. In another, it's exactly not that. Which I realized once Sam, after deciphering the numerological clues in the lyrics of a Jesus and the Brides of Dracula song, goes to Griffith park, rubs James Dean's head, sits under the statue of Isaac Newton, and meets the Homeless King, who leads him into the secret tunnels below Los Angeles.
It is there, or perhaps some short while after there (this movie exists in a cloud of pot smoke), that Sam meets the Songwriter, he who has written every hit song you've ever heard, who delivers the kind of god-like, explanatory oration one almost expects in a movie like this, but whose purpose, dramatically speaking, and whose oration, thematically speaking, are, to put it mildly, opaque. Fun scene, though.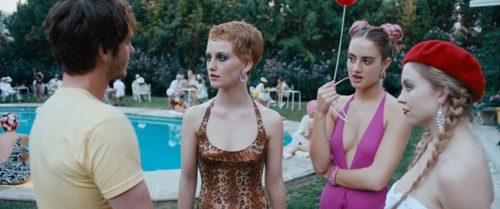 Under the Silver Lake is full of fun scenes. It's probably too long at two hours twenty minutes, but it's not boring. Its oddness propels it, as does Garfield's performance as a man who's almost got a handle on everything without ever having a handle on anything. By the end, it's the kind of movie where both too much and too little has been explained. Sam finds out what happened to Sarah, and though her fate is a strange one, it's not, in a way, strange enough, given what else transpires.
The rest of the movie is so defiantly unexplained, one wonders what to make of it. Much or little, I suppose. Is it a statement on women in L.A.? The women are drained of life, wishing for a stardom never realized, used by powerful men, vacant. Or is it a statement about conspiracies? The idea that everything is tied together, if only we could see the strings? And we can't see the strings, or else we can, but won't know what they mean when we do? Or is it a statement on the violence simmering below the stoned slacker surface? Chill as Sam is, it's surprising when, three times in the movie, he explodes. The first time is a little intense, a little unusual, why is this burnout beating up a kid vandalizing cars? The second is more shocking, when he needlessly roughs up Jesus. The third, when he makes unexpected use of Kurt Cobain's guitar, is way over the top.
Sam's violent streak leads one to wonder at film's end—is he the killer of dogs everyone in Silver Lake is worried about? The Homeless King suspects him. So do I. But it's only a feeling. If it were true, what would it mean? That I don't know.
I like to think writer/director David Robert Mitchell knows. But I could be barking up the wrong tree here. Everything a clue to learning nothing about anything is what drives Under the Silver Lake, for good or ill. I enjoyed it for its unique and loopy weirdness, more so than Mitchell's more controlled previous film, It Follows, another movie with plenty of creativity and smarts that doesn't quite add up. Its hallucinogenic, meandering vibe won't suit everyone, but if you need some anti-superhero film viewing, it's just about right.