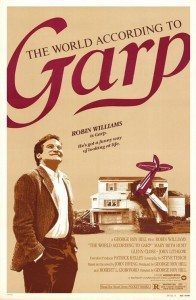 Remembering Robin Williams recently, I remembered how much I loved The World According To Garp ('82) when it came out. I was eleven, but still managed to see it in the theater, and often on video after that. Clearly the slightly twisted sexual content made an impact, so much so that when I watched Garp last night for the first time since the '80s, I was surprised not to see the scene where Glenn Close, as Garp's mother, Jenny, climbs atop the almost but not quite comatose Technical Sergeant Garp at the army hospital and gets herself pregnant. Seems this notion left such an impression I made up the scene in my head.
I also remember, years later, in college or shortly thereafter, reading John Irving's novel for the first time, and it striking me as hollow, as though he'd created these impressive 3D outlines of people, but never figured out how to fill them in.
Watching the movie again, this is exactly how I felt about it: it's empty. It's reasonably interesting, with notably strong performances from Close and John Lithgow and Williams, but it's entirely unaffecting. I felt like I was being kept on the outside of these characters until finally I realized they had no insides. As Garp, Williams captures the rage seething beneath his cheery face, yet I never believed him as a person, and certainly not as a writer.
All of the characters are more types than they are people. And the women, yikes. Irving must have some serious issues. There's the controlling mother who lives her life to preach against sexuality. The cold, cerebral wife, who we only see behaving sexually when engaging in an affair, which affair ends when she bites off the cock she's blowing, essentially as a direct result of Garp's anger. Is Garp similarly punished for his dalliance with the baby-sitter? Nope.
Cushie is Garp's neighbor growing up. Even as a little girl, she's interested in nothing but sex. In college, she seduces Garp. Another girl from his childhood, Pooh, watches them in a terribly unlikely, contrived scene, made even more so when Helen, Garp's future wife and current love interest, walks by and Pooh waves her over to take a peek.
Speaking of Pooh, she's the one who shoots Garp dead at the end, because, you know, he's such a man, and to women, all men are evil, lustful monsters.
The three women shown in a positive light are a prostitute, John Lithgow as the transsexual, Roberta, and Ellen, who appears in a brief scene at the end. She's the one who, as a little girl, was raped and had her tongue cut out, inspiring a society of angry women to cut off their own tongues in solidarity. Garp writes a book condemning them, and Ellen gives him her unspoken thanks.
So to sum up, in Irving's world good women are exceptionally manly, mute whores. Interesting. One has to wonder if Irving's penis was stolen early in life. Maybe he never got over it?
Garp's scenes feel half-written. He has no friends outside of Roberta. He seems to write sometimes, but has no other activities of note. Who is this guy? Visiting a house for sale with his wife, a small plane crashes into it—and Garp insists they buy it, because what are the odds it'll be hit again? Ha ha! It's a giant metaphor played as a joke, which kind of sums up the movie.
In a sense, the whole movie is structed as a series of jokes. There's a set-up scene, then a matching pay-off scene later on. Some pay-offs are comic, some are tragic. Every scene with Garp's youngest son, Walt, is a set-up about death. It's all Walt talks about. His brother's skeleton costume appears at portentious moments throughout. Playing at knights and dragons, Walt begs to be killed. Is it a surprise when Walt dies in the above-mentioned cock-chomping car crash? Is it not supposed to be?
It's a clockwork movie. Pieces are put into place, then moved around in a simulacrum of life. Early in the movie, when Garp's mother, Jenny, first becomes famous, a crazy man in a tree tries to shoot her dead. He misses. At the end of the movie, another man shoots her and succeeds. The circle of life is completed.
Why is Garp shot at the end by Pooh? I don't know. Because women are evil? I think? I think it's because women are evil and Garp made the mistake of lusting after them. Or maybe of not lusting after Pooh? Is it because Garp never made a play for her? Are sexless women evil shrews out to destroy the men who've ignored them? Am I reading too much into this movie?
Garp dies flying in a helicopter because he always wanted to fly an airplane, even though he never learned to fly a plane, which is weird for a little kid obsessed with flying planes.
Egads. I seem to have become more annoyed with this movie the more I write about it. To be fair, it's mostly diverting. It's written by Steve Tesich, who wrote one of my favorite movies of all time, Breaking Away, though that was an orginal script. I blame Garp's shortcomings on Irving.
The great George Roy Hill directed it, great because he made Butch Cassidy And The Sundance Kid ('69) and The Sting ('73), and Garp shows off his low-key style. And when Walt dies, he does it just like Butch and Sundance, with a slow push-in on a freeze-frame, with only the sound playing on. I preferred it the first time.
Hill earlier directed another literary adaptation, Kurt Vonnegut's Slaughterhouse Five ('72), which is better only insofar as Vonnegut is a much better writer than Irving, giving Hill more compelling source material to work with. But it too suffers from a central character who never quite feels real.
So, another lesson in the dangers of revisiting beloved movies from one's childhood. The World According To Garp isn't a bad movie, but only so long as you're, say, 12 or so. It's a perfect eye-opener for tweens eager to dwell on the sex and horror awaiting them in adulthood. For adults wanting to remember Robin Williams, stick with The Fisher King.