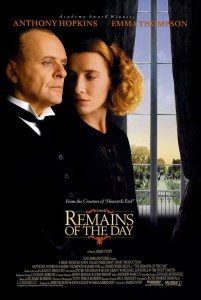 I remembered The Remains of The Day, the movie, which I saw once, when it opened back in '93, as being a powerful, subtle, beautifully acted, emotionally subdued tale of an aging butler's wasted life. I remember liking it a lot. I think I never read the book because how different could it be? It's a small, highly contained story about a butler. Surely, I imagined, if any movie captured the essence of its source material, it must be this stately Merchant-Ivory production.
I read many other Ishiguro novels over the years (The Unconsoled is the weirdest and best; highly recommended to any serious readers out there) and always loved his writing if not the stories (Never Let Me Go didn't click for me the way it did for many, the movie version even less so), yet the one many claimed was his masterpiece I never got around to.
Until I did. I read The Remains of The Day recently, and holy hell is that a powerful novel. Subdued in the extreme, but ultimately as sad as anything I've ever read. It's narrated by Stevens, the butler, in his carefully controlled voice. He allows little emotion to affect him. But what emotion creeps in reveals a great gulf of barely acknowledged grief.
When the story begins in the mid '50s, Stevens's longtime employer, Lord Darlington, has been dead some years, his mansion bought by an American. Stevens stays on–a part of the package–with a staff of only four working under him. Not like the old days, in the years between the two great wars, when Darlington Hall saw world leaders and other men of great political influence meeting under its roof to decide the fate of the world.
Stevens receives a letter from one-time Darlington Hall housekeeper, Miss Kenton, implying, or so Stevens wishes to infer, that her marriage is ending and that she might like to return to her old job. So, offered use of the fancy old Ford by his American employer, Stevens takes a rare trip from the Hall to visit Miss Kenton.
Now, Stevens isn't about to admit to we the readers that he ever loved Miss Kenton and wished it was he who'd married her, nor that his trip is being taken in the hope of starting a late-in-life romance. He's not about to admit it to himself, either. But we come to understand that this is what's driving him, even if he never does, not fully, not in a way he's willing to consciously acknowledge. He's tightly wound, Stevens is.
During his trip, he relates stories of his past experiences as Darlington Hall, those with Miss Kenton, and those concerning Lord Darlington's efforts to maintain a post-WWI peace by making nice with the Germans. Most of all, Stevens ponders what it means to be a truly great butler. A great butler, he concludes, may be defined by his dignity. Dignity. What is dignity? It is being cool under pressure. It is being a butler, from the inside out. A great butler doesn't see butlering (butlery?) as a job. It is a state of being. The only a time a great butler may allow what's inside of himself to come out is when he's alone. In the presence of others, he must maintain absolute control.
Furthermore, a great butler must devote himself to a great house. And once devoted, he must not ever sway in his devotion.
As the novel progresses, we come to understand the extent to which the good-hearted Lord Darlington was played by the Nazis as their most important British pawn pre-WWII.
Stevens comes to terms with this sad fact—that he served a duped Nazi-sympathizer—as much as he comes to terms with his long suppressed feelings for Miss Kenton. That is to say, barely at all. But enough for us to see the sadness within him. He is such a lonely man. At least he was a great butler. At least he has dignity. To question his years of service would be to question his very identity.
Reading the book I couldn't help but picture Anthony Hopkins as Stevens. I assumed the movie captured Stevens's subtlety of character, no matter how the story itself was altered. It's the soul of the source material one wants to be loyal to. Getting hung up on creating an exact adaptation is pointless and detrimental. Movies function very differently than books.
But some adaptations make one wonder. If that isn't part of your movie, one asks of the book's very reason for being, why bother adapting it at all?
Which is perhaps a bit harsh when applied to The Remains of The Day. It is, after all, a much lauded movie. And watching it again, there's much to appreciate. The final scene, one not in the book, is perhaps the movie's most moving. A bird flies into a parlour. Stevens chases it, grabs it, and releases it out the window. He closes the window, locks it, and disappears inside Darlington Hall. Trapped. Forever.
Yet despite its strong performances, stately direction, and thoughtful compositions, the rest of the movie, aside from a handful of powerful scenes, didn't do much for me. I was surprised at how much it deviated from what seemed to me the core of the novel: the character of Stevens.
Anthony Hopkins is an incredible actor. His Stevens is a finely tuned creation. But he is surprisingly emotional. In his every interaction with Lord Darlington, Miss Kenton, and anyone else, his emotional turmoil boils beneath his not quite calm exterior. He is a picture of torment. Subdued, British torment, but obvious torment just the same. His trip to see Miss Kenton is about one thing only: romance. He knows it, wants it, openly talks of it to strangers, is hugely disappointed when it's not to be.
What happened to the dignity of the butler? To being nothing but a butler when in the presence of others? The Stevens of the film is a man about to burst in every scene.
I know. It's a movie. You have to communicate inner turmoil somehow. If Stevens showed nothing, we'd never understand his true self. And yet… So much of the book's power comes from the fact that not even Stevens understands his true self, or indeed whether there's a true self left to understand. The movie version tells us he knows exactly what's going on, and is fighting tooth and nail against it. I wonder what the effect would have been if only in his private moments did we see the cracks in his façade.
Beyond that, the adaptation, written by Ruth Prawer Jhabvala, suffers in the way almost every book-to-screen transformation does. The story feels attenuated, glossed over, presented quickly in order to squeeze in as many scenes as possible, without taking the time to dwell on the most significant ones.
The sequence during which Stevens's father dies, in the midst of an important gathering, is the highlight of the book. It's devastating. The movie version undercuts the intensity by allowing us to see the emotional turmoil bubbling up beneath Stevens's not-so-very calm exterior. Again, I wonder if keeping that emotion tamped down until Stevens found himself alone wouldn't have had a greater impact. In the book, Stevens relates the story of his father's death during this momentous dinner as his proudest moment, the moment when he became a great butler.
His own father's death! And he kept his emotions under wraps while performing at the height of his abilities. This is what he sees as dignity. There's a sadness here of a depth rarely encountered.
Perhaps the scene most effectively conveyed in the movie is the one in which Miss Kenton (played by Emma Thompson), coming to Stevens in his private room, asks to see the book he's reading. He backs away from her, holds the book to his chest. Is it shocking in some way? She comes still closer. Prises it from his fingers. But it's only a melodrama, not shocking at all. This is, strangely, the most romantic moment they have together. It's as powerful in the movie as in the book.
The end of the movie attempts to heighten Stevens's emotional loss by making another change, a predictable one, but one that I think lessens the sadness. In the novel, after Stevens parts with Miss Kenton, he sits alone on a bench on a dock, watching the evening lights flicker to life, marveling at the people around him applauding. A stranger on the bench beside him says it's because the evening is the best part of the day. One should enjoy the remains of the day, he adds. Is it too late for Stevens? He's lost Miss Kenton. He lost her long ago. He devoted his life to a man whose foolishness aided Hitler. And now? Now he has nothing but a mostly empty mansion to return to, where he will spend the rest of his life. He thinks to himself he needs to practice his bantering. Americans like to banter. If that's what his employer needs of him, it's something he'll have to work on.
In the movie, it's hardly a surprise that it's Miss Kenton he sits beside on the bench, and Miss Kenton who says that evening is the best part of the day. Not so lonely when your lost love is beside you.
I've no doubt I would've enjoyed the movie more had I not just read the book. Always thus. How many times must I learn this lesson to remember it? In this case, I did it for science. I did it for you! Don't make my mistake. Pick one or the other, and stick to it.