While it pains me greatly to say so, Looper was vastly disappointing.
One of the things that I'd really come to love about Rian Johnson's writing and directing through our Looper Prep sessions was his ability to deal with complicated subject matter without getting lost in the weeds. Looper, however, was all weeds.
At one point in the film, Bruce Willis' older version of hitman Joe tells the younger version, played by Joseph Gordon-Levitt, that he can't go into the details of the time travel stuff "or we'll be here all day, making diagrams with straws."
Well goddamn it, somebody should have. The time travel in Looper is utter garbage. It makes no sense on any level. I tried to overlook it for as long as I could, but the sad fact is that story didn't engage me enough to suspend my disbelief. That's not to say it was a terrible movie, or without merit, just that it was pedestrian at best. Of Johnson's three features, I liked Looper the least by a wide margin.
Stylistically, the look kept me at a remove. Whether actual or digital, the alterations to JGL's face to make him more resemble Willis were off-putting and odd. Characters came and went, largely without involving me. Worst off, I cannot even begin to start listing the holes in the film's logic.
Even granting that time travel makes no sense in the first place, and forgiving the dismal, inconsistent, totally irrational treatment of it in this film—basic level plot pieces didn't fit together. Why anyone did anything remains a near total mystery to me.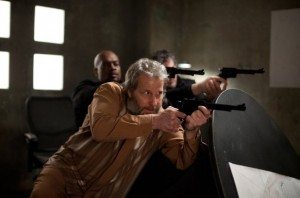 I will give you one, barely spoilery example. The entire premise hinges on the idea that "loopers" are hitmen who kill victims sent back in time from the future. They do this because killing people in the future is difficult (for reasons that also make no sense). The looper, when he grows to reach the age when time travel exists (or something similarly vague), is sent back in time so he can kill himself. This is called closing the loop. No loose ends, or something.
Here's the thing, though:
Why, I ask you, would you, if you were a mafioso, ask someone to kill an older version of themselves? Would it not be vastly easier to send the old version to ANYONE ELSE IN THE ENTIRE FUCKING UNIVERSE and have them pull the trigger? Well, gee! Yes! I guess that would make sense!
But no. On we go into a world in which things happen because there's some hidden emotional message to the tale that must be dragged free through these plot pretzels, whether or not they make a lick of sense (which they don't). They compound and compound until one is left scratching clear through one's own head.
And the emotional message, when it comes, hardly justifies the trip.
Now, I haven't read any other reviews, as I wanted to see this film fresh. But I have seen lots of positive and even glowing headlines talking about the characters and Rian Johnson's fresh take on sci-fi. I'm just going to assume I disagree with those folks. I cannot, in good conscience, tell you to see Looper.
But man, do I wish I could.
I will say that Jeff Daniels is quite good and that the standout, by far, is the performance given by Pierce Gagnon. His scenes were the only time when I truly felt engaged in the movie. Lifted out of my chair, as it were. There were some other fun bits. A good line here or there. When I stopped trying to make sense out of what was happening and enjoy the film, I had some mild success.
Not to speak for them, but Mrs. Genius and the Being felt the same as I when leaving the theater. Perhaps they'll add their two cents if they feel so moved.
I don't regret looking forward to Looper, or digging deep into Rian Johnson's back catalogue. I just wish he had applied some of the rigor he displayed in Brick and The Brothers Bloom to this script.
Yeah. So. Crap. What should we look forward to next? Suggestions welcome.