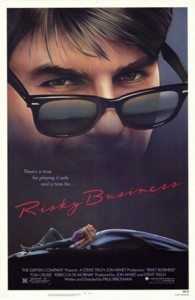 When Risky Business ended at the Castro Theater tonight, those I watched it with started talking about how Joel—Tom Cruise's character—was a lousy person. Everyone in the film, they said, was a lousy person.
I started agreeing with them, but I changed my mind. That's what I'm writing about now; why we should like these characters.
I think, really, we all really just need to learn to say, 'what the fuck' and be like Joel. And Lana. And Guido the Killer Pimp.
Risky Business is an excellent movie. It's completely surprising and compelling and unlike pretty much anything else I've ever seen. It holds up wonderfully and doesn't feel dated or tired in the slightest. I also want to give Risky Business props for pulling off what must be the most challenging trifecta of all time: It makes me think fondly of the 80s, high school, and Tom Cruise.
Here's the basic story to refresh your addled memory: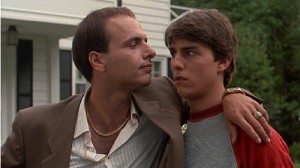 Joel's parents go away. His douchey friend played by the underrated Curtis Armstrong feeds him some bullshit about, "Sometimes you just have to say 'what the fuck.'" Joel, believably young and innocent (if privileged), ends up booking an evening with a call girl, Lana, played by Rebecca DeMornay. He lacks the funds to pay her, she swipes his mom's artsy crystal egg as collateral, they go back and forth until he's turned his home into a bordello and Guido the Killer Pimp (Joey Pants!) has somehow ended up with all the money.
Are these people lousy? Certainly Joel's friends are, for the most part. When asked, all they want to do with their lives is make money. Joel at least says he wants to help his fellow man. Lana, Joel's call-girlfriend, does check the value of pretty much everything in Joel's house when he's off at school. And one can make a convincing argument that Lana is setting Joel up from the start.
That, from the first time she sets foot in his house, Lana's planning to rip Joel off, working in cahoots with Guido.
And Joel. He gets himself suspended. Fails two midterms. Drowns his dad's Porsche. And then he turns his suburban Glencoe home into a house of ill repute while simultaneously interviewing to get into Princeton.
But, in the end, I like them both. I like them all. I even like Guido the Killer Pimp and I'll explain why.
Because sometimes you just have to say, 'What the fuck.'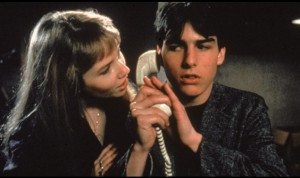 Joel isn't a bad guy. Sure, he's privileged and protected and naive. But what does he do? He does the best he can with the situations he's presented with. He does some questionable things, like betraying his overbearing parents' trust, but he isn't mean hearted. He doesn't hurt anyone. He says 'what the fuck' and loses his virginity to Rebecca DeMornay—something I'm certainly not going to judge him for. He digs himself into a hole and does what he can with what's available to get out of it. He makes a bunch of money, but then he loses it all to Guido.
So all Joel ends up with is experience. Life experience. And despite all the mistakes he made—mistakes he knows he made—he gets into Princeton. Because "Princeton needs guys like Joel." What kind of guys are those? Not those that will do anything for a buck, but those who can turn shit into Shinola and come out without losing their shirt.
Lana, too, gets a bad rap. Does she intend to roll Joel from the beginning? When I left the Castro, I thought so. Now, I dont.
While it would be tidy to lay it all at Lana's feet, that's not what's in the script. She comes out to Glencoe and, when Joel lacks the cash to pay her price (exorbitant in 80s dollars, but caveat emptor) she doesn't over do it. She just takes the Stuben crystal egg. It's hardly something you'd pawn for cash, if that was her game.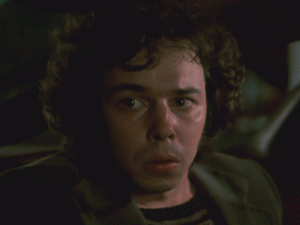 Then she escapes from Guido with Joel in the Porsche (and we get Curtis Armstrong's wonderful backseat performance). While he's off at school, she checks the value of all his parents' goods, but she doesn't take anything.
And that's important, I think. Because if she was planning on ripping off Joel with Guido from the beginning, why not do it now? The school day is plenty long enough. So at least she hasn't had the idea until this point.
But when Joel comes home from school, and Lana has one of her friends there making some cash off his other asshole friend, Joel asks them to leave and they do. Guido shows up and at that point, has Joel become the mark?
I'm dubious. I don't see a plan in action. I see people reacting to the situations in front of them.
Joel doesn't agree to Lana's brainstorm to make money off all the soft (and quick) Glencoe kids until Joel accidentally puts his dad's Porsche into Lake Michigan. You could argue that that was Lana's fault, but I'm not sure. It would be easy to drop a nod in the film that Lana sends the car into the drink on purpose—but there's no hint of that. Nothing. Joel steps on Lana's toes by reminding her of how privileged he is and how unprivileged she's been. She bails and the rest is just bad luck.
Joel gets suspended, trying to salvage the car and everything gets worse. In desperation, he turns to Lana and her plan.
So then? Then has Joel become the mark? Maybe then. Maybe then yes. Which means what?
T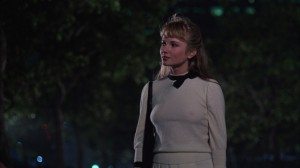 hat Lana, like Joel, is the kind of person Princeton needs. She knows how to make the best out of what life gives her. Is she really trying to get out from under Guido? Seems likely. Maybe, as she says, she still owes him money. What can she do?
I know. She can give Joel a huge cut of the money he's doing little to earn, but then she'll farm him to Guido to get herself square.
That's what I think happens. Does she like Joel? Yes. Is she using him? Yes. Does she hurt him? No. She gives him an experience no other pampered Glencoe pretty boy is likely to get and in exchange, she directs the money she earned to Guido. Because sometimes you just have to say, 'what the fuck.'
This is what life has given me and I'm going to take it.
Joel knows, too. At the end of the film, he point blank asks Lana if she conned him. When she hedges, he says he's just worried about her. She says that they're both going to be successful, and I agree. It's not because they're materialistic assholes like Joel's friends. It's because they can roll with the punches and come up intact.
I don't think that's lousy. I think that's life. That's why Risky Business is so oddly compelling: because these characters aren't masterminds of grand plans. They're just people doing what they can to get by in the fucked up, materialistic 80s.
So that's my defense of a pampered, privileged temporary pimp and a conniving, calculating call-girl. I just like Guido because, c'mon, Joey Pants!
Let's also be grateful for Bronson Pinchot and the fact that no one is talking about a feature film version of Perfect Strangers.