Before last week, I'd never been to Italy. Now, with 10 days roaming about Florence under my belt (most of that is pasta weight), I'm eager to share my new found love for the place. That's why this week's double feature is driving a Vespa, drinking a glass of Montepulciano, and looking exceptionally stylish.
You may think I'm about to drop some Fellini on you—and you'd be grateful if I did—but we're not taking that road. I'm on a more oblique path. No Bernardo Bertolucci, or Michaelangelo Antonioni, or Vittorio De Sica, or Franco Zeffirelli either; all Italian directors worth your attention. I'm resisting The Good, the Bad, and the Ugly which, of course, was shot in Italy, by an Italian director, and scored by the brilliant (and Italian) Ennio Morricone. [In case no one's clued you in, that's why they're called 'spaghetti westerns.'] I even briefly considered a Giuseppi Tornatore film, but I've already pushed his best on you, and it's in French anyway.
No. We're going to watch two Italian films that aren't Italian at all. They just make me think of Italy. And they're both excellent.
Prego. Due film doppio spettacolo pronto: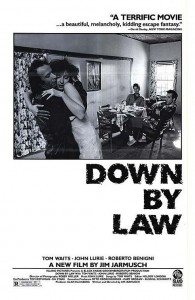 Sometimes I have to remind myself that there are poor, misguided people in this world who have not seen Down By Law. These people—far from deserving your scorn—should be offered guidance, and hot soup. Maybe a nice roast rabbit and some ice cream, too?
Down By Law is one of indie director Jim Jarmusch's best films (his best being, undoubtedly, Dead Man). It was his third film and his first that, in my correct opinion, totally kicked ass. If you randomly came across it on cable, chances are you'd flip the channel after watching ten minutes of its slow, meandering, black & white, low-budget set-up. But that would be a fatal mistake.
Down By Law starts slow, but its methodical, sure-footed change of gear is akin to plate tectonics; you don't notice it happening, but the results are undeniable and make for interesting lookouts.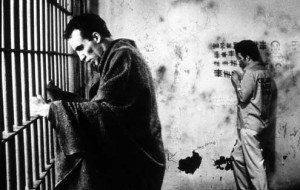 In brief, the film tells the story of three men; Jon Lurie, a pimp; Tom Waits, a disc jockey; and Roberto Benigni, an Italian who barely speaks any English. The only thing they have in common is real estate—as in they share a cell in a Louisiana prison. From there, as they say, hijinks ensue. It's a comedy, but it's the antithesis of Ace Ventura, gag-a-minute, oh-snap, pabulum.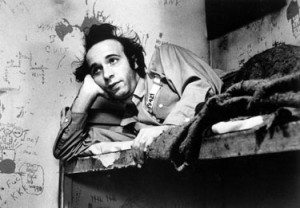 The humor in Down By Law is so gently built and gracefully developed it should be a national monument. It's weird, off-beat, vastly original, and very very very funny. Now that I think of it, that's almost exactly as I'd describe many of my best friends. No wonder I like this movie so much.
While Jon Lurie and Tom Waits are grand as lazy, sad-sack, framed semi-criminals, the show is really Benigni's. If you've only seen him in his (overrated, and tonally bizarre) Life is Beautiful or just caught his memorable Oscar acceptance speech, you owe it to yourself, to the children, and to Italy to watch Down By Law. (His segment in Jarmusch's Life on Earth is pretty awesomely good, too. Unless you're a pumpkin.)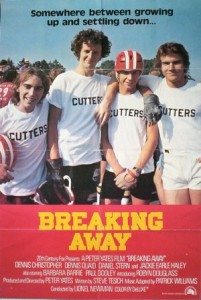 Breaking Away, if you ain't seen it, is one of the few sports films that won't make you want to puke up an entire pep squad. First off, its cast is solid with then-unknowns like Dennis Quaid (Jaws 3-D, Dreamscape), Jackie Earle Haley (hot again after his recent role as Rorschach in Watchmen), and Daniel Stern (Home Alone, City Slickers). The lead, however, is Dennis Christoper, as Dave. Why Christopher didn't get Quaid's acclaim is beyond me (and a travesty).
In the film, Dave and his friends are all "cutters." That doesn't mean they like to inflict wounds on themselves; it means they're local kids in Bloomington, Indiana—where if you aren't a high and mighty student at the state university, chances are your pop used to work at the local quarry. (Quarry, cutters. Right?) The stone from the quarry built the school, but the local kids aren't welcome there. Ain't that a kick in the teeth?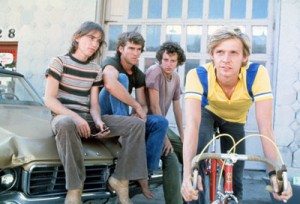 To get to the point, Dave is also obsessed with cycling, specifically the Italian bicycle team. He spends all his time on his Italian bike. He's learning Italian. He even pretends to be Italian. This may or may not be a good thing. More likely, it's some of both, as this is really a film about finding yourself.
As Dave and his friends, all recent high school graduates, try to find their paths in life, they end up butting heads with the children of privilege. If only there were some way for the cutters to prove themselves? Like, say, a bicycle race?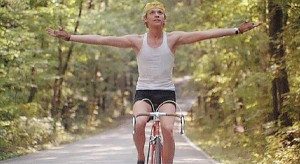 So yes. Breaking Away is an underdog sports picture, and that means you should be able to tell me how the story goes even if you haven't seen it. Unlike many of these genre films, however, the characters here are fully formed, well-acted, and totally believable. It's a sleeper of a film, funny and inspiring without being saccharine or self-important.
Director Peter Yates made a few other worthwhile films—Bullit, the Hot Rock, uh… Krull—but this one is the gem. It's also the one that's powered by an adoration of all things Italian.
It is bellissimo. And so are you. Ciao.