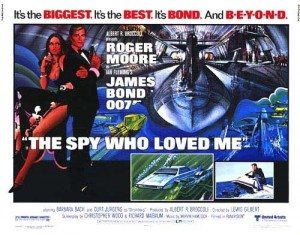 Are you kidding me? This is supposed to be Roger Moore's best outing as James Bond? The Spy Who Loved Me ('77) is not anyone's best outing as anything. To say it's glacially paced is to give glaciers a bad name. It's so slow it makes Andrei Tarkovsky look like Baz Luhrmann. There is not a single interesting moment in this entire movie. I spent the last hour thinking about how badly my toenails needed trimming. Not a good sign.
Here's the thing about James Bond movies. There are only three good ones. They are Dr. No ('62) and From Russia With Love ('63), both very good, and Goldfinger ('64), the best of them all. After that it's just a matter of which suck less than the others. As far as I'm concerned, the only aspect worth considering in every one since Goldfinger, ninety-seven at last count (give or take), is entertainment value. Which has little to do with how "good" the movie is, where "good" is some measure of quality writing/directing/acting/etc. There is rarely anything very "good" about James Bond movies (the three named above being exceptions, at least partially).
That was the point of my recent post where I matched up the latest Bond snoozefest, Skyfall, with the one often cited as the dopiest of them all, Moonraker ('79). Turns out Moonraker, while being very dopey indeed, is insanely, hilariously entertaining. It followed quickly on the heels of the hugely successful The Spy Who Loved Me, and was widely considered a joke compared to its masterful predecessor. Maybe that was the case seen at the tail end of the '70s. But now? Now Spy has aged like eggnog.
The problem is that while Spy is just as dumb as Moonraker, it makes the grave mistake of taking itself seriously. It pretends to be a real movie. It's not a real movie. It's a fucking James Bond movie starring Roger Moore. And so, imagining itself to be real, there are no abducted space shuttles, no race of superhuman sexy people, no plans to wipe out all life on Earth, no anything at all of interest. What we get instead is a semi-sexy Russian spy who teams up with Bond and travels around with him in an attempt to, well, what, exactly? To meet some people? Sort of? Because these two nuclear submarines have gone missing?
Get this: we don't hear what the bad guy's plan is until ninety minutes into this thing. Ninety fucking minutes! And what's his plan? He's going to blow up New York, thus allowing him to start a new civilization underwater. How exactly do those two things follow? Beats me. Earlier in the movie we get a glimpse of a model of his undersea utopia. It looks about as large and well-designed as your average Wyoming grade school, circa 1910.
I give up. I have no idea what draws anyone to this dud. If I'm going to watch a Roger Moore Bond movie, I want to see outer space laser battles, or at least evil Hervé Villechaize. That's right, I'd take The Man With The Golden Gun ('74) over The Spy Who Loved Me in a heartbeat. At least it's got Christopher Lee as the bad guy. And at least it's gloriously stupid!