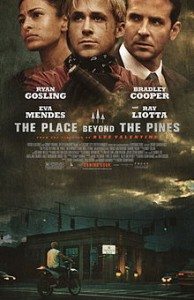 A Place Beyond the Pines is not the movie you think it is. It doesn't star the actors you think it stars, tell the story you expect it to tell, or offer the experience you signed up for.
For many of you, this will be all you want to know about A Place Beyond the Pines. It is almost impossible to say anything else about the film without revealing what the marketers of the picture have chosen to keep quiet. Whether or not breaking this confidence constitutes spoiling A Place Beyond the Pines isn't really the right question, though.
Certainly one could have a better sense of what the film is before going in without ruining it. And I'd even say knowing some of what's in store would avoid a clash of expectations.
But to those of you with sensitive eyes and delicate constitutions I say, "Turn back now." Should you read further, I'm going to say what needs saying.
There. Now that we're alone. I'll tell you.
First off, I didn't like A Place Beyond the Pines much. Partly that was due to wanting one thing and receiving another. I thought I was seeing a moody heist picture starring a tatted up Ryan Gosling. One could describe the film that way, I suppose, just as one could call The Godfather a heartwarming tale about an old man and his garden. Ryan Gosling is indeed in this movie some. More of the movie, though, has no Ryan Gosling in it. None at all. That's because A Place Beyond the Pines is a multi-part saga about fathers and sons and the cycle of blundered paternity.
One part of the film, the first part, focuses on Ryan Gosling and his bank robberies. Another part is about Bradley Cooper's police officer, Avery, and his struggle with departmental corruption. Yet another part is about Avery's son — fifteen years later — and his meathead ways. These stories all connect directly and coherently.
Had I gone to the theater to see those stories, or even if I had had some expectation that I was in for those stories, I might have wanted to watch them.
As it was, I stopped caring about anything as soon as Ryan Gosling's moto-riding bank robber left the spotlight. Gosling was good, if a bit goofy looking and screechy. He got his rage on and shared some nice screen time with Ben Mendelsohn, who caught my eye in Killing Them Softly and who gives an equally strong a performance here. There was a submerged thrum to this part of the story, carried through by score and camera, and the mood felt immediate and fragile. (and yes Fellow Traveler, the humanity, yes)
Then Bradley Cooper's rookie cop, Avery, took the fore and I was surprised. Was I supposed to care about him? How bothersome. Not that Cooper was bad; in fact he was quite a clever girl. Just, he didn't belong in the story I had come to see. I did my best to invest in him and his struggles with Ray Liotta and Rose Byrne but this story had no thrum, no hook in my heart. This story was just a story. It even felt like filler save for a single scene in a counselor's office. A cop gets sucked into corruption, there will be consequences, etcetera.
The people seated behind me started to talk. They continued to talk. I didn't tell them to be quiet because I didn't really care.
I was also uninvolved.
This isn't the first time I've had problems with a film because of pre-set expectations. I struggle with whether it's fair to let preconceptions (those set by marketers) color my impressions of a picture, but the truth is unless you avoid all pre-release material, it can't be helped. It's also fair to say that anticipation and satisfaction are valid points of reference.
When A Place Beyond the Pines jumps a generation with a "15 years later" title card we find ourselves following Avery's son, A.J. It doesn't take a genius to figure out what's going to happen next. We're going to be taught an important lesson about fathers and sons and the cycle of blundered paternity. I swear I almost walked out then. I just wanted to shake everyone on screen and shout, "Get to the point already. And tell Ryan Gosling to come back out here while you're at it."
I felt irritated that I'd been made to watch all of segment two just to ineffectively throw me off the scent of the cycle. I felt exasperated that I was going to have to watch all of segment three just to find out how exactly I was going to be told what I already knew, after school special style.
Yes, there were some nice call-backs to segment one. Yes, there was some fine acting, particularly by the two sons who led the story (Emory Cohen and Dane DeHaan) and Bradley Cooper's older, none-wiser, Avery. That's all, though. The story was leaden in its inevitability. The powerful message was both completely obvious and yet somehow hobbled by the hopeful ending.
What kind of noir has a hopeful ending?
That's it. Now you know. Perhaps realizing what A Place Beyond the Pines is before you buy a ticket will make the experience more pleasant, but I doubt it.