Well whaddya know? We have been feeding this blog film-paste and delectable bits of cinema for a whole dang year! And it's finally stopped barfing on us!
PAR-TAY!!!
We wish to take this moment to tip our hats to you, our audience, for reading and commenting and sharing. Would you like a piece of cake in celebration? Please help yourself. It's made with real cake! (Real cake not included).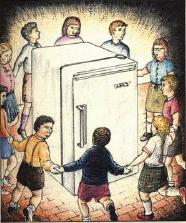 We would also like to tip our already-askew hats to ourselves for writing over 250 posts and luring in over 100,000 folks just because we care so damn much. We've written almost a full year's worth of weekly double features, some heartfelt commentary, and a number of rants. We are all atremble with joy that you've continued reading. We will now dance around the refrigerator festively.
Perhaps you've missed the year's highlights or are only now just discovering Stand By For Mind Control? You can always check out our Best Of section, which we update when the mood strikes. Or — even better — you could tell us what you think the best posts of the year have been. Which features on Stand By For Mind Control keep you coming back? What typos have been driving you crazy for months? Which photo of Nic Cage makes you feel the squirmiest?
These are things that we would be happy to know. Consider sharing your views with us in the comments in exchange for the free cake. Please help yourself. It's made with real cake! (See above re: cake reality/availability).
Here, to wax nostalgic about the year gone by, are a few of our older standout posts which you might consider taking a look at because you are really bored at work.
Thank you keeping us alive for a year. Soon we will sleep through the night and potentially throw fewer tantrums. This year we may even learn to walk. We could walk all the way to your house! Will you be home? It's okay if you're not. We'll let ourselves in.