Man, I should be getting paid for writing post titles like that! Or else put away in a very small, windowless room for the rest of my life.
What's inspired such a thing? Why, it's the preview for the upcoming Baz Luhrmann adaptation of The Great Gatsby:
So anyway, maybe it's just me, but this looks like the most bizarrely ill-conceived interpretation of F. Scott Fitzgerald imaginable by humans. Then again, I'm not entirely certain Baz Luhrmann is indeed human. He might very well be an alien from another galaxy where his movies are perceived as subtle, well-paced, and intelligent. Here on Earth, his movies make me feel as though I've been given enormous doses of LSD and speed and locked in a Toys-R-Us overnight with the equally drugged out cast of a Rocky Horror Show revival riding through the aisles on giant neon alligators.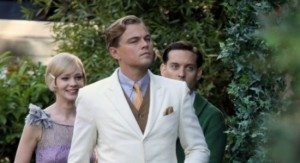 I know people gush over Moulin Rouge. And sure, I appreciate the giant musical set-pieces, in their over-the-top absurd flashiness. But then Luhrmann shoots and edits every single scene the exact same way. A scene with people talking in a bedroom? Put that fucker on hyperdrive! He does his editing in a blender set on puree. His movies have no pacing at all. The brain-raping super-speed never lets up, to the point where it's as though the movies are standing still. They're like photons of light, moving so fast they're everywhere at once, with all percepton of movement gone. Which is fine for light. If your movie reaches this point, you've got something seriously boring on your hands.
And now Gatsby's getting this treatment? I'm not the biggest fan of the book, but isn't doing a Luhrmann on it going to destroy the torpid mood of creeping ennui that permeates it? The loneliness? The sad, still, depressing absence of any animating force? What else is left? Vast, stupid parties? Car chases? Looks that way.
Also featured in this trailer, the worst cover of all time of the Turtles's "Happy Together" by a band I'm thankful never to have heard of before. My ears are actually crying right now. Or is that blood?
Okay, deep breath. It can't all be that bad, right? Let's see what other trailers are out there. Oh, what's this? A new movie by M. Night Shyamalan? NOOOOOOOOOO!