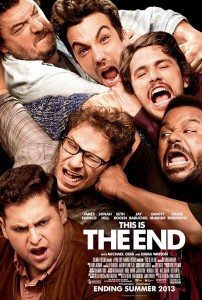 There's nothing exceptionally bad about This Is The End. There's nothing exceptionally good about it either. It's got just enough laughs to offset its thinly thought-out story, so when it ends you can hardly be upset with it. You laughed, after all. But you're not going to be leaping up and down with glee either. It's just, you know, not bad. It's okay. It's very funny sometimes, kinda funny other times, a little dull in places, and the ending sucks.
You've seen the trailer. You know what happens. A bunch of comedy actors and real-life friends play vaguely twisted versions of themselves hanging out at James Franco's house-warming party when all of a sudden the Biblical Apocalypse arrives. Most everybody dies, and the funny guys left make with the funny while outside the world burns. More or less.
As is often the case with comedies vaguely parodying other genres, it's funniest in the beginning. It opens with Seth Rogen's friend Jay Baruchel coming to visit L.A., which city he hates. They smoke a lot of weed and go to Franco's party. Baruchel is kind of a dick about the whole thing. He hates everybody, especially Jonah Hill, and so then we realize the heartwarming part of the movie is going to be all about the friendship between Seth and Jay. Can they save it? Or will Seth's L.A. friends tear them apart?
It's the kind of dramatic question that keeps me up nights.
Meanwhile, Michael Cera snorts a lot of coke at the party, and though his death scene is funny enough, you kind of wish he stuck around. He's a much funnier asshole than Danny McBride, whose shtick grows old fast. Though he makes up for it somewhat with his cannibal-lord scene later on.
Is Biblical Apocalypse even a genre? End of the world movies are, in general. So is This Is The End a parody? Sort of. Not really, though. It's more that you can imagine writer Seth Rogen and writer/director Evan Goldberg giggling and stoned imagining their friends facing the end of the world. I'm not sure why it's specifically the Apocalypse, with a giant fiery Satan showing up at the end. Maybe because Shaun of The Dead already did zombies?
The Biblical angle also allows their obnoxious characters to, I don't know, grow, I guess? Sort of? They're all whisked up to heaven the moment they act selflessly, which they do, sort of, as death stares them in the face.
Other random parodies turn up. Franco sets up his video camera from 127 Hours as a Real World style confessional, into which the characters talk now and then for reasons seemingly unrelated to comedy. When they kick out McBride, it's done Survivor-style, because of how topical "being voted off the island" jokes are. And to fill some time, they film a quick sequel to Pineapple Express that's probably funnier if you thought Pineapple Express was funny.
Heaven, of course, is what we all dream of: a never-ending MTV dance party! With the Backstreet Boys! Who I actually didn't recognize. Are they funny now? Hm. Kids these days, I tells ya. Which maybe heaven being a dance party is part of the parody? But then what's it parodying? Dance parties in heaven movies? Whether self-aware parody or not, the ending is the worst part. If you're going to graft a feel-good message of sacrifice into your absurd disaster comedy, you might at least have it mean something. Better yet, don't graft the message on to begin with. Might free you up to have a funny ending.
Remember Ghostbusters? There's a movie that took its premise all the way to the end. I feel like comedies nowadays exist solely as initial concepts, with unoriginal endings grafted on as afterthoughts.
"I don't know, have it be about friendship, and they all go up to heaven at the end," I imagine Rogen and Goldberg saying, kind of annoyed at having to come up with an ending, "And then heaven's like this awesome party, and oh, I know, Jay wishes The Backstreet Boys got back together! And they do! Hilarious! Pass me that bong."
With a bunch of selfish actors left in a burning, demon plagued world, you couldn't come up with an original, funny ending? The Stay Puft Man should be your guide, comedians. Go all the way with your concept. Be daring.
Another bummer is how very guy-centric the movie is. Emma Watson shows up briefly, then bails on the boys after she misinterprets their wacky rape conversation. "See?" they seem to be saying. "We get what's wrong with rapey conversations. We get that's why women run away. We're self-aware, so it's okay now. Right?" Uh, sure. Meanwhile, there are no women in the movie. And you feel the lack.
This review is starting to depress me. It's no fun at all writing about average movies. There's no larger cultural trend at play to yammer about. It riffs on The Exorcist and Rosemary's Baby, but it doesn't exist to poke fun at horror movies. It's not emblematic of a new kind of comedy. It does what comedies have been doing all too much of lately, letting funny guys riff around a vaguely sit-com-like feel-good plot. It exists, is what it does.
And yes, it'll make you laugh. It's not so bad a movie. In fact it's really quite average. Will you laugh enough to make it worth seeing? Hard to say. I don't regret having seen it. But having seen it, I know I'd have been just as happy having missed it.