It's hard not to like James Bond films—particularly if you are now or once were a teenage boy. James Bond has been, for 50 years, an icon of suave, seductive success.
The films this character inhabits are compendiums of action, sex, explosions, exotic locations, megalomaniac villains, stiff drinks, slinky dresses, fancy gadgets, and happy endings (both kinds). And all this excitement revolves around the one man who, just barely, manages to save the world again and again and again.
James Bond, from the pages of Ian Fleming to whichever actor incarnates the character, is pure adolescent fantasy. And I mean that in the best possible way.
At the same time—it's hard to understand precisely why we queue up for James Bond films as reliably as we do. Most of the movies, (seriously like 90% of them) are worse than an infestation of ear mites.
Dr. Evil Genius and I just re-watched Diamonds are Forever, for example, and it was practically unbearable. And that's one of the Sean Connery Bond films. I mean, I double-dog-dare you to watch one of the Timothy Dalton ones. Or to tackle Roger Moore's contribution to the franchise without several stiff drinks and a forgiving sense of humor.
But, regardless, Bond is Bond. We keep coming back to watch him escape near death, take casual sex to new heights of recklessness, match his meager supply of gadgets against the amassed armies of the criminally insane, and prevail using only his on-the-fly resourcefulness and cheek.
Skyfall, however, struck me as a different kettle of fish. Oddly enough, the first Bond film to actually focus on who James Bond might be is also the only one to get it all horribly wrong.
Skyfall looks behind the curtain, and seeing that the wizard is only a man, spoils the magic.
And this is where I will start to spoil the magic, and everything else about this latest 007 film. I'm going to reveal major plot points and tell you, as clearly as I can, why I found Skyfall perplexing and disappointing. It's not terribly scripted or directed or acted or shot (for a big-budget spy film at least); just it's not a James Bond movie.
Now, I'm not standing against the 'new Bond' that brings grit and reality and Jason Bourne-style brutality to the franchise. I loved Casino Royale. It was my favorite entry in the series since Sir Connery had Pussy Galore. I've no complaints about Daniel Craig, except that my wife may leave me for him. (If you haven't seen Craig in Layer Cake, I recommend it as a satisfying Saturday night action-thriller).
But Skyfall adds a level of reality to the character which is unneeded, unnecessary, and unhelpful. It helps us relate to him as a man, and that's the last thing we want to do.
Do not meet your heroes, a wise woman once told me. Once they are real, they can no longer be heroes, only men.
In Skyfall, Bond is thought dead. He returns from his sulky, angry holiday across the River Styx to help M (Judi Dench) stop some super-villain who's stolen a list of secret agents. So far, so good. Exotic locations, daring escapades, kinetic violence, and sex all rear their heads for a look round before we even really get going.
Bond is in rough shape, though. Back in London, he barely survives his fitness tests. He looks and sounds ornery and washed up. And that's when I first checked my Playbill. Am I in the right theater?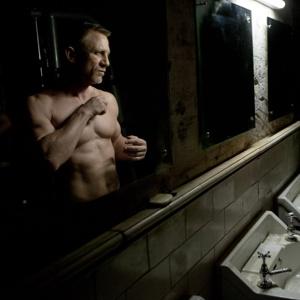 In Skyfall, Bond is not only unfit, he doesn't realize he's unfit. Isn't our hero shrewd enough to know when to fake it at the very least? He gets rattled in his psych exam. He passes on his pull-ups. He can't hit the bloody target even when he walks in closer.
And he thinks he's field ready?
Bond is irresponsibly cleared for duty and introduced to Q (Ben Whitshaw). In that scene, we get handed a bill of sale that lists Bond as old.
Old. James Bond. He's an old warship being hauled off for scrap.
Now, granted there have been 50 years of Bond films, but this is an awfully strange choice. Just two films ago, in Casino Royale, Bond earned his 00 rating. Now, after one more mission (Quantum of Solace), he's old?
When I watched the trailer, I thought bringing in a young, taunting Q would be a good move. In the context of Skyfall, however, it hurts. Bond can be older. Bond can even be old, I suppose. But only if he overcomes age as just another hurdle to his eventual heroism. And in Skyfall, he doesn't.
We'll get to that.
With Whitshaw's Q, we're given a hot-shot kid. He's a super hacker. All your base will belong to him or something. What's more; he out classes Bond. What Q does, Bond cannot now or ever.
So Bond is old. Bond can be beaten. Bond isn't fit, or mentally stable, or even particularly clever in the current milieu. Today it's all computers and Bond can't code.
What, I ask, the fuck? You wish to update, to modernize James Bond? Okay. Good idea. But if you're going to take the franchise into the present day, wouldn't today's super spy need computer skills? Or is Craig's James Bond supposed to be the same man who fought off Rosa Klebb? I'm honestly not sure. Skyfall wants Bond to be Craig's Bond and also Connery's Bond (we'll get to that, too). That would be fine with me—good thinking, even—except that only works if you avoid facts and reality.
24 Bond films means if this is all the same man, then yes, he is old. Fifty at least. And for the next film, what? He'll be even older? And then he'll die?
James Bond, as a series, has, for the most part, avoided reality. It is glorious fantasy. Now, to make James Bond hyper-realistic and to tie this new iteration of Bond to the old one: it clashes. Reality is the antithesis of fantasy. It is fantasy kryptonite.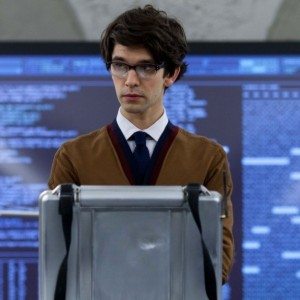 Even Bond's gadgets now are real.
Q gives 007 a Walther PPK that only he can fire and a tracking device that's approximately a million times larger than it needs to be. Hell, I recently saw a Swedish film in which the plot hinged on tracking devices too small to be seen.  I didn't find that conceit unbelievable in the slightest. Here, we're so real we're unreal.
At this point in the film, though, I'm still enjoying Skyfall. I'm a little confused, but happy enough.
Bond heads to Asia and things move along nicely. Some rough and tumble action looks good but not as good as Bérénice Marlohe. With her Severine, we get one of the best Bond foils in ages. She's attractive and vulnerable and believable and I'm sorry she gets got. She shows up during an assassination and she's captivating enough to make you forget to question what's going on.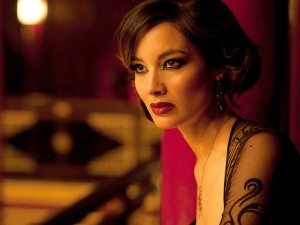 So I'll do so now.
What, exactly, is going on here?
We've traced the bullet fragments Bond pulled from his shoulder himself with a knife (ignoring the fact that he left them in there for three months) to a hitman the CIA says will be in Hong Kong. Bond follows him right off the plane to a hit in a Hong Kong skyscraper.
First off, I'm going to give the airlines poor marks for security screenings, since it seems the killer had his high powered rifle as a carry on. Second, who is he shooting and why? This is never addressed. Ever. At all. Third, he gets paid in a €4,000,000 casino chip Bond finds in a specially cut pocket of the killer's gun case? Huh? Fourth, why is Severine in the hotel room of the guy getting shot? What is the painting they're looking at? What does any of this have to do with the list of spies or anything at all? Why pay an assassin FOUR MILLION EUROS to kill someone? I'll do it for $500,000. Seriously. Call me.
Our super spy heads to Macau, claims the cash, seduces Severine, and feeds his assailants to Komodo dragons (really). This—all this—is good quality Bond. Despite it not making a lot of sense, it's enjoyable. It's exciting. It's sexy. It's literally fantastic.
And then we get to the turning point of the picture. And by "turning point," I mean point where Skyfall turns into a psychological thriller about early childhood trauma. Severine takes Bond to a mysterious, decrepit island in the South China Sea or something where he meets Silva—the villain played by Javier Bardem.
Silva is a super criminal, ex-agent, who can do practically anything. He hacks MI6's system and blows up M's office remotely. He steals an entire island from the Chinese (although why it looks like it's part of the Inception set is beyond me). He—somewhere, somehow, in between his torture and suicide attempt and now—became the second best hacker in the world besides Q. Uh. Okay. So why has he stolen the list of agents? Why has he claimed this island? What's his giant scheme for world domination?
To kill M.
That's it. He wants to kill Dame Judi Dench.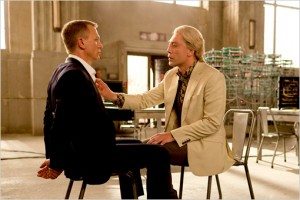 Raise your hands if you can think of anything less challenging to accomplish. Anyone? Make me a sandwich and, oh yeah, will you kill Judi Dench while you're up?
I mean, for fucking fuck's sake, Bond broke into M's house scant few scenes ago with no trouble at all. She isn't even armed.
So all Bond has to do, to defeat this insane, literally-tortured super villain, is to keep M alive. And Bond always succeeds! Even an old, half-washed up 007 suffering from childhood trauma can protect one lady of age, right?
Joke's on us. He can't. He doesn't.
Here, in case you got distracted, is Silva's plan to kil M:
He hires someone to steal a list of agents so he can have Bond survive near death to catch the assassin in the act of killing someone irrelevant, thereby luring Bond to a casino where Severine can betray Silva, leading Bond to some island Silva bothered to take over, but not tidy up, so he can be purposefully captured so he can escape into the Tube since he blew up the MI6 headquarters and forced the spy agency into Churchill's underground bunker system, naturally, where he's set up a vastly complex computer program that reveals his plans but also opens all the doors in the prison, so he can escape and, with Bond on his trail, trip an explosive charge to send a train crashing down on top of 007 (an EMPTY tube train at rush hour)—so he can shoot his way into a Whitehall hearing, which hasn't been interrupted for the biggest terrorist act of the decade despite all the intelligence chiefs being there, where he knows M will be testifying because of the above-stated trouble, which he caused, and then—presumably—he'll shoot her. With a gun.
Oh. Yes. Good plan. Where do I sign?
What was wrong with irradiating the US gold supply? Holding cities for ransom with a space laser? Stealing a nuclear missile? Hell, I would have settled for Silva trying to make a decent latte. That's harder than killing M, although to be fair, he does make killing her as complicated as humanly possible.
But that's not even Skyfall's biggest problem. The sky is falling because after this, Bond lets M get killed anyway. In Scotland, at his family estate—Skyfall.
No more exotic locations. No gadgets. No femme fatale. No threat to the world. No last minute victory. We get Craig driving the Astin Martin from Goldfinger, ejector seat and all, and a bunch of other nods to the canon. We just don't get the James Bond character that fits within the canon. The one that we can look up to. The one that succeeds against all odds and gets the girl.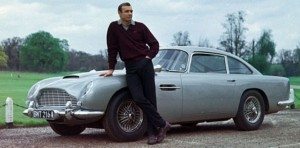 Just take a minute and picture Daniel Craig in Goldfinger, driving that Astin Martin. Whiplash, right? Because we're not talking about the same 007 any more. This one is sulky, wounded, and bitter; a borderline sociopath.
In Skyfall, Bond fails. Bond is weak. Bond is old. The world goes on without him. He kills Silva, but it's too late. And, as the Supreme Being points out, he was about to kill himself anyway.
Maybe Bond should have stayed in Mexico, drinking with scorpions. It wouldn't have mattered. Silva would have still killed M and then killed himself, poor wounded puppy that he is.
When I was a kid, I wanted to be James Bond. But this guy? He's tortured and miserable and, frankly, kind of a loser.
I'm no longer a kid, but I can still be immature. If this Bond is supposed to appeal more to adults, well, then they fail there, too. I don't want to be this man at all. He can't save Severine. He can't save his childhood home. He's rapidly becoming obsolete. He lets his mother figure, M, die in the cold, Scottish, wet. He barely manages to kill his rival. If the fate of world were at stake, we'd all be dead.
Give me a Bond I can dream of becoming or call your film something else. Skyfall was fun for a stupid spy film, but I don't recognize James Bond in it.
If James Bond is an adolescent fantasy, then Skyfall is curfew.