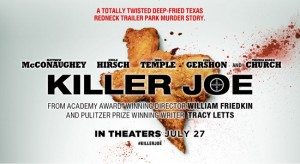 William Friedkin has always been drawn to intense violence. One presumes this isn't limited to his movies. He was a notorious asshole among assholes in the '70s, a decade marked for its directors who based on a hit or two imagined themselves gods, and who consequently behaved like insane, psychotic twelve year olds (i.e. gods). Friedkin is the first to admit what a shithead he was. One must also presume he's mellowed since then. After all, people finance his movies, and he keeps on directing them. As for the movies themselves, they remain as twisted and violent as ever.
Of late Friedkin has found a kindred soul in playwright Tracy Letts. Both are drawn to dark, cracked characters, people who are all over the line separating good and evil, smart and moronic, sweet and violent. Friedkin first found fame with his dark police thriller The French Connection ('71), starring Gene Hackman as Popeye Doyle, a cop with exceptionally sketchy notions of morality. In the final chase and shoot-out with the bad guy, Doyle shoots dead a government agent, presumably by accident, or then again, maybe presumably not by accident.
After that came The Exorcist ('73), a twisted, bloody tale of a little girl gone Satanic. Head-spinning devil barf? Self-rape by crucifix? It's all here. The Exorcist has never been a favorite of mine. Catholic dread isn't something I can relate to. Demonic possession just seems so fake. Giant lizards emerging from the oceans, teleporters turning men into flies, shape-shifting space-monsters taking over the planet, these are the kinds of terror I can get behind. But America loves Satan, and The Exorcist was a massive, money-gobbling hit. The French Connection raked in the Oscars. The Exorcist raked in the cash. Friedkin was King Shit of Fuck Mountain. He would never again rise to such heights.
He bet big on his late '70s remake of the Henri-Georges Clouzot's French action classic Wages of Fear ('53), renamed Sorcerer ('77). This came at the height of Friedkin's insane "I am a god among men!" phase of being a famous director, and such insanity led to a troubled shoot, an absurd budget, and a finished film hated equally by critics and audiences. Then there was Cruising ('80), starring Al Pacino as an undercover cop in the gay club scene, another movie with no clear hero, no ending where anything is wrapped up, no clear message about who is good and who is evil. Huge protests met its shooting and its release. It was not a hit.
To Live And Die In L.A. ('85) sort of put Friedkin back on the map, at least among movie-nerds. It's got a great car chase going the wrong way on an L.A. freeway, which since it's Friedkin directing is necessarily reminiscent of the elavated train/car chase in The French Connection. The 'hero' in To Live And Die In L.A. is another morally questionable head-case. It's not a great movie—the ending never worked for me—but it's still compelling. And dark.
I'll skip the rest of the career retrospective. There's really not much else of note. Unless you count the alleged "comedy" Deal of The Century ('83), starring Chevy Chase and Gregory Hines, which you don't, because god forbid you or anyone else remembers that one, or maybe Jade ('95), starring Linda Fiorentino and written by Joe Eszterhas (though Friedkin rewrote the whole thing to the point where Eszterhas wanted his name removed (which perhaps suggests something about the quality of the movie)), a movie I remember seeing. What happens in it, not so much. In fact I can't recall a single moment. Friedkin says it's his personal favorite of the movies he's made.
Back to Tray Letts. Friedkin saw Letts's play Bug and realized he'd found a writer with a similarly fucked-up take on the world. Bug ('07) is actually a good little movie. It plays like a play, with three distinct acts, and almost all the action taking place in a motel room, yet Friedkin shoots it with a cinematic flair. Ashley Judd and Michael Shannon give two very dark, intense performances. The ending is totally over the top, but in a way I thought the movie had earned. It's very much the ending of a play, which can irritate me in movies, but not so much this time. I'd recommend seeing Bug. Assuming demented, psychologically disturbing movies are your thing.
I don't recommend the Friedkin/Letts follow-up Killer Joe ('12). It's based on one of Letts's early plays, when, it would seem, he aimed for shock over character logic. The first two acts of the movie are compelling, but the ending is absurd and killed the whole movie for me. Matthew McConaughy plays a cop who offs people on the side for $25,000 a pop. He gives a subdued, eerie performance until the end, when he goes nuts in a rather bizarre, unreadable way. What am I supposed to make of how anyone behaves in the final scenes? It plays as shock for the sake of shock, and then tosses in a cut to black at a crucial moment, i.e. ambiguity for ambiguity's sake. Unlike Bug, there's no earned ending to Killer Joe.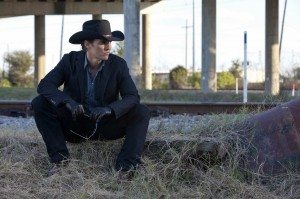 Good as McConaughey is, the real star for me is Thomas Haden Church as the not very bright Ansel, father to troubled Chris and Dottie. It's Chris's plan to have Killer Joe murder their estranged mother for the insurance money. Ansel takes little convincing. Church's voice and mannerisms are perfect. He's not a smart man, but given the range of intelligence he's working with, he's quite savvy. If that makes any sense. The whole movie I kept thinking, "Who is this actor? He's amazing." Turns out his biggest role was in Sideways ('04). I remember liking him then, but as Ansel, a much smaller, simpler role, I can't get over how good he is. He's been criminally underused since Sideways. Someone needs to write him a meaty role.
So I didn't like Killer Joe very much. Still, it's got a fire behind it I don't see in movies often these days. It reminded me of another punch-in-the-gut movie based on a play, David Mamet's Edmond ('05), directed by Stuart Gorden, most known and beloved for having directed the horror classics Re-Animator ('85) and From Beyond ('86) (and for having written Honey, I Shrunk The Kids ('89)). Edmond is short and brutal. It's one of the better Mamet adaptations out there (and stars Mamet regulars William H. Macy, Joe Mantegna, and Rebecca Pidgeon), but is little known. Instead of watching Killer Joe, rent Edmond instead.
As for Friedkin, the man has talent and a world-view. Looking at his filmography, it would seem that at least for me, those two traits never came together better than in The French Connection. But I'm glad he's of late become interested not in crappy Hollywood action flicks (Rules Of Engagement? The Hunted? Ouch), but in smaller, weirder, more twisted creations. Here's hoping he stays in that world and comes up with another winner.