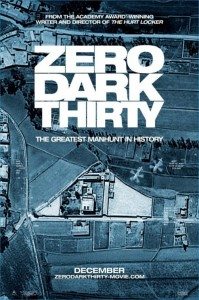 Zero Dark Thirty is being praised to the high heavens for its "journalistic" and "realistic" take on the hunt for and killing of Osama Bin Laden, terms film critics use to describe movies shot with shaky-cam, i.e. handheld cameras that bounce around, that frame everything "unartistically," that feature way too many close-ups of ears and hands and burning cigarettes, and wherein scenes aren't scenes so much as mini-information dumps, one after the other. I don't find this "realistic" at all. It's pure Hollywood. It's blatant stylization, the stylization of "The Real." It imitates what it looks like when a journalist runs around a war-zone with a camera. There are no journalists running around war-zones with cameras in Zero Dark Thirty. It's a movie. Shot by a professional film crew. With actors. It's fake. And everyone involved has gone to huge artistic lengths to give it a very particular kind of style.
There is no such thing as "objectivity" in movies. Not in fiction films, and not in documentaries. Everything done in any film is a choice. You can fool yourself into believing you have no agenda, but you do.
Kathryn Bigelow, director of Zero Dark Thirty, has said over and over again that she and screenwriter Mark Boal wanted simply to show what happened during the hunt for Bin Laden, without any commentary whatsoever, this in response mainly to accusations of the film showing torture in a positive light. This attempt at an objective stance, however, is itself a specific artistic choice, and it kills any hope the film might have had for relevence or meaning.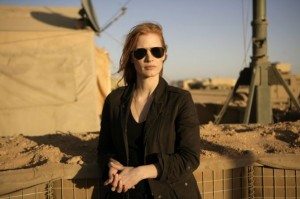 Zero Dark Thirty is an absurdly long (2:37), boring, emotionless slog about war, torture, murder, and obsession, that very pointedly has absolutely nothing to say about any of those matters, nor about the characters involved in them. To its champions, and they are everywhere, for after all, this is an Important Film about an Important Subject, and is the seeming front-runner for a pile of Oscars, the blank slate the film presents is its greatest strength. By saying nothing, they argue, we in the audience may decide for ourselves what the film means. The meaning will come from the audience, who bring their own prejudices with them. The movie is like a newscast: it reports, you decide. (Where have I heard that before?).
Only I notice that not a single movie reviewer offers an opinion on what the movie means. As far as anyone will go is to affirm or deny that the movie contains a pro-torture message. Because the movie doesn't mean anything. It just sits there. Empty of anything. How is this a strength?
It's not a strength. It's the height of artistic cowardice. I can't even wrap my head around it. The filmmakers merely shrug and say, "Gosh, what? Us say something? No, sir. We just showed what happened." No! You did no such thing! You made a movie. Claiming to be making no artistic statement is as much an artistic statement as any other. That your statement is "Nope, we gots nuthin' to say" isn't a reason for congratulations. It's a reason for bewilderment and sorrow at having sat though such a purposefully meaningless movie.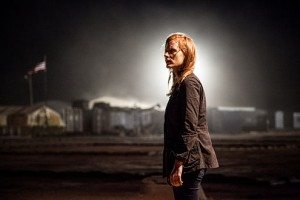 Let's forget about the filmmakers. Their opinions on what they meant to do or imagine they suceeded in doing don't matter in the end. What matters is what's on-screen.
It's hard to go into the story for the sheer boredom of it. There's no structure at all. It's two hours of young CIA agent Maya (Jessica Chastain) trying to convince her superiors that there's this courier who knows Bin Laden, and if they could just find the guy, they'd find Bin Laden. Eventually they mostly believe her. The rest of the movie is the raid on Bin Laden's compound. It's shot largely with green night-vision lenses, which is according to critics the most daring, original idea ever thrown up on a movie screen. I guess they don't watch a lot of Schwarzenegger movies or something. So whatever, the raid is shot in as boring and pedestrian a way as possible, i.e. as REAL a way as possible. It's so real you could have cut 15 minutes out and still fallen asleep.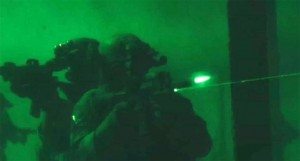 Speaking of only-in-a-movie sequences, there's this female co-worker of Maya's who's found a doctor who's going to spill his guts about Bin Laden. She sets up a meeting at a base in Afghanistan. And I guess this is a spoiler for those of you who have never seen a movie before, but this sequence is shot in such a way that you're simply waiting for her to be blown up, which she is. Look how excited she is! This lead can't fail! Oh, but where is he? Look! There in a lone car speeding towards the base! Say, tell those pesky soldiers to let the car in without searching it, because everything's going to be fine! Text Maya back in Pakistan about how great it's going and that he's just arrived! He steps out of the car, only something's wrong and oh my god is he supposed to have that cane and—BOOM! You're all dead. Surprise.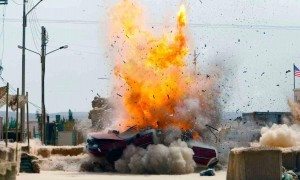 The Hurt Locker ('08), the previous Oscar-gobbling collaboration between Bigelow and Boal, is better. Mostly because it's shorter. It too was shot in the so-real-it's-fake shaky-cam style, it too had no real scenes, bad dialogue, nothing to say, and it too will never again be watched by anyone.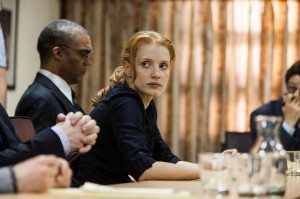 Can you imagine watching Zero Dark Thirty again? Why would you? It's not just that it's bad. It's empty. It's a kind of anti-movie. At the end a lone tear rolls down Maya's cheek. Has she wasted ten years of her life merely to kill one old man? Or has her heroic journey reached its noble end? A real movie might have subtly built a story forcing that choice on its audience. We would call that powerful filmmaking. We would call that purposefully ambiguous. Zero Dark Thirty doesn't build towards anything. None of it is structured with any purpose at all. It's purpose is to say as loud as possible, "We have no purpose! There is no meaning here! You think there's meaning? That's YOUR fault! Leave us alone! Get offa my lawn or I'll cane ya!"
I've depressed myself writing this. Who wants to watch or write about a movie that has nothing to say? That offers nothing to engage with? That exists as nothing more than a giant, soul-sucking artistic vacuum? Writing about it I feel as empty as I did watching it. What good is an artist with nothing to say?