I was in love with David Cronenberg movies before I ever saw one. I must have been about 12 when I heard about a movie called Scanners ('80) in which someone's head blew up on-screen. I could imagine nothing better happening in a movie (nothing better, that is, that didn't involve women taking their clothes off). So I rented Scanners. It was glorious, that head. Shortly thereafter Videodrome ('83) opened and Cronenberg became one of my favorite directors. Although actually, despite Videodrome being one of the numerous horror movies I pirated on videocassettes (six hour speed, three flicks to a tape!) and watched over and over again, something about Videodrome made it less pleasureable than movies like An American Werewolf In London and The Thing and Creepshow, etc. I couldn't have said what it was back then.
What it was, of course, was that Cronenberg didn't make normal horror movies. Everything in Videodrome is tied up (and whipped! and burned with cigarettes!) with sex and madness and philosophy. It's a dark, dark movie. Everything sexual in it, which is everything, is sexual in way far too twisted for a 12 year old to fathom.
After that came what to a kid were the much more palatable movies The Dead Zone ('83) and The Fly ('86). By the time Dead Ringers ('88) came out, my pick as Cronenberg's best movie, I was old enough to get how disturbing it was, though not quite old enough to get that putting a poster of it in my college dorm room wasn't the best way to attract women (although on the plus side, few college women had ever seen much less heard of Dead Ringers).
Which this is all just a long introduction to 1) the fact that I love Cronenberg, and 2) his newest movie Cosmopolis ('12) being a dud.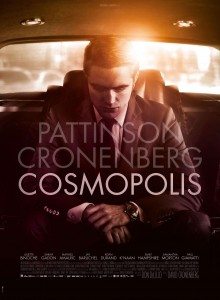 Cosmopolis is a novel by Don DeLillo. It's just the sort of book Cronenberg likes adapting, right in line with Naked Lunch ('91) and Crash ('96) (that's the sex-and-car-crashes one, not the laughable turkey of the same name that took home all the Oscars some years ago), all books no sane person would think to turn into movies. Naked Lunch is great. It's like a remake of Videodrome with vivid colors and weird bugs and monsters running around. Crash didn't do it for me. Neither did the book, actually (though I'm fond of J.G. Ballard's precursor and inspiration for Crash, The Atrocity Exhibition).
And now Cosmopolis. The story of a 28 year old billionaire cruising through Manhattan in his soundproofed limo in search of a haircut while the world falls apart around him. For a movie about a guy driving the whole time, it's got surprisingly little momentum. None, actually. It is inert. Eric (Robert Pattinson, effectively space-alien-like) has long philosophical conversations with various employees, lovers, etc. in the limo. He has sex with a few women. A doctor gives him a prostrate exam in one pretty funny scene. He runs into his rich wife now and again. Traffic is hell. The President's motorcade is screwing things up, as is the funeral procession of a Sufi rap star. And there's a credible threat against Eric's life.
Sounds exciting. It isn't. It's quite dull. The pseudo meaningful conversations feel empty. The movie is stagy, on purpose. Dialogue is stilted, stylized and novelistic. There's an effect in there somewhere that never feels realized. It's shot the way Cronenberg shoots all of his movies, which is stagy and flat and square. In a sense. Cronenberg is curious in that unlike all the other big name directors that came out of the '70s, he wasn't a film nerd. It's as though he was directing movies never having seen how anyone else had done it. His early movies have essentially no visual style at all. Which works, since his early films all feature ghastly horrors. The flat, affectless way he shot those movies added to their clinical weirdness.
His style now is the same, but stylized. If you see what I mean. He made a style out of his lack of style. It looks good in Cosmopolis. Shiny surfaces and glowing colors, a kind of future-fake look to everything. The scenes inside the limo play out in utter silence, save the dialogue. The world passes by outside as though on television. In one early scene, Eric exits the limo, and before he opens the door I wondered if what we were looking at outside was a special effect. It's not. It's just made to look like it.
Do other things happen? Perhaps. It's been a day since I saw it. The mind wanders. Eventually the limo is abandoned (numerous times Eric wonders where limos go at night; someone should take him out to see Holy Motors, the other guy-riding-in-a-limo movie from 2012, which answers that very question), and Eric winds up in an abandoned building in which lives the man who intends to murder him. I admit I'm a little hazy on how he ends up there.
This man is played by Paul Giamatti, who as ever is riveting. Their scene together must last close to 20 minutes. They talk and talk and talk, and I kept waiting for profundity to emerge, and it never does. It pretty much all amounts to Giamatti explaining that the stock market should be thought of in the same way as Eric's asymmetrical prostrate. Yeah. Don't ask.
Here's where I SPOIL the ending, beware. Wikipedia tells me that in book, Giamatti shoots and kills Eric. In the movie, after this epic conversation, and after Eric shoots himself through the hand in order to feel something, anything, Giamitti says he has to kill Eric anyway. He puts a gun to Eric's head. Cut to black.
Does he shoot him? The implication is yes, absolutely he shoots him. Why not show it? To leave the possibility open. Which I don't think works here. It feels like I sat through a bunch of gobbledygook philosophy only to be poked in the eye with a sharp stick at the end.
In a way, Cosmopolis feels like a very Cronenberg kind of Cronenberg movie, in a way that his previous three movies, A History Of Violence ('05), Eastern Promises ('07), and A Dangerous Method ('11), didn't. So there's that. It's not enough. You are excused from seeing Cosmopolis. If you still feel the need for a Cronenberg fix, why not check out Spider ('02)? It's wonderfully creepy. Almost no one saw it when it came out. Did you?