And I quote from Drafthouse Films:
The Sci-Fi/Horror Epic That 1979 Couldn't Handle

In this unforgettable assault on reality—restored and presented uncut theatrically for the first time ever in the U.S.—legendary Hollywood director/actor John Huston (The Maltese Falcon; Treasure Of The Sierra Madre) stars as an intergalactic warrior who joins a cosmic Christ figure in battle against a demonic 8-year-old girl, and her pet hawk, while the fate of the universe hangs in the balance. Multi-dimensional warfare, pre-adolescent profanity and brutal avian attacks combine to transport the viewer to a state unlike anything they've experienced… somewhere between Hell, the darkest reaches of outer space, and Atlanta, GA . The Visitor fearlessly fuses elements of The Omen, Close Encounters Of The Third Kind, The Birds, Rosemary's Baby, The Fury and even Star Wars creating the most ambitious of all '70s psychedelic mindwarps . Its baffling all-star cast includes Shelley Winters (Night Of The Hunter), Glenn Ford (Superman), Lance Henriksen (Aliens), Franco Nero (Django) and Sam Peckinpah (director of The Wild Bunch).
Problem is, you'd think from reading the above, that the jokers at Drafthouse and their in-house bloggers at Badass Digest — who have been hyping this film like it's Kubrick meets Jodorowksy but with extra sauce — had actually watched the thing.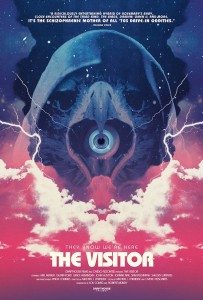 It is beyond terrible. And I say this, having just sat through M. Night Shyamalan's Lady in the Water, a film which is clearly better than The Visitor because it is at least dreadful in a new and surprising way. The Visitor is nothing but a hacked together melange of other, exponentially better films.
It did not transport me to state unlike any I have ever experienced. I have been angry plenty of times.
Yes. It stars John Huston and features Glenn Ford and Lance Henriksen and others. They all twaddle about in something that manages to completely avoid a comprehensible narrative while also dodging any genuinely surreality. A train wreck isn't surreal; it's just an unfortunate and painful mess.
There are a few moments of creative but cheap special effects. These are drowned out by the screeching of a hawk that had some desperately unclear agency. (Was it one of the savior birds mentioned in the film's introduction? Was it evil? Was it just a desperately ill chosen pet? I have no idea.) The film was scored like a commercial for cheap action figures. It appears that the crew had a tenuous grasp of things like focus and logic.
The Visitor was so genuinely ghastly that it couldn't even be enjoyed in an ironic way. You might have a good time watching it if John Huston had recently run down your dog and you wanted to see him suffer; otherwise? There is exceptionally good reason why the film never played theatrically in the United States.
It is because it is an unmitigated turd.
And I have serious concerns about the judgement of those at Drafthouse Films for having the temerity to claim it is anything but an unmitigated turd.