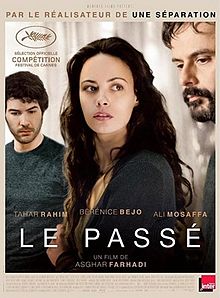 Asghar Farhadi's The Past (Le Passé) is close. It is close like the body beside you in bed. It is close like the memory of mistakes made.
If you saw this Iranian writer-director's A Separation, then you already understand what I'm saying about The Past, and, for that matter, about the past. In his earlier film, a film with one of the most potent endings I've ever seen recorded, a couple progresses towards a split that one might call inevitable—if anything in the film felt inevitable. Nothing does, though. Farhadi's gift is to tell a story that seems as unplanned as existence. He tells these stories in a way that cleave you and cleave to you.
The Past stars Bérénice Bejo (of The Artist) as a Marie, a Frenchwoman who calls her Iranian husband Ahmad (Ali Mosaffa) from Tehran to France to finalize their divorce. She does this so she can marry her lover Samir (Tahar Rahim). Or maybe she does this for other reasons, reasons she cannot untangle and which we can only guess at. Marie's teenaged daughter Lucie (Pauline Burlet) opposes the marriage for reasons equally as opaque. As Marie and Ahmad and Samir and Lucie attempt to understand both what they want and what they have done in wanting, Marie's youngest, Léa (Jeanne Jestin), and Samir's young son, Fouad (Elyes Aguis), watch and, in the way of children of all ages, try to understand the unknowable.
Samir's wife—Fouad's mother—barely exists in a coma. Who accepts responsibility for this past tragedy is the subject of the movie in the same way that the couple's separation served as the subject of A Separation. By this I mean that the question is the grit with which Farhadi worries us his pearl.
I am in awe of Farhadi. He uses the tools of language and cinema to show us things that feel both completely natural—as close as the moment just occurred—and simultaneously gilded in delicate symbolism. For example, The Past begins at an airport. Ahmad wends his way through security to France as Marie attempts to gain his attention through the transparent wall that divides them.
That is what happens and it is also how the happening takes meaning. The Past is full of unforced moments like this, gently played ones, in which Farhadi shows us what his characters feel and think and cringe from. His camera is loose because life is not steady. His colors and locations are as painterly as a discarded Polaroid, one found faded and half buried amid leaves. You inspect the image because you see something in it both singular and familiar—not because its aesthetics make you promises. There is beauty there, but it is beauty created between artist and observer through the everyday.
The acting in The Past is much the same, only better. If Bejo and Rahim and Mosaffa are performing, I don't see how or where. They simply are. They are no more than furious, and blindsided, and guilty, and resigned. They are also all—each one of them—outplayed by Berlet and more so by Aguis.
Elyes Aguis, who plays the young Fouad, may well be the best actor of 2014. This film is his debut and he is so new that the internet does not even reveal his age. Perhaps he is as old as ten.
Of his discovery, Farhadi says (translated from French):
And then one day, I saw Elyes Aguis among children attending these (screen) tests. I went to talk to him, his face interested me. But he did not speak, he refused to answer me, do what I wanted. And it is this stubbornness that convinced me that he was the one I wanted.
Stubbornness is key to extruding meaning from both The Past and the past. In the shoes of Ahmad and others we seep back into the life we thought to leave behind. We let our concern involve us in the meanings and causes of suffering, even when that suffering cannot possibly be undone. Even when it is not wholly of our concern. 

Like A Separation, The Past concludes as it must. There is no dramatic answer, only questions that refuse to find resolve. This is because the past—if it holds even the slightest significance—is never behind us. It is only in reaching back that we gain any forward momentum. This is the paradoxical beauty that Asghar Farhadi shows us in his film.