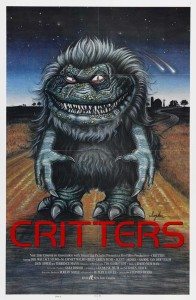 First off, as my long-suffering girlfriend learned the hard way, Critters is not to be confused with Joe Dante's rather more famous movie, Gremlins, although both feature weird little nasty monsters who want to eat your face. Released in '86, two years after Gremlins, Critters appeared to be cashing in on the rage for tiny monsters wreaking havoc in small-town America, though director/co-writer Stephen Herek (who would next make, by the way, Bill & Ted's Excellent Adventure) says the original script, by Domonic Muir, was written before Gremlins even went into production. Herek rewrote the movie to be less similar.
But enough history. Except for this one last bit: until last night, I hadn't watched Critters since the '80s. I liked it plenty back then, but couldn't remember anything about it. How's it hold up, you ask?
It's not bad. It's not great. But it's not bad. It has too much set-up and not enough pay-off. To sum up.
To blather on a bit, it opens in space, on a prison asteroid where eight Crites are being taken to their execution. But ho! They escape, steal a ship, and zip away in search of food. Two bounty hunters, who dress like extras in a Twister Sister video and whose blank heads glow green, give chase.
Cut to—Earth. Dear, peaceful Earth. In fact, cut to a shot of a white picket fence along a dirt road winding up over a rise. Which shot is an homage to the '53 classic, Invaders From Mars. If you were curious.
A nice family, the Browns, lives in a nice farmhouse. Dee Wallace-Stone, no stranger to parenting children who do battle with aliens, nor with being attacked by unpleasant, toothsome foes, is the mother of spunky 12ish year-old, Brad (Scott Grimes), and grouchy teenager, April (Nadine Van der Velde). But forget about April. All she does is make out with Billy Zane and watch in horror when the critters eat him. To be fair, she stabs at the critter with a pitchfork. The critter eats it. Later she yells and stuff.
But look at the brain on Brad! Kid's all kinds of smart and daring. Only not yet. First there's a good 45 minutes of set-up. We meet some townfolk, including Sheriff Harv (M. Emmet Walsh! Hooray!) and Charlie (Don Keith Opper (sorry, only M. Emmet gets a shout-out)), the town drunk, who insists he hears alien radio communications in his teeth. Just a bunch of regular folks having regular folks problems. It's almost like something shocking will come out of the blue and change their lives forever. Eventually.
Not that the set-up is bad, mind you. In fact it's all handled rather well. Good characters, believeable dialogue. Its only fault is going on forever. We know the Crites are on the way. So land, already!
Finally, the Crites land, and we get our first real look at them: furballs with teeth. Hungry furballs. They mangle some cows, stare ominously at mom through the kitchen window, tear out the phone and power lines, and attack dad in the basement in a surprisingly voilent and scary scene. They've even got poison darts they shoot from their heads. Violent too is the scene where Billy Zane is attacked. A Crite bites off a couple of his fingers, then plunges teeth-first into his stomach. That's what you get for making out with a girl, Billy.
Like many horror movies of the era, Critters' tone is part scary, part funny. With apologies to the director, it's a lot like Gremlins in how that plays out. The people are played with real gravitas, and the critters supply the comedy, including subtitled dialogue. Also funny are the two bounty hunters. At first, anyway. One takes on the form of a hair-band singer he sees on the TV, and the other shape-shifts into various townfolk, including a dead cop, a reverend, and finally town drunk Charlie. When they arrive on Earth, they enter a church, giant space-cannons in hand, and say with deadly seriousness, "We want the Crites." Not too smart, these guys.
As things play out, the bounty hunters don't do much else, when they might have been used to far greater comedic effect. Mostly they just shoot stuff, then fail to stop the Crites from escaping in their ship. It's up to plucky Brad to save the day! Does he? Well…Maybe. I can't give it all away. Suffice to say, his fireworks collection comes in handy.
Does M. Emmet Walsh do anything? Not really, but he's M Emmet Walsh, all he has to do is show up and I'm happy. His major accomplishment is to wave a gun around before being tossed out a window by the biggest Crite of them all (they grow the more they eat), which Crite, alas, we never get a good look at. Only his hands and feet, really. Which I'll just take this moment to mention that no matter the lack of giant Crite shots, I love the Crite puppets. CGI might, in the way it does, look "better," and allow the Crites to do anything, but there's something magical–and in horror movies scary and even disturbing–about actual things being actually present, even if those things are hairy, toothsome handpuppets.
So that's about it. Critters suffers from not much of anything happening, and there not being any reason for it having happened. Also, there's a bit with their house re-building itself at the end to send us all out of the theater (AKA my living room) with a smile. I couldn't help but be reminded of the ending to Poltergeist, where the house collapses in on itself till it vanishes. Much better way to go out.
On the other hand, Critters is not at all bad in the way you'd think a movie called Critters would be bad. It's a nice little monster flick. The performances are good, the writing is sharp. It's just that, in the end, it ain't Gremlins, is it?