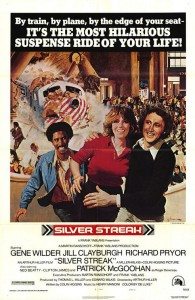 It feels like only yesterday that Silver Streak ('76) opened. Or so. The first pairing of Gene Wilder and Richard Pryor, to be followed by beloved classics like Stir Crazy ('80), See No Evil, Hear No Evil ('89), and the unforgettable Another You ('91). Which I completely forgot about. I even forgot to see it. But Gene Wilder and Richard Pryor. Weren't they a classic comedy duo? I feel like I know that they were. Based on their films, now that I think about it, not so much. When I was nine, I thought Stir Crazy was one of the best movies of all time, right up there with the other two top grossing movies of 1980, The Empire Strikes Back and 9 To 5. Interesting trio, that. I stand by my opinion of Empire. Stir Crazy and 9 To 5 I'm not so sure about. My nine year old self, after all, enjoyed the music of Billy Joel. He can't be relied upon. Then again, 9 To 5 stars Dabney Coleman as the bad guy; could it be anything less than genius?
Speaking of 9 To 5, it was written and directed by Colin Higgins, most famous for writing Harold And Maude (directed by Mind Control favorite Hal Ashby), and somewhat less famous for writing Silver Streak.
Ha! And you thought I was lost on a mango-gathering digression, never to return, somewhat like Siver Streak, in which Gene Wilder keeps getting thrown off the train by Jaws. No, not the shark, though if that were the case, my god, we'd be talking about the best movie of all time. Imagine, mid '70s Gene Wilder and Richard Pryor fight a killer shark on a moving train! I would pay to see that.
I'm referring of course to actor Richard Kiel, best known for playing the steely toothed Jaws in the James Bond movies The Spy Who Loved Me and Moonraker (which, by the way, is way better than Skyfall (a movie desperately in need of a Jaws cameo, I would have thought)). Of course both of those movies were made after Silver Streak, meaning Jaws only appears in it in retrospect. This is why living in the future, as we do, is beneficial for movie-viewing.
And in truth, Jaws only throws Gene Wilder off of a moving train once. The other time he chases Gene over the top of the train, trying to shoot him, but is instead killed when Gene shoots him with a spear gun he grabbed from a standee in a storeroom. A standee being a cardboard cutout of a person, in this case a bikini-clad woman, a number of which standees are stacked up for reasons not explained. Especially not explained are why these cardboard women are equipped with functional spear guns. A '70s thing I'm unfamiliar with?
Gene, who plays mild-mannered gardening book editor George Caldwell, is then—after shooting Jaws—knocked off the top of the train by one of those swinging signals people are always being knocked off the top of trains by. He makes his way to a local police station, is almost, but not quite, arrested, in one of the movie's funnier scenes, and, once stealing the sherriff's squad car, finds Grover (Richard Pryor) handcuffed in back. They hit if off immediately, steal a better car, and meet the train, the Silver Streak, in Kansas City.
All of this happens at least halfway through the movie. This is too bad. More Pryor would have been nice. The first half of the movie is all Wilder. Not a bad thing, but Silver Streak isn't exactly a fast-paced thriller. Scenes go on much longer than they have any right to. It's directed by Arthur Hiller, who is known for directing a lot of movies, some of which you've even heard of, none of which you love or remember (unless you're about 60 and, as a teenager, thought Love Story was the only movie ever to speak directly to your soul). Writer Higgins said that if he'd directed it, he would have been much less faithful to the writer and cut the damn thing down a bit.
Is there a plot? There's actually a lot of a plot. Silver Streak is much less a comedy than an action movie with occasional comic scenes, one that maybe secretly wishes it were North By Northwest. Jill Clayburgh plays secretary Hilly Burns. She works for not-at-all-famous art historian Professor Schreiner, who's about to give a lecture on a few newly discovered Rembrandt letters proving that two paintings attributed to him are fakes. Those painting are owned by super-rich bad guy Roger Devereau (Patrick McGoohan, oozing evil). He has the prof killed. George, about to make sweet love to Hilly, sees the prof's corpse dangled outside the train. Poor George. He can't help but get mixed up in things.
You can more or less guess how things play out from there. It's mostly a kind of comedic buddy cop action movie, like 48 Hrs. or Midnight Run, say, but where neither buddy is actually a cop. It goes on way too long, but at least it ends with the train barelling into the Chicago train terminal with some fairly impressive '76 special effects.
Silver Streak also features Ned Beatty, Scatman Crothers, Fred Willard, and Ray Walston. Can't beat that. Unless you had that cast and put them in a better movie. But you don't, so Silver Streak will have to do.
This is all a long way of saying what I hate having to say about a movie, which is that I thought it was okay. Not bad, not great. Pryor is a pleasure to watch. And there's what let's call "the scene," in which, using shoe polish, an outrageous hat, and a transistor radio, Pryor makes up Wilder as a black man to evade the police. Wilder does a totally weird, over-the-top impression of what a stick-up-the-ass white dude might imagine a black man acts like. He doesn't think anyone will buy it. Pryor reassures him, "Al Jolson made a million dollars doing that shit."
I'm a bit dubious about revisiting Stir Crazy. At least Pryor gets equal screen time, and Sidney Poitier directs. On the other hand, Pryor was living on a diet at the time of cocaine, cocaine, and, to keep him on an even keel, cocaine. With that in mind, let's conclude with this classic interview outtake from the set of Stir Crazy: