I have really good intentions, but that doesn't mean that this post will turn out well.
Sometimes, even though one tries hard, and believes nice, sparkly, beautiful things, everything goes south.
This I learned from the movies. And so will you with this week's double feature.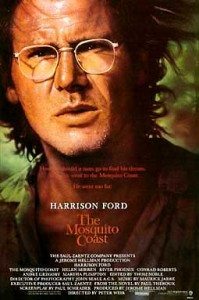 You would be forgiven for not knowing it, if you're under the age of 20, but at one point, Harrison Ford made nothing but awesome movies. Yea, verily, it was a glorious time of sunshine, bluebirds, and lots of shag carpeting.
Peter Weir, too, director of the earlier recommended Gallipoli, had a run of exceptional pictures: Picnic at Hanging Rock, The Last Wave (fine, it's weird, but not that good), Gallipoli, The Year of Living Dangerously, Witness, and The Mosquito Coast. Then he made Dead Poets Society which is so nauseating and ghastly one can only conclude he got some sort of tropical fever shooting Mosquito Coast.
But anyway. Yes! Peter Weir! Harrison Ford! Novel by Paul Theroux! Screenplay by Paul Schrader! Helen Mirren! River Phoenix! Exclamation points!!!!
Before you get too excited, however, I should warn you. The Mosquito Coast is the kind of film that makes you feel like a draining bathtub. Harrison Ford leads as Allie, the father of a dissident family. He describes his fellow Americans as those who "buy junk, sell junk, eat junk." He grabs his clan and bugs out to the bush, specifically Belize, so he can create a jungle utopia and bring ice to the natives. "To those who live in the jungle without refrigeration, ice must be like a diamond or a jewel. Ice," says Allie, "is civilization."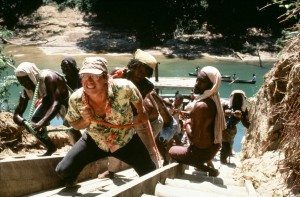 Things, as you might imagine, don't go so hot. The more Allie believes in his dreams, the harder the world kicks him in the goolies. This film is to Dead Poets Society what Full Metal Jacket is to A.I. By which I mean it is actually really good in a harrowing, masochistic sort of way.
Before you sit down to watch this film, you should know that Jack Nicholson was supposed to play the role of Allie but he backed out. Why? He couldn't watch the L.A. Lakers from Belize. Harden the fuck up, Jack. Harrison and Peter toughed it out. They even missed attending the Oscars ceremony—where they were both nominated for awards for Witness—because they were deep in the shit.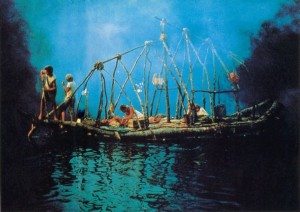 I would also like to take this moment to inform you that, contrary to popular opinion, Central America's eastern coastline is called the Mosquito Coast not because it's infested with mosquitos (it is) but because it was the home to the Moskito people. Although they are homonyms, there is no relationship between the two words.
Now. Let's rock.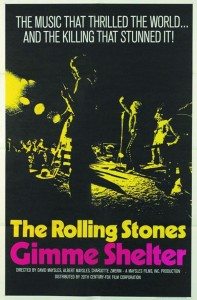 Remember what I was saying about the best intentions? Well, I'd like to introduce you to a young, talented, narcissistic man named Mick Jagger. You may have heard of him. He, at one point, made the best damn music in the whole damn world.
The Rolling Stones were kicking ass in 1969. They had just released Let it Bleed and were already recording tracks for Sticky Fingers—two of their best albums. The Maysles Brothers got themselves hired to record the first concert of the Stones' tour, in Madison Square Garden. They convinced the band that they should let them film the whole tour.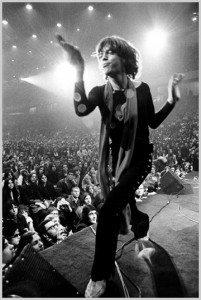 And man, the Maysles Brothers got a ride. They got to tag along to Muscle Shoals to film the band recording Wild Horses. They got Ike and Tina Turner opening, playing at the top of their game. They got the glorious possibility that inspired the country after the concert at Woodstock, which had happend just months before.
Everything was so damn groovy, baby. The Stones figured, hell, if Woodstock was such a gas in New York, imagine what we could pull off in California! So they got to work planning a West Coast Woodstock. It would be free. Jefferson Airplane, the Grateful Dead, Santana, Crosby, Stills, Nash, and Young, and—of course—the Rolling Fucking Stones.
Things didn't turn out quite as Mick pictured. That show at Altamont Speedway was a long, deep scratch across the LP of flower power. The Maysles filmed it all. The result is one of the most stunning, moving, insane documentaries ever made.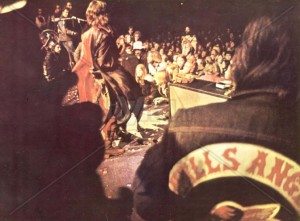 If you don't know what happened at Altamont, all the better. You'll watch, and react, just as in the film members of the band watch the footage, and react. This is what your dreams came to. This is the day the '60s died. How do you feel?
Gimme Shelter is an exceptionally intense piece of work. At the same time, the concert footage, the energy of the early part of the tour, it's heavenly. It's as precious as ice would be to a Moskito Indian.
If only that ice didn't melt.
Oh, a storm is threat'ning
My very life today
If I don't get some shelter
Oh yeah, I'm gonna fade away