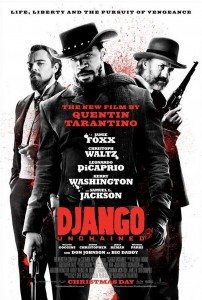 Seems like these days you can't throw a rock at the internet without knocking Quentin Tarantino's dick out of someone's mouth. The arguments raging on movie nerd sites range all the way from "Tarantino is a genius, yes, but is he actually the best director of all time, or only in the top three?" to "Is Death Proof the only Tarantino movie that isn't perfect, or is it in fact as perfect as all the others?" It's apparently a foregone conclusion that the man must be spoken of only in hushed, reverent tones, and be compared favorably to Kubrick, the Coens, and, while we're at it, Ingmar fucking Bergman.
I find this reverence hard to comprehend. Apparently I am alone in finding his Nazi-revenge-porn-fantasy-cartoon-death-parade Inglourious Basterds to be not only a poorly written, inept, unfunny slog, but morally bankrupt besides. I don't know that I've ever seen a movie where slaughtering people was done so joyously. Which I know, Nazis. Yay! Kill 'em all! It's a fantasy revenge porn movie! Whee! And so on. But I'm sorry. I have a hard time finding glee in massacres.
Am I some kind of boring scold on the matter? Hardly. The Wild Bunch? Sign me up. Romero's Dawn of The Dead? One of the best movies ever made. Hell, I even love Reservoir Dogs. In all of these movies, death might be plentiful, it might be absurdly over the top, but it still means something. It's still death. It's not fun. It hurts. You can thrill to it, in a sense. The ending of The Wild Bunch is a ballet of dancing, machine-gunned bodies. It's beautiful to watch, in a cinematic sense. It's what Tarantino is going for too, only somehow he takes it to a different place. It's not just the glee of showing these kinds of massacres in a cinematically beautiful way, it's that in everything he's made at least since Kill Bill, the murders themselves are meant to be reveled in.
Film Crit Hulk, in his top ten of 2012, where he names Django Unchained number 2, mentions the final theater massacre in Inglourious Basterds, saying it's meaningful because as it's happening, we too are in a theater watching it happen. We sit in a theater enjoying Nazis being killed while they sit in a theater enjoying a violent movie. I'm not sure what to say to that aside from, "And? So what?" I don't see how that's commenting on anything. Is Tarantino saying we're just like the Nazis for getting off on death? If so, good for him. But I don't think that's at all what he's saying, and I've never heard anyone who liked the movie suggest anything of the sort. People like the movie because it's a wild cartoon revenge fantasy where Hitler and his minions are joyfully—and hilariously!—massacred.
When people say that the violence in Inglourious Basterds or Django Unchained is supposed to make us reflect on why we enjoy that violence, that Tarantino is interested in the exploration of cinematic violence not in a visual and visceral sense, but in a philosophical one, I have to say bullshit. I don't see how the "text," i.e. the movies and nothing but the movies, support these kind of claims at all. Now of course you can read anything you want into anything, no matter what's presented to you. But where in Tarantino movies is this deeper meaning suggested?
Django Unchained is very similar to Inglourious Basterds. It's another revenge-porn flick, this time with slave owners as the Nazis, although in an odd turn, the man who's presented as most evil of all, the one who's saved until last, who's tortured by being shot multiple times in the knees, and then blown up by dynamite, is himself a slave, Stephen (Samuel L. Jackson). But he's comfortable in his slavery and supports his white master Candie (Leonardo DiCaprio), which as far as the movie is concerned makes him more evil than even the rich, white slave-owner.
I'm not sure what to make of this, or what Taraninto wants me to make of it. Nothing? Bad guys come in all colors? The movie makes a point of wondering how any slave, no matter how well-treated (as in the case of Stephen, who runs Candie's household, says what he wants, and is comfortable sipping brandy in the library), could not do his damnedest to escape and kill his captors at every opportunity. So one must assume that Stephen embodies this kind of weak thinking. His failure to rise up, to resist in any way, marks him as worse than the white man himself.
Which if we follow that logic even one step further, we end up someplace where–what, we're supposed to blame slaves for their being slaves? That Django represents what all slaves should have done? Only how did Django find himself in a position of power? He was granted it by a white man. Hm.
As it happens, I don't think Tarantino is aware of this at all, consciously. Because in his movies I see a lot of surface, and little depth. I think my above reading of Stephen and his fate has nothing to do with Tarantino's intent. Likewise, reading into movie theater massacres a greater, deeper intent is equally pointless, because nothing in these movies suggests that Tarantino intends any of it. What does he intend? I have no idea. Maybe he's a brilliant filmic theoritician. I can't look inside his head. I can only look at what he puts on-screen.
In fact an artist's intent matters not at all. All that matters is what's on-screen. My point is that in a movie with nothing deep on display, you can read into it whatever you want. His fans, not surprisingly, read nuance and depth. Anything negative they don't see at all.
The other issue for me with Tarantino as a filmmaker is that all of the above is beside the point. If I don't enjoy watching the movie, I don't care how much discussion after the fact it engenders. And I did not enjoy watching Inglourious Basterds, Django Unchained, Death Proof, or Kill Bill (yeah, I know, why do I keep going back? Hope springs eternal, my friends!).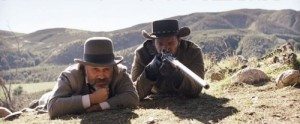 Tarantino is not a good screenwriter. Does he write good dialogue? Sure. Great, even, at times. And that's all he writes. That's what people respond to. That's why people love his characters. They talk real purty. It makes them memorable. The thing is, screenwriting is not just dialogue. As any screenwriting 101 text will tell you, movies are structure. It's how you string which scenes together that make a movie. All the pretty dialogue in the world won't save a crappy story.
Tarantino seems to have one thing he likes to do, and he does it over and over and over again. He sets up a scene with two or more characters, where one is hiding something, where one person has something on the other person, where there is an imbalance of knowledge, and where one slip-up will mean violence and death. Then he has them talk for a good ten minutes. And so, tension. The scene ends with either an explosion of violence, or a sigh of relief when nothing happens. Is there any other scene in Inglourious Basterds? Hardly. Stringing these scenes together doesn't make for much of a movie. There's no pacing. It's one long, talky scene after another. Above all, Basterds bored me. Yes, the opening scene in the farmhouse is a very successful example of a Tarantino Tension Scene (TTS). It's a great start to the movie. But after that, each new iteration of the scene becomes more and more boring.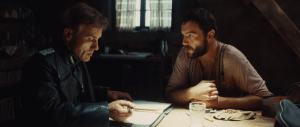 When his movies are criticized, Tarantino's fans will always point to strong scenes like that opener. You can't disagree. As scenes, they can be very entertaining. But the best scenes do something else in the best movies: they move the story, however weird or experimental it may be, to where it's going. The best scenes function at their best as a part of a whole. Tarantino's best scenes work whether or not you happen to see the rest of the movies they come from. They work as shorts. And in so doing, they fail at the more important job of working within a larger context.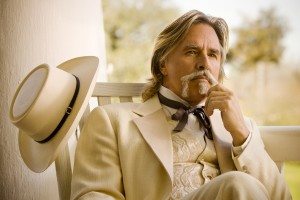 Django Unchained, compared to the otherwise very similar Inglourious Basterds, is unusually linear for Tarantino. There's not much in the way of senselessly long scenes having nothing to do with anything but his love of long, talky scenes. But they're still in there, most notably the KKK scene, where a bunch of hooded jack-asses humorously lament the poorly cut-out eyeholes in their hoods. It's kinda funny. Part of the humor comes from the scene existing literally outside the rest of the movie. The movie takes a time-out, this goofy scene plays, and then the movie resumes. This is not skillfull story-telling. It's indulgent bullshit. It's represents the worst kind of filmmaking, where showing off is more important than telling a story. Making fun of a bunch of stupid clansmen isn't exactly rocket science. Fitting such a scene seamlessly into your story is.
Tarantino seems also to have a problem with plans in his movies. By which I mean the schemes his characters come up with. He's so concerned with his dialogue that he forgets how much it helps to have plausible goals for your characters. Or semi-plausible. Movie-plausible, at least. In Basterds the basterds come up with a plan to murder Hitler and his henchmen in a theater while they're all watching a movie. This theater is run by a woman who's decided to murder Hitler and his henchmen by burning down the theater. Maybe this is a joke I don't get? Or something? Their plan is to do the very thing someone else is already doing? Hitler will die even if the basterds didn't exist or spent their time playing Yahtzee? Please someone tell me why that is smart or interesting or anything but incredibly fucking stupid? It screams "I want all my characters in one place killing Nazis! Go!"
In Django Unchained, there's this nonsense scene where the bounty-hunter King (Christoph Waltz) explains to Django (Jamie Foxx) why they can't simply go to Candie and offer to buy his slave Broomhilda (Kerry Washington), Django's wife. Instead they come up with a complicated role-playing scenario involving their interest in "Mandingo fighters," i.e. black men who fight each other to the death (which it seems Tarantino made up or else just borrowed from the movie Mandingo). Halfway through an interminably long dinner scene, Stephen (the evil slave) tells Candie that surely Django is married to Broomhilda, that she's their real object, that they've been lying to Candie. Candie is outraged! A TTS plays out, ending with Candie selling Broomhilda for the same amount of money King offered for the Mandingo fighter. Which cash is taken from his wallet, where much more money remains. Are you with me here? Our heroes get exactly what they came for, and suffer only by having to endure DiCaprio's scenery chewing speech about phrenology. This is not good story-telling.
What happens next? How may revenge be taken on the evil slave-owner when he gave them exactly what they came for? How about having King shoot Candie out of pique, knowing he's going to be immediately cut down by Candie's henchman? Well, okay. How does this make sense? Is it because King hates slavery so much that he just has to do it, his own death be damned? I guess…yes? Technically speaking, this sort of thing is called "fucking lame."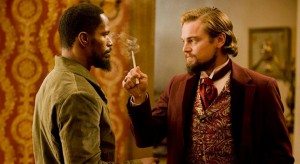 Story-telling is not Tarantino's strength, nor is the building of tightly written screenplays. This is why his movies are so unbearably long. He revels in his over-written scenes. Those are what matter to him. The overall story? It's secondary to the joys of the moment.
Like I said above, I love Reservoir Dogs. It's everything Tarantino's later movies aren't. It's short, it's powerful, the violence, while plentiful, feels real and painful, there's great dialogue used not to show off, but to tell a very specific story, and there's no wasted time. It's his best movie.
Filmmakers live in the world. They make movies that however abstractly speak to that world and to the people in it. Whether it's a western or science fiction or full of talking animals, movies are a reflection and meditation on this actual place in which we exist. Watching Django Unchained I realized that Tarantino makes movies soley in the world of movies. He's not merely quoting other movies and other filmmakers. Tarantino's movies exist as reflections and meditations on the world of movies. It's like in The Player, where at the end we see the Bruce Willis gas chamber rescue scene in the "fake" movie-within-the-movie. That's the movie Tarantino is making, every time out.
Django Unchained is the cartoon-within-the-cartoon. I imagine it's the sort of movie Itchy & Scratchy would watch. It's alternately horrifying and wacky, with no sense to the mood changes. Tarantino shoots it with all kinds of weird nods to spaghetti westerns: quick zooms into faces, jerky editing, flashbacks and flashforwards shoe-horned in almost at random. Is this for laughs? In Leone's movies this kind of thing was a purposeful, expertly used style. It's so wonderful one can't help but laugh sometimes. This is not laughter at the movie being somehow bad, it's the laughter that comes from delight at seeing a style unique and ballsy. Why does Tarantino ape these stylistic flourishes? I suppose those who adore him will say it's done to place his movies in a kind of cinematic dialogue with his inspirations. Or something.
I think it's that Tarantino loves the movies he references and imitates, and he wants everyone to know it. So his movies are movies about movies. Which has resulted in his movies becoming more and more removed from anything real or meaningful. Django Unchained is being hailed by his fans as another masterpiece, just like Basterds. I agree that it's basically the same movie. Beyond that…I think it's time to watch Reservoir Dogs again.