The Hobbit, as presented at 48fps* (i.e. high frame rate, HFR), marks the death of cinema. At least digital projection, depressing as it is, is being improved to the point where it's starting to resemble film. Which is the point—to resemble film. To be a movie. What The Hobbit shows us is something completely different, something divorced entirely from what is thought of as a "movie." It looks, at various times during its three unbelievably long and bloated hours, like: a video game, a cable TV historical re-enactment, an especially crisp videotape your friend's creepy older brother shot at a Fresno renn faire, a BBC documentary, an even worse video game, and a workplace instructional video for new fry cooks.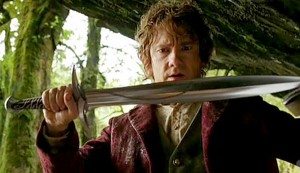 It was this morning when the worst realization hit me: despite the hugeness of it, despite the action sequences, the spectacle, the money spent, The Hobbit in HFR would look best watched on an iPad.
It's so bad I'm not even sure how to talk about the movie itself. It's so distracting to look at that nothing else matters. If you want a reasoned discussion, check out The Evil Genius's take. I can do nothing but sputter and rant.
What was Peter Jackson thinking? Get this:
When you see 48 frames and you see the realism and…the smoothness of the motion, it's not what you associate with going and seeing a film…A high frame rate is fantastic. It really makes you feel like you're there.
If by "there" he means "on the toilet watching a movie on your phone," then yes, that's exactly right. Also correct: it is indeed not at all what you associate with going to see a film. This is a technology for people who hate movies. Do you love the way video games look and feel? Perfect. This is the movie for you. The smoothness of the motion? Try this: wave your hand in front of you face. See how it blurs? The HFR eliminates this, just like in videogames. The lack of blur makes motion in the movie appear freakishly sped up. It doesn't look real at all. It couldn't look more fake.
Oh, there's more:
As a filmmake it's a joy because it gives a more immersive, realistic feel. It's much more gentle on the eyes. You don't get the eye strain and headaches.
Did this interview take place on Earth 2? What the fuck is he talking about? A three hour CGI movie in 3D at 48fps isn't going to give you eye strain and headaches? But a 90 minute movie shot on film projected the way every living person has ever watched a movie is hard on the eyes?
So we begin to see what's going on here. Peter Jackson is insane. To wit: "24 frames is jarring to me now."
Watched The Lord of The Rings lately? Remember thinking how jarring it looked? Right. Neither did any of the other human beings who live on Earth.
If I've been vague, let me just say it outright: if you must see The Hobbit, see it projected at a normal frame rate.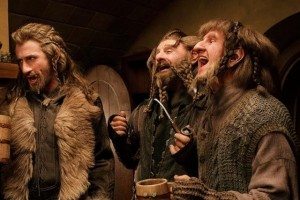 Must you see The Hobbit? I'd advise against it. As a story, it's a mess. How does a movie that lasts almost three hours manage to tell you nothing about the characters? Aside from the king of the dwarves, distinguishable because he has all the lines, I couldn't tell you a single thing about the other ten or eleven or thirteen of them. That's not true. There's a fat one. A stupid looking one. One with a moustache. Also, there's a hobbit. Martin Freeman is fine as Bilbo. Unfortunately, he has about ten minutes of things to do in this movie. He spends most of his time running or gaping silently while Gandalf explains things.
For the action sequences, Jackson uses the same logic he used for his appalling King Kong ('05) remake: more is better. More orcs, more goblins, more running and stabbing and falling. I've never seen so many characters plummet down thousand foot crevasses and live. All of the action sequences look like those videogame interludes that play out between levels.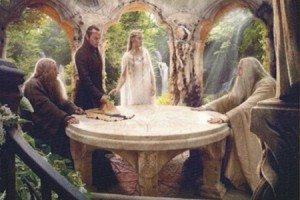 There's simply no one to care about in The Hobbit. The only scenes with any weight at all are those that relate to The Lord of The Rings, one of which, the conversation between Gandalf, Saruman, Elrond and Galadriel, having been invented for the movie, feels odd and out of place. The other scene with weight is when Biblo finds the ring.
The scene with Gollum (the always entertaining Andy Serkis) isn't bad. Although even Gollum feels less compelling than he did in The Lord of The Rings. Bilbo sort of outwits him, and as Gollum rants and raves, Bilbo puts on the ring and turns invisible. It takes him a while to realize he can't be seen, yet there seems to be a moment missing, one where we see him react with wonder to what must be a rather odd property for a ring to possess. He seems to take it as a matter of course. Which is what we the audience are doing. We know all about the ring. But how does Bilbo?
The Hobbit is meant to be a children's book, unike the more adult The Lord of The Rings. It was never going to be as dark and foreboding and evil as those former movies. But shouldn't a children's story be character-based? Why the need for epic CGI battles that never stop? No sooner does one breathless chase sequence end than another one begins. Rock monsters rain granite on our heroes, they survive. Thousands of swarming goblins attack, they survive. Orcs by the orcload swarm, and everyone's fine. There's no sense of danger in the movie whatsoever. Without that, there's no drama.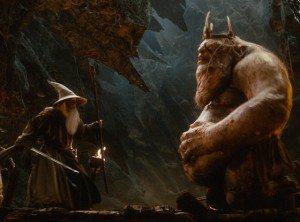 Put it this way: every scene in The Lord of The Rings involving only Sam and Frodo is better than every scene in The Hobbit. Those two hobbits you care about. Peter Jackson cared about them too. In this one, all he seems to care about is the look. And the look is the worst part.
* Frame rates varied at the beginning of the film era. Old silent films used as few as 14 frames per second, which is why old movies, when their speed is uncorrected, will appear extra speedy, with their 14fps footage shown at 24fps. By 1930, 24fps had become the standard for film, which to this day it remains.