What with the 11th annual Noir City festival coming up here in San Francisco (which I just wrote about here), I've got noir on the brain. Last week's Evil Genius double bill got the ball rolling with the classic The Third Man and the modern Coen brothers masterpiece Miller's Crossing. And a few weeks back I journeyed into the neon colors of '80s noir with Miami Blues and Something Wild. So this week it's time to delve into the classic era of film noir with two greats starring one of the best noir actors ever to screw up a simple robbery, Sterling Hayden.
These days Hayden is probably best remembered as the rainwater-and-grain-alcohol aficionado Gen. Jack D. Ripper from Dr. Strangelove, or perhaps as the police chief in The Godfather who made the mistake of punching Michael Corleone in the face. But back in the '40s and '50s, Hayden was a staple of noir. He's big and hulking and tough, yet possessed of a vulnerability and a kind of intelligent honesty, even when he's playing guys not big on smarts. You root for him, no matter what mischief he's up to. Even when he's going off the mental rails as in Naked Alibi, or talking down shell-shocked war pilot Ted Stryker in Zero Hour!, you're pulling for the guy.
The Asphalt Jungle ('50)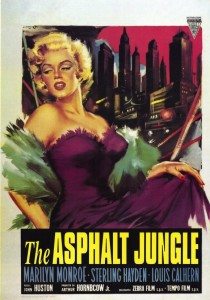 One of the most famous crime noirs, the movie that almost single-handedly invented the caper film, in which a group of crooks is gathered together to pull off a heist that never goes quite as planned, The Asphalt Jungle was directed by John Huston, who'd already directed two Humphrey Bogart-starring noir classics, The Maltese Falcon ('41) and Key Largo ('48), not to mention The Treasure of The Sierra Madre ('48) and in '51 The African Queen. It's fair to say the man was on a roll.
The Asphalt Jungle begins with an older German, Doc, just released from prison, coming to see a bookie about arranging the financing for a jewel heist Doc concocted in the joint. Doc needs a team of men to pull it off, too, one of whom is so-called "hooligan" Dix Handley (Sterling Hayden), a good guy who wants one day to earn enough money to buy back his old family farm. He's a real sweet guy at heart, Dix is.
The robbery sequence was famous in its day for being long and intricate. It's still great fun to watch. The crooks get their jewels, but nothing goes right after that. Inevitably, somebody sees a way to make more money than promised, backdoor deals are made, and everything goes to hell. It's noir, after all. You're doomed from the get-go.
Doc is the smartest of the bunch, but even he has a weakness: pretty young women. A girl at a diner, dancing to the jukebox (in a manner I wish all pretty young women still danced), distracts him. He generously gives her a handful of nickels to keep playing songs, and to keep on dancing for him. Bad call, Doc. Speaking of pretty young women, Marilyn Monroe, barely known at the time, makes an appearance too.
As for Dix, he makes it to the old family farm, though not in the way he planned. I will reveal only that he is licked by horses. You like a good horse-licking, don't you? Speaking of horses, an ill-fated one is featured in our second feature:
The Killing ('56)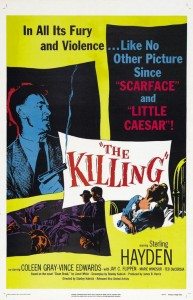 The Killing was Stanley Kubrick's first real movie. He'd made two independent features before, the first of which he pretty much disowned, and the second, a noirish boxing picture called Killer's Kiss, that contains some beautiful cinematography and is otherwise unremarkable. Kubrick wrote the script for The Killing with hard-boiled novelist Jim Thompson. It's the first Kubrick movie that really feels like a Kubrick movie.
Once again, Sterling Hayden stars, this time as savvy veteran crook Johnny Clay, who's got plans for one last heist before retiring (yep, movie cliches have been around for a long, long time). He's going to rob a racetrack during a race. He gathers together a team of experts. It's a fool-proof plan. Aren't they always?
One of the team, hounded by his evil wife, spills his guts to her, hoping to impress her. In a way, it works. She's so impressed she tells her lover about it, who gets it into his head that all of that money oughtta be his. Trouble ensues.
The final scene at an airport, involving a big suitcase of money and a tiny dog, is a memorable one.
Hayden is one among a great cast, which also includes Joe Turkel, best known in later years as Eldon Tyrell, creator of the replicants in Blade Runner, and as the creepy bartender in Kubrick's The Shining.
For whatever reason, The Killing didn't do well when it opened, but since then that Kubrick fellow went on to make something of a name for himself, and The Killing is usually found on anyone's short list of the best noirs ever made. The basic set-up, a robbery gone wrong seen from various perspectives, ending with a lone man and the cops about to nab him, inspired Tarantino's Reservoir Dogs. Not only that, but Tarantino had actor Timothy Carey, who plays the sharpshooter in The Killing, read for the part of the crime boss. According to Carey, Harvey Keitel found him too scary, so he didn't get the part.
As a bit of an aside here, if you want entertainment, read this interview with Timothy Carey. The guy is a nut. He appeared in all sorts of curious pictures (like The Monkees movie Head), and actually turned down roles in both The Godfather and The Godfather Part II.
And as a further bit of weirdness, a cardboard cutout of Carey based on a still from The Killing was one of many on the cover of The Beatles album Sgt. Pepper's Lonely Hearts Club Band. Check out these two photos, one from an out-take not used where Carey's image is clear, and the other from the actual album cover, where Carey is hidden.
All these years listening to the Beatles you've actually been, in a very faint way, channeling The Killing. Noir is everywhere.