Pootie Tang ('01), written and directed by then mostly unknown and now hugely beloved and respected Louis C.K., was widely ignored and/or despised when it came out. Here's a sampling of quotes from Rotten Tomatoes: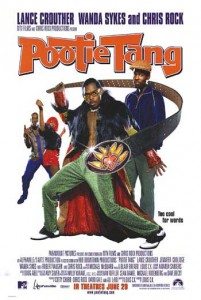 "This astonishingly unfunny Paramount comedy is burdened with writing, direction and acting that would cause Ed Wood to wince."
"Writer-director Louis C.K. (I wouldn't give my correct name either) was named on Entertainment Weekly's It List, proving that entertainment is in a bad way."
"There are bad movies, there are disappointing movies, and then there's Pootie Tang, a movie so incompetent, it almost defies description."
"Pootie Tang has the distinction of being one of the most amateurish features ever released by a major studio."
Ouch! No wonder I never bothered seeing it. I was never even sure what it was. Was Pootie Tang some kind of superhero? A gangster? An idiot? I had no idea and I didn't care.
Not everyone hated it. Those that didn't loved it. They argued that anyone expecting a normal, safe, Hollywood comedy, a black Austin Powers, for example (which is what the studio wanted), would of course be as bewildered as poor, hapless Roger Ebert ("Not bad so much as inexplicable. You watch in puzzlement.") who let's remember didn't understand or like Blue Velvet either, just to name one example of this Most Famous Critic Of All Time's inability to comprehend the unusual. Fans of Pootie Tang saw something deeper in its bizarre inexplicability. They saw pie. And they smeared that pie all over their bodies.
Thanks to the SF Sketchfest, I saw a screening of Pootie Tang last night at the Castro Theatre, filled up with fans so in love with the movie, one row wore matching, home-made T-shirts featuring character names. I worried it was all going to be too "inside" for me to like it, that every line would get a laugh, and I'd leave wishing I'd been drunk enough one night in '01 to have seen it then.
I needn't have feared. Pootie Tang is glorious. It's funny from start to finish. It is unparalleled in its stupidity, exactly as it means to be. In fact it is by any normal criteria completely bonkers. It's hard to imagine an actual movie studio funding it to the tune of something like six million dollars. It feels like someone got away with something, something like a secret world revealed for us to laugh at, however imperfectly realized. And it's by no means perfect. It's all over the place. It seems rather confused at times as to what it wants to be (more on that below). Not every bit in the movie comes off. But this does not impede the hilarity. The bits that failed to make me laugh at least left me thinking, "That is a very strange joke to be going for here, and I thank you for trying." Best of all, there's a scene featuring a gorilla attack. I've always loved any movie featuring a guy in a gorilla suit.
Pootie Tang is indeed a superhero, a gangster, and an idiot. His only weapon? A belt he weilds with ferocious, pinpoint accuracy and blinding speed. It is, he thinks, the source of all his power (he will learn an important lesson to the contrary late in the movie, when the talking cornstalk reveals itself to be his dead father). Pootie Tang speaks his own incomprehensible language. At least to the audience it's incomprehensible. The other characters understand him just fine. Reviewers seem convinced that this is the one joke the movie has to offer, and that it's only funny for thirty seconds. As ever, they miss the real beauty, which is that the lead character never says one intelligible word for the entire movie. Do we really need to hear these kinds of characters talk? Turns out we don't. Matt Stone and Trey Parker get called geniuses for making an action movie starring puppets, the joke being that the puppets are just as expressive as action movie stars. Pootie Tang is getting at the same thing from a different angle.
Pootie Tang exists as a clip of a movie about a movie made by the very famous Pootie Tang called Sine Your Pitty On The Runny Kine, which clip consists of the entire movie, a movie that is basically a very strange, very over-the-top send-up of blaxploitation flicks and then current hip-hop culture. It doesn't do this like Hollywood Shuffle or Black Dynamite. It's much weirder and stupider. Only the stupid is so stupid it kind of takes you through the looking-glass out the other side into the magical realm of anti-stupid. It's a stupidity surreal in its stupidness. And the weird is, yes, weird, but it's delivered straight half the time in a way that almost erases the weirdness.
Well, let's let Louis C.K. explain that aspect. After shooting and editing together his version, the studio freaked out and pushed out Louis. They were ready to shelve the picture and eat their loss. Chris Rock used his pull to hire another editor to cut a new version and add voice-over. Here's Louis on how the changes altered what he was going for (from an Onion AV Club interview from '04):
Yeah, the problem with the way they re-cut it, and the problem I had with the narration, is that it's commenting on how weird the story is. The cutting of the film was defensive. You watch the movie and go, "These people that made the movie don't even seem to like it." Then, also, you start to hear narration that goes, "Why Pootie act like that? Because he crazy!" or commenting on the story like, "Look at him. He's crying over a stalk of corn. What's his problem?" That scene was supposed to be sold as a really dramatic, sad scene. I wanted people to really believe that the people who made this film believed in it as a true story, and that we didn't think it was weird. Nobody who saw it should ever have thought that we thought we were making a weird movie. They should have thought that we were so crazy, we thought it was a legitimate dramatic moment for a guy to cry because a piece of corn died. And I think the script was structured so that it did make sense. He felt reborn through this stalk of corn, and when it died, he was very depressed. He felt he had nowhere else to turn. That's the way I think of this stuff. I don't think "Wouldn't it be funny if…" or "This is a gas." Once you commit to the idea, you've got to commit to it like it's a real movie. The movies that inspire me are real movies, not broad comedies. I don't care about them. I laugh at them, but I don't aspire to make movies like that. So that's why I think it's a broken film.
Louie C.K.'s show Louie shows off this aesthetic perfectly. Weirdness played very straight, with honest love for the characters. The show works for exactly this reason, and you can see it trying to work in Pootie Tang. It does work, sometimes. Other times, not so much. Louis hadn't yet mastered how to get this vibe across, and then the re-editing further diminished the effect. But something is still there. Quite a bit of something. Quite a bit of something that's uniquely fucking funny.