I am not at all fond of 3-D movies. They don't look more "real" to me. They don't make me feel like I'm more immersed in the action. They tire my eyes, they're too dark, and even at their least annoying, they manage only not to detract from the movie-going experience. If anything, 3-D movies look more fake than 2-D. How are you supposed to get lost in a story when the bells and whistles never shut up?
The first 3-D craze was mercifully brief, lasting from '52 to '55 (after many experiments in different 3-D processes over the preceding 20-odd years), and included most famously The Creature From The Black Lagoon, House of Wax, and Dial M For Murder. Showing 3-D pictures at the time was tricky, requiring two prints projected in perfect synch on a silver (literally) screen (white screens didn't properly reflect the polarized light needed to create the 3-D effect). It was a gimmick, and people tired of it quickly. But clever inventors kept working on better ways to make 3-D work. During the '60s and '70s a number of 3-D movies came out, mostly soft-core porn and cheap horror, most notably The Stewardesses ('69) and Andy Warhol's Frankenstein ('73). These used a different process requiring only one projector.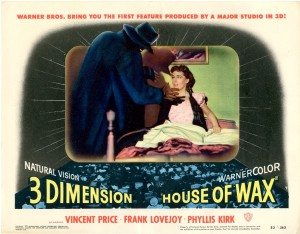 This led to the second big 3-D craze, which hit in them thar olden days of the early '80s, back when I was just knee-high to a grasshopper. It didn't last long either, going from about '81 to '83. Of course I saw all the big ones at the time, Friday The 13th 3-D, Jaws 3-D, The Amityville Horror 3-D (conveniently the age of the sequels had just begun), and everybody's favorite Molly Ringwald movie, Spacehunter: Adventures In The Forbidden Zone, which was mysteriously not as successful as Star Wars. I can't say I remember the 3-D experience fondly from those formative movie years.
The current 3-D craze has lasted longer than any sane person could have predicted, to the point where older 2-D movies are being converted into 3-D in order to more efficiently suck money from our wallets. Movies shot flat and later converted are the worst. Watching the damn things in Feel-Around would be preferable. Movies shot in 3-D are only slightly less offensive. Same as the '50s, at its best, say in Avatar, the 3-D manages only not to make the movie worse (granted, Avatar could hardly have been any worse), and for moments you even forget you're watching 3-D.
This strikes me as a dubious achievement: Our 3-D is so awesome, you'll think you're watching a 2-D movie! As though 3-D were a necessary evil, one that with enough tweaking we might finally be able to ignore. It's the kind of thing that makes a cranky old man shake his cane angrily at those damn kids on his lawn.
Lucky for me, last week I saw the best 3-D movie of all time: Inferno, from '53. I was lucky enough to see a remastered (albeit digital) version at the Castro Theatre as part of the 11th annual Noir City festival. It's the best 3-D movie I've seen for two reasons. One, it is, 3-D aside, a hell of a good film noir. And two, the 3-D is not merely inoffensive, it's actually used to create a specific effect: one of vast distances.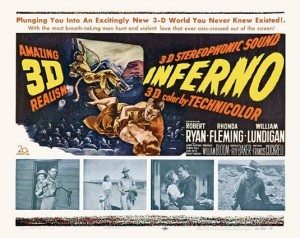 Inferno is set almost entirely in the Mojave Desert, and is shot in the insanely vibrant 3-strip Technicolor process. Miles and miles of shrubs, rocks, and joshua trees stretch out colorfully to distant warbling mountains, and in 3-D the effect of this space is if anything heightened. The movie opens with Geraldine (Rhonda Fleming) and Joseph (William Lundigan) up to something strange out there in the middle of nowhere. Laying out a blanket. Tossing empty liqour bottles about. Using a pair of shoes to make foot-prints in the dust. We soon learn that Geraldine's rich, alcoholic husband, Donald (Robert Ryan, in full bad-ass noir mode), broke his leg, they told him they'd go for help, and instead have plotted to leave him behind to die.
Donald isn't going to go that easy. Left with a canteen and a little food, he waits for a few days before realizing he's been left to die on purpose. Thing is, he's too mean to die. He splints his leg and crawls into the open desert. Ryan has little actual dialogue. Instead we hear as voice-over his internal thoughts. Voice-over is often annoying and unnecessary in movies. Not so here. Ryan is one of the great film noir tough guys, and listening to him think his way out of this mess is a pleasure. Listening to him plot revenge against his wife and her lover is fun too. It's a film noir, so you can bet the murderous pair get what's coming to them.
Inferno is a perfect B-picture. No pretensions about it at all. It's a simple story of survival and revenge. That's all you need for a good noir, along with actors like Fleming and Ryan, with screen presence to burn (check out Ryan's performances in, among others, The Set-Up, Odds Against Tomorrow, Bad Day At Black Rock, and The Wild Bunch).
Unlike many 3-D movies, Inferno features very few shots of objects coming at the camera. This classic 3-D trope is used only a couple of times, to great effect. Best of all is a POV shot of a burning roof about to fall in on one unlucky soul.
Too bad you can't see Inferno in 3-D. Not unless it gets a re-release someday down the road. It's plausible, perhaps. After all, 20th Century Fox went to the trouble of creating this lovely new digitally restored version. Maybe they'll be kind enough to let other people have a chance to see it in a theater. In the meantime, the 2-D version is on DVD (though apparently not through Netflix), and is well worth seeking out.