Today I received the following email: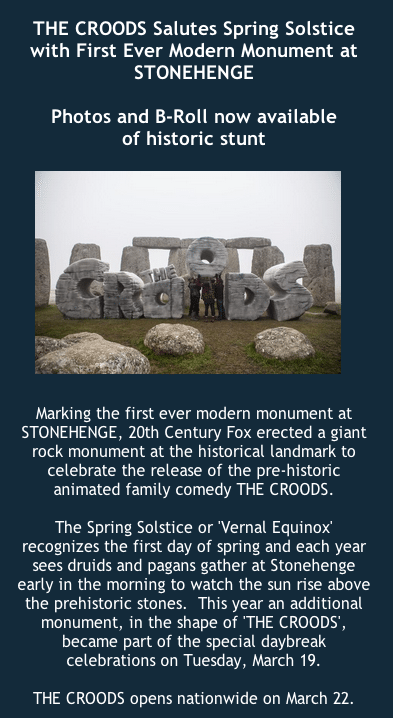 Isn't that amazing? I'm only disappointed that I wasn't able to trek to this mysterious, Neolithic, monument to see it gussied up with new 'stones' and some asshole in a sloth suit promoting a Nic Cage film.
I mean, this is the FIRST TIME EVER!!! that a modern monument has joined forces with these ancient standing stones to create something better. Something delightfully more-so. Something truly moving.
I think I might cry.
Oh wait? They did this on the dawn of the vernal equinox? That's just blowing my fucking mind. How did I miss this clever promotional event? I mean, I can imagine anything, but I can't imagine the look on the faces of the neo-druidic pilgrims who traveled to Stonehenge to witness the advent of spring only to find giant foam rocks and dipshits complaining about how their cappuccinos are cold while they scream into cellphones about getting more light on the fake sloth's giant, creepy green eyeballs.
I don't think I've seen a less well-considered marketing effort since Mr. Carlson dropped a load of live turkeys out of a helicopter to celebrate Thanksgiving. It's like they decided to carve Gerard Butler's face into the Washington Monument to promote Olympus Has Fallen—which they'll probably do next week.
But thanks marketing guys for sending me this email! I'll definitely help ya'll out with some free promotion for THE CROODS opening NATIONWIDE on March 22! That's, like, the day after tomorrow! I'm gonna get in line now!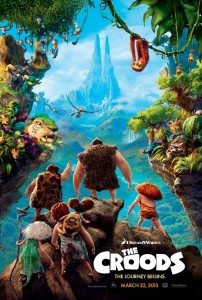 Nicolas Cage, Emma Stone, Ryan Reynolds, Catherine Keener, Cloris Leachman and Clark Duke star in THE CROODS, which follows the world's first modern family through the journey of a lifetime. When the cave that has always been their home is destroyed – with the rest of their world not far behind it – the Croods are forced to set off on the first family road (or path) trip. Rocked by generational clashes and seismic shifts, the Croods discover an incredible new world filled with fantastic creatures, and a future beyond any they imagined.