Based on its hallucinogenic, immersive trailer, I was pretty excited to see Lucien Castaing-Taylor and Verena Paravel's new doc Leviathan (not to be confused with the 1989 horror film of the same name). Well, here, you watch it and you'll see for yourself:
Looks wild, right? And this trailer leaves not a thing out — all the gorgeous, disturbing, disorienting, cacophonous sounds and sights you glimpse here flesh out the 1:27 hour film.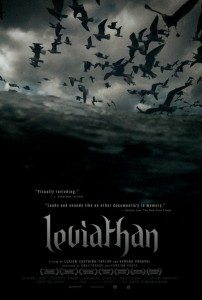 Watching Leviathan is basically like being on a New Bedford fishing trawler with synesthesia. That, it is fair to say, is something new to experience for most of us. Without a single line of narration or explanatory text and only a bit of overheard dialogue, you're thrown in among the salt spray, the unlucky catch, the men, and the sea.
It is like being swallowed by a behemoth of the deep and getting lost in its fetid belly.
I could tell you that Leviathan is one of the most interesting films I've seen in ages, but that it bored me to sleep, or I could say that it was the dullest film I've seen in recent memory, but that it intrigued me to no end. Both statements are factually correct.
Moments of stunning emotional resonance slip and slide among piles of fish heads. Gulls wheel and dive and screech their names, seen from a camera riding the trawler's wake upside down. Are we above the skin of the sea or below?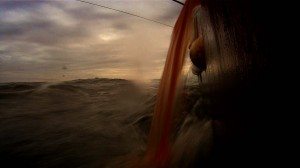 The problem I had with Leviathan was not in its conception or bravery. It was solely with its length. For while you might watch the trailer and think, "Yes. That is what I would like to see," you may well come to realize that instinct has led you astray. Each shot in the trailer populates the film, but instead of lasting a few seconds, it spools out for minutes. Long minutes of disorienting confusion or monotony or both. The gulls wheel and dive and screech their names over and over and over. The vessel's prow plunges in and out of the ocean again and again. It is lulling, even when what you're watching is a man slicing the wings off skates and rays and tossing the remainder to the deck.

This, I presume, is the monotony and numbing gore of a commercial fisherman's life. We actually watch one man as he slowly falls asleep in front of the galley television.
There is no narrative to Leviathan. It begins with a quote from the Book of Job and then jumps right into footage of hauling in nets at night, shot through a handheld, water-splattered camera. The two directors give you nothing with which to establish your vantage; figure out what you're watching or don't. Learn something or don't. This experience is offered without framework. That's the point. That's the experiment.
I didn't love or hate the documentary, and I'm not even really sure it is a documentary. I have seen it. I have experienced something. I liked that they credited all the fish shown (by scientific name) alongside all the men. And, if I'm going to be wholly truthful, I liked the trailer much more than the complete film.
I would not recommend going to see it on a date and then going out for sushi.