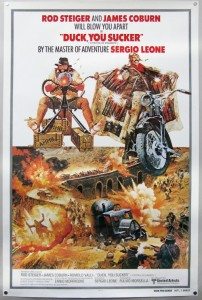 I was a bit worried when Duck, You Sucker ('71) opened with a quote from the world's most efficient mass-murderer, Mao Tse-tung, regarding the unpleasant nature of revolutions (indeed, if Mao is leading yours, get used to being dead). Sad to say, back in '71, Mao was looked upon favorably by many in the west. For Leone, as for Mao, revolutions were messy, confusing, and violent, and that's what Leone endeavors to show in Duck, You Sucker.
The opening shot following the quote is a stream of piss hitting a tree covered in ants, a visual metaphor reminiscent of the ants consuming a scorpion at the start of Peckinpah's The Wild Bunch, though in Duck, it's the ants, i.e. the many, many little people, who wind up dead.
The pisser of the piss is the hero of the story, Mexican peasant Juan Miranda, played by Rod Steiger, who is certainly not Mexican. But with makeup and an impressive accent, you'd never know. Almost. He's Rod Steiger, after all. He's hard to miss.
Miranda is a selfish, amoral thief and rapist, we learn during the first sequence, which, like the rest of the movie, goes on forever. After making his best movie, the three hour long The Good, The Bad And The Ugly, I think Leone decided that brevity was for suckers. Duck, You Sucker could lose an hour and still maintain a leisurely pace.
In fact it did lose close to an hour when initially released in the U.S. (current DVDs feature the full 158 minute version). But I'm guessing that hour was chopped out with something less than elegance. With a litte care, you could trim the fat without losing a single scene.
The setting is the Mexican Revolution in 1913. Miranda hooks up with an Irish demolitions expert, who every time he's about to blow something up says, "Duck, you sucker!" an expression common in English, claimed Leone, lord knows why. The original Italian name includes, I believe, the word for "testicle."
The Irishman is John Mallory (James Coburn), who fought the British in Ireland and has a price on his head. Flashbacks, shot in dreamy, soft focus slo-mo, show Mallory with his woman and his best pal, which pal eventually turns traitor and steals the woman. Mallory fled to Mexico, and seemingly has no interest in revolutions or bank robbery.
Which is what Miranda cares about: robbing a bank. This and that happens, and what do you know, Miranda finds himself in a basement full of conspirators up to who knows what, the upshot of which is that he and Mallory are assigned to blow up the bank. Great! Thing is, the bank isn't full of money. It's full of political prisoners. Whom Miranda inadvertantly frees, turning him into a hero of the revolution, the last thing in the world he wants to be.
Steiger gives it his all as Miranda. It's an excellent performance. He's vicious and amoral, but kind of a puppy dog too. He has moments of straight up comedy. His accent is at times dodgy, but mostly he nails it. Would it have been more appropriate to have a Mexican actor play the part? Many would argue thus, especially nowadays. The counter-argument is that without a big-name actor, such a movie would never be funded. Yet without ever casting Mexican (or other non-white) actors in any roles, big or small, no such stars rise up, and foreign roles continue to go to famous white faces.
This was one complaint leveled at Johnny Depp in The Lone Ranger. Why not cast a Native American actor? Because it was Depp who wanted this project made, expressly so he could play Tonto. (And as an aside, I think his take on the character is compelling and smart).
I admit I have no grand solutions nor contentious opinions on the matter. I think actors should be able to play anyone and anything at all. Also, I think it's a crime that even today, Hollywood runs in fear from non-white faces. I predict that within another, oh, 500 or so years, things get worked out.
Speaking  of white guys with accents, Peter Sellers does a typically impeccable impersonation of an Italian in After The Fox, a '66 comedy directed by, of all people, Italian neo-realist Vittorio De Sica, of Bicycle Thieves fame. Sellers insisted De Sica be the one to direct the script, the first by then-hot playwright Neil Simon (he later rewrote it with De Sica collaborator Cesare Zavattini). As it turned out, Sellers and De Sica wound up hating each other. Always makes for a successful picture.
Sellers plays famous thief Aldo Vanucci. He's in jail. Meanwhile, creepy weirdo Okra (Akim Tamiroff) and his hot sister (Maria Grazia Buccella) rob a truck full of like 300 gold bars right in front of the Pyramids outside Cairo. How to get the gold by boat into Italy without being spotted by police?
Well. Probably a thousand different ways. They opt for the "use a famous thief" method. After all, this is a Neil Simon comedy. Nothing has to make sense. And nothing does.
Valducci breaks out of jail. He dons many disguises, finally settling on that of a fake movie director, the neo-realist Federico Fabrizi. His fake movie, to be filmed on the coast when the boatload of gold arrives, will star his sister, Gina Romantica (Britt Ekland), and aging movie star Tony Powell (Victor Mature, hamming it up to the skies). Conning Powell, conning the local citizens, shooting the movie scene, this all allows for what I imagine is meant to be trenchant commentary on pompous directors. I'm not so sure the trenchant parts works out, but they get in a few jokes. More important, it's a chance for Sellers to be hilarious as a pompous Italian movie director. In this the movie succeeds.
But Sellers alone can't save this thing. It resembles Duck, You Sucker not only in starring a white-guy-with-an-accent and being directed by a famous Italian, but in being unconscionably boring. In this case, judicious editing wouldn't have helped. Yes, Neil Simon has his moments. Like maybe two, in each of his movies. Aside from watching Sellers do his brilliant thing, most of the humor in After The Fox lies in its being a comedy from '66. The jokes aren't funny, but the fact that these are the kind of jokes people once found funny is pretty damn funny. The '60s were a rough time for Hollywood movies, particularly comedies. The disconnect between what was happening in the world and what was on screen has never been wider.
Then again, After The Fox tanked when it opened. Not even '66 audiences dug it, to use the parlance of the times. Nowadays, word has it that After The Fox is a "cult favorite." Hm. I have my doubts, but why not? Sellers is a wonder to behold. And there's the Burt Bacharach soundtrack to consider, the very heart and soul and sound of the oblivious '60s, including the opening number—"After The Fox"—played over an animated credit sequence (hey, it worked for The Pink Panther) which you really ought to seek out.
Here, I'll save you the trouble of finding the song. And of watching the movie, for that matter. Enjoy this trailer:
The music in Duck, You Sucker is by Ennio Morricone. It might be excellent; his scores usually are. But married to this particular movie, it made my brain itch. It seems to belong to a different movie entirely. Someone should make a new movie with this score as the intended soundtrack. Something amazing would result.
Both movies end exactly the same way. A freeze frame of the star's face in close-up, with a kind of "What the—oh gosh—yikes!" expression, eyes wide. Must be an Italian thing. I can't in good conscience recommend either of these movies to anyone but weirdo movie obsessives (like me), in which case they can't be missed. I hope that helps.