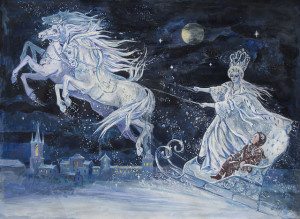 Hollywood lusts after my children. This is both creepy and true. Script gnomes have spent countless hours crafting narratives designed to bring them back to the multiplex. From the mines of glitter city, Disney now brings us Frozen, based on Hans Christian Andersen's less depressing fairytale, The Snow Queen, written in 1845. Now that's some staying power. My kids have already stopped talking about Frozen.
But I am Mr Bitterness. That much is true. My children are not, and both gave Frozen a thumbs up because they don't know Hans nor do they care. Their generous reviews may or may not have been affected by the Mr. Pibb I let them share, but parents are allowed their own tricks.
If truth be told, even this bitter old man enjoyed Disney's tale of icy whimsy. On the other hand, the first 20 minutes of the film sucked ass and I do not appreciate any ass sucking in children's films. Ass sucking is clearly adult fare. The first act of Frozen drifted perilously close to Shrek territory, and so I kept bracing myself for a jive talking donkey quick with the fart jokes. Thankfully, instead of bathroom humor, Disney substituted the weird valley-girl-princess vernacular they've been perfecting on their TV network over the last 15 years.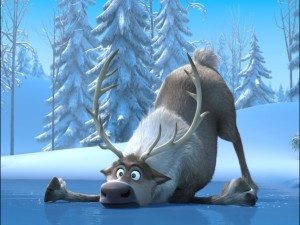 Frozen isn't a full-on dance musical but the main characters do burst out in song, apparently only to demonstrate that Kristen Bell has pitch control. The tracks are polished American Idol toe-tappers. They don't get in the way of the story, but they don't add much either.  I prefer big chorus numbers that get all the townspeople involved. You know, like in Grease where they all take over the lunchroom and dance out into Manhattan traffic and get run down by illegal taxicabs. Now that's entertainment.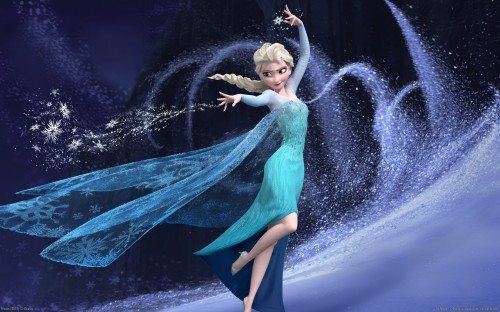 The comic relief in Frozen comes in the form of a collapsible robot-snowman (Josh Gad), and his character is a wise fool. Essentially, the robot snowman lacks self-awareness. That's the whole joke, and a very serviceable joke. Olaf the-Robot-Snowman does, however, know about love—much like Nemo's big-hearted sidekick, Dori. You've seen this type before.
As a parent, going to these movies is an obligation. Most of them I could do without, but a few rise to the top. I love Iron Giant, The Incredibles, A Town Called Panic, Spielberg's Tintin, and all eight installments of Spy Kids. I require only one of two things from kids' fare: either camp or subversion. I will take either but a tidy combination of both is far preferable. That's what creates staying power.
I get all warm and tingly just thinking about that.
But back to Frozen. In case you missed it, the message here is CLIMATE CHANGE IS BAD. In Disney-land this can be corrected through love (and cap & trade) and loyalty and strong female characters, like perhaps Hillary Clinton? The latter I am wholly in favor of, unless we're actually talking about Hillary Clinton.
Watching Frozen beside my daughter, I hoped she would see something inspired and I sorta-kinda think she did. Maybe. The women in Frozen didn't need men to solve their problems. That's a good thing for Disney. Step in the right direction and all that. But in the end, Disney's stab at a self-rescuing princesses is pretty half-baked if you ask me. Are you asking? Ok, but I'll have to SPOIL THE MOVIE. So stop reading.
The girl will die in the end unless true love is found. (true love!) The twist is that NO MAN can save her this time. THE ACT of true love is SELF LOVE and it gets her killed. BUT because it was TRUE SELF LOVE, it works like a GIANT DO-OVER. Cue: Music : Lights : Credits Roll. No weddings in the end. DID YOU HEAR THAT FEMINAZIS?!?! NO WEDDINGS!

It works like all those times Captain Kirk got away with violating The Prime Directive because no one really gave a shit about The Prime Directive. My daughter didn't give three shits about the missing wedding or THE KISS anyway. She was confused about the two male characters (Kristoff and Hans) looking too much like one another. Yeah, that was a problem.
But that computer animated snow looked fabulous.