Your new year's resolution was to see more and better movies? Mine too! This is going to work out great. But what, you ask, is there to see? If there's any month worse than January to find a new movie to see, it's February. Sure, the worst of the worst opens in January, but at least you've got all the Oscar contending art flicks to catch. You did see Inside Llewyn Davis, didn't you? Get on that. February, though. New movie-wise, it's slim pickings. Fortunately, it's festival time in town. There's plenty of weird new indie movies and old-time classics to keep you busy.
Various theaters: Thurs., Feb. 6 – Thurs., Feb. 20
The 16th year of this San Francisco staple. Like any festival of new movies, you have no idea what you're getting into, qualitywise. Last year we saw some winners, like Sightseers and Wrong, and at least one hurt our wee brains. But if you check out the list of films, you'll see most come with a trailer, to at least give you a hint. Go check out a few and support independent cinema.

A Field In England
The Roxie, San Francisco: Sat. & Sun., Feb. 8 & 9
I'll risk recommending one Indiefest movie, though I've yet to see it. It's the latest from director Ben Wheatley, who we've been enjoying quite a bit, particularly his above-mentioned Sightseers from last year. A Field In England appears to be an occult, psychedelic trip taken by soldiers in civil war era England, shot in black & white. I don't know what that means, but I can't wait to check it out. Word is his next movie is an adaptation of J.G. Ballard's High Rise, which promises to be weirder still.

Revenge of The Nerds
Castro Theatre, San Francisco: Sat., Feb. 8, 8:30
Sketchfest brings us the 30th Anniversary of one of the greatest achievements in motion picture history! Well. Maybe that's overstating it. A bit. Or a bit more than that. Still, it's Revenge of The Nerds. If nothing else, it'll be a brilliant time capsule from your childhood. Or mine, anyway. It's on the pricey side, but that's because most of the cast will be there in person, interviewed on stage following the screening. It'll be a packed house. You'll bring plenty of beer. It's going to be a good time.

Castro Theatre, San Francisco: Thurs., Feb. 13, 6:30
Revenge of The Nerds too low-brow for you? And yet you still enjoy watching beautiful women cavorting naked onscreen? Time for you to enjoy one of Helen Mirren's earliest performances, one she accomplished with very little clothing, in Age of Consent. She plays the island muse to burnt-out painter James Mason. I wrote it up here a while back. It screens with Kubrick's Lolita, featuring one of the finer performances by Peter Sellers, not to mention Shelley Winters, with Mason as addlebrained Humbert Humbert, and Sue Lyon as Lolita. Not my favorite Kubrick movie, but it's Kubrick, making it better than 99% of all other movies in existence.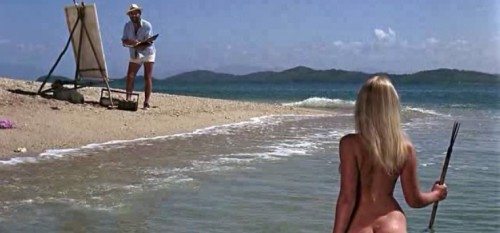 Tim's Vermeer
Your local Landmark theatre: Opens Fri., Feb. 14
A documentary made by magicians Penn (who produced) & Teller (who directed), about a computer special-effects artist, Tim Jenison, who becomes obsessed with the artwork of Dutch master Johannes Vermeer, the 17th century painter noted for his miraculously photo-realistic paintings. Many have wondered how he painted so realistically in a time long before the invention of photography. Tim undertakes to discover how it was done. I haven't seen it, but it looks fascinating. On the other hand, maybe it's a movie about stealing the magic from art, and will make all of us angry.

The Big City
One of Indian director Satyajit Ray's best movies, or so it is said. I must admit, my experience of Ray's movies has been limited to his Apu trilogy. Must be time for me to branch out. And you too. The Big City focuses on women's independence in 1950s middle-class Calcutta. You don't know much about that, do you? I didn't think so.

The Wind Rises
Your local Landmark Theatre: Opens Fri., Feb. 21
The latest by genius animator Hayao Miyazaki, he of Spirited Away, My Neighbor Totoro, Howl's Movie Castle, and etc. and so on fame, which movie, he says, will be his last. It tells the story of a boy who dreams of flying, who grows up to design amazing airplanes, which planes are used to wage World War Two. Yikes. Appears to suffer, perhaps, from being a bit of a tear-jerker, but what do I know? I haven't seen it yet. I will, though.

Miller's Crossing / Barton Fink
Castro Theatre, San Francisco: Weds., Feb. 19, 7:00
Now that you've been bowled over by the Coens' latest, Inside Llewyn Davis, why not see their two best movies back to back? If you've been paying attention, we've paired both of these movies up in creative double bills, here and here. You should also watch those. Meanwhile, go to the Castro and see them the way they were meant to be seen. Miller's Crossing is a sneakily crafted crime drama. Barton Fink is the weirdest examination of writer's block ever told. Enjoy!

Castro Theatre, San Francisco: Thurs., Feb. 27, 7:00
Bob Fosse directed one of our favorites of all time here at Mind Control, All That Jazz. It was his second to last movie. His last is Star 80, the story of ill-fated Playboy centerfold Dorothy Stratten, starring Mariel Hemingway and Eric Roberts. You might think it's the kind of thing that belongs on late night cable, but as directed by Fosse, this is a surprisingly good movie. As for Mulholland Drive, it's one of David Lynch's best, a long, weird Hollywood nightmare about an aspiring actress driven mad. Maybe. It's a movie that lets you make your own interpretations. It's a great one to see on the big screen.