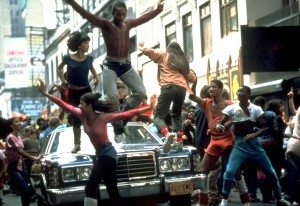 Fame. I'm going to live forever. I'm going to learn how to fly—high!
Either that or I'm going to kill you and everyone you know in the process.
I mean, really, who do I have to blow to get a three-picture deal in this town? Dick Cheney and a room full of pungent elephant seals? Done. What's next? Seriously: there's nothing I won't do to make it big. I may be just a lowly understudy today, but I'm on my way up. I'm taking the direct path to glory over your disposable, violated, old lady corpse.
And I don't give a rat's ass if you are the Meryl Streep of birthday party performers. I'm younger, cuter, and hungrier. Plus, my balloon animals are insane and they will cut you.
Everything—absolutely everything—is going to work out perfectly for me in this week's Mind Control Double Feature. You see me and think I'm but a babe in the woods, but by tomorrow this babe will be on stage, in the spotlight, accepting your accolades.
The only thing you could possibly do to stop me is to find someone exactly like me—only even younger, cuter, and hungrier—and point them in my direction with a vague whisper in their ear. Or, I guess, you could force me to watch this Mind Control Double Feature—through which one might learn exactly how foolhardy being a fame-hungry succubus can be.
All About Eve (1950)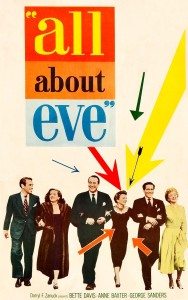 When writer/director Joseph Mankiewicz and producer Darryl Zanuck released All About Eve in 1950, they probably thought they had a good thing on their hands. They were wrong: they had one of the most widely acclaimed films of all time on their hands. All About Eve received 14 Academy Award nominations (a record tied only by Titanic), won Best Picture and five more, and still holds the distinction of being the only film in history to receive FOUR female acting noms—two each for Best Actress and Best Supporting Actress. 
So yeah. It's pretty good. Slightly better than Titanic, even, though that latter film does feature Billy Zane and some sweet Enya tracks. All About Eve only offers Bette Davis as the aging grand dame of New York stage; Anne Baxter as the devious up-and-comer; and a few other notable faces—such as the holy Thelma Ritter and that little-known nobody, Marilyn Monroe, performing in one of her first significant roles.
If she looked any more beautiful you'd have to hang your tongue out to dry.
It begins, as many clever films do, at the ending. Young, luminous, talented Eve Harrington (Baxter) is accepting the theater's highest honor, the fictitious Sarah Siddons Award. Snide and slimy critic Addison DeWitt (George Sanders) narrates the affair. This evening's festivities are notable for who is happy and who most assuredly is not. Distinctly displeased, one observes, are Margo Channing (Davis), her producer Max Fabian (Gregory Ratoff), and Margo's best friend Karen Richards (Celeste Holm) — wife of acclaimed playwright Lloyd Richards (Hugh Marlow). Why these people look so sour is the story that Addison promises, offering to tell you all about Eve.
As Margo says later (and famously) in the film:
Fasten your seatbelts, it's going to be a bumpy night!
And so we drift back to this story's beginning, when poor, pathetic lost lamb Eve Harrington finds her way into Margo's dressing room. Margo is feeling arch, threatened by her impolitely advancing age. This fear comes despite the support of devoted playwright Lloyd, her director and beau Bill (Gary Merrill), her friend Karen, and her more-than-maid Birdie (Ritter). Margo is the toast of the town, but she's nevertheless feeling a bit burnt.
Eve's gushing devotion to Margo is too good to be true—and so, of course, it isn't. As the fangs come out, so too comes the crazy. A wolf in sheep's clothing, indeed, is Eve.
It is no fluke that this film received so many nominations for acting. Bette Davis is all-too believable as the threatened diva. Anne Baxter is like a kitten that's been saving her claws for a surprise leap at your face. Is she over the top? Well surely yes, but in a compellingly camp fashion. Personally, I prefer the too brief appearance of Thelma Ritter. You'll note her Birdie is the one character who sees through Eve from the start and the way Ritter plays this is why I love her. Even more than a young Marilyn Monroe. If you've yet to become aware of Thelma Ritter as a character actor of undersung value, then feast your eyes. (And watch Pickup on South Street.)
By its conclusion, All About Eve has related the sardonic story of how Hollywood primes women to dream, then cuts those dreams as short as possible—using other women with the same dreams as the scythe. It's a bit dated in some of its 'what a dame needs is a man' dialogue, but cut the film some slack. It was 1950, and no matter what they say, the ladies are clearly in control. Interestingly, 1950 was also the year Sunset Boulevard came out—another film about how actresses age—but that's not what we're watching next.
Showgirls (1995)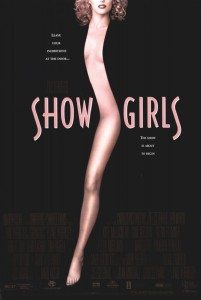 From it's very opening moments, one thing about Paul Verhoeven's Showgirls is abundantly clear: this is a terrible, terrible film. It is like watching people you're related to have acrobatic sex on a train that's plunging over a cliff into a volcano full of strippers.
So you see why you will watch it despite its undeniable awfulness. From some things one simply cannot avert one's eyes. Showgirls is such a thing.
It is also remarkably, disturbingly similar to All About Eve in terms of its story. Practically only two major things distinguish the two pictures. First, Showgirls reconfigures its ending to produce a different sort of muddled morality tale. Second, Elizabeth Berkeley is not rubbing her hootchie in your face throughout most (okay, all) of All About Eve. And really, one must give Berkeley credit: she is exuberant in her lack of pantaloons and inhibitions throughout this film.
Perhaps that sounds potentially arousing? I am here to disillusion you. She—and Gina Gershon, who plays Vegas topless revue queen Cristal Conners, and much of the rest of the cast, too—are naked throughout Showgirls. They are naked in much the same way that Barbie's smooth, tan, featureless pelvis is exposed at the bottom of your bin of abandoned toys. While these actresses do indeed possess nipples and even genitals, they are presented plastically. One thinks—when watching the displays of seduction and lovemaking in Showgirls—not of sex, but of mechanical bulls in need of repair.
I was going to say "servicing," but even that feels sexier than this stuff is.
Showgirls begins with Nomi Malone (Berkeley) hitching a ride into Vegas, where she aims to make it big as a dancer. Within seconds, she's pulled out a switchblade. Given how the rest of the film progresses, it is remarkable she keeps her kit on throughout her brief drive into town. Like Eve Harrington, Nomi arrives a poor, pathetic lamb. She devotes herself to success in demeaning ways—first as a dancer at a strip club (with Robert Davi as the icky boss), before lap dancing her way into the Vegas revue 'Goddess.' This show basically features people in transparent and/or disposable costumes bending over as far as possible. It is headlined by Gershon's Conners, dressed by Nomi's trailer-mate Molly (Gina Ravera), and run by men of questionable integrity—notably Kyle MacLachlan's Zack Carey.
From here, we shimmy, flex, and spread our way along a road Anne Baxter traveled with considerably more clothing but no less exuberance in 1950. What does it take to succeed in show biz if you're a pretty young thing with diluted morality? First, one learns from these films, you become your idol's understudy. Then you seduce, scheme, and slaughter your way to the top, and don't skimp on the slander, either.
What that gets you is a moment in the sun, but only a moment.
One might suppose that Verhoeven (shooting a script by the infamous Joe Eszterhas) intended something as cutting as Mankiewicz's All About Eve and as subversive as his infinitely more successful Starship Troopers. Even being generous as to his intentions, it's impossible not to call Showgirls a failure of grand proportions. If it's satire, that satire is buried under a mountain of shaved pubic hair, glitter, and some of the worst acting ever committed to film—and I've seen Battlefield Earth more than once. Showgirls won eight Razzie awards—including 'Worst Film of the Decade"—and that's a record it took strivers like Adam Sandler or Lindsay Lohan to top.
Even so, Showgirls is a sight to behold. Watching it back-to-back with All About Eve is an endeavor worthwhile for its audacity and insanity. If you happen to be a young man or woman with starry eyes, take warning. That golden trophy you seek may end up yours, but it'll have to fill the space your heart once held. Or some other orifice, perhaps.
Not every hopeful starlet can become Meryl Streep. Think of how many more Oscars we'd have to give out. And that show is tedious enough already.