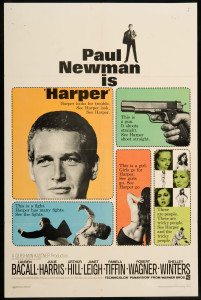 In the 1966 film Harper, ice-eyed Paul Newman plays the eponymous anti-hero, an ill-mannered private detective named Lew Harper. In the book on which the film's based, by Ross MacDonald, the name was Lew Archer — but rights issues and Newman's fondness for the box office fortunes indicated by the letter 'H' (Hud, The Hustler, Hombre, etc.) had their way. So we got Harper, a swinging sixties stab at the hardboiled, as scripted by the esteemed William Goldman.
Goldman's shiv sinks in. Harper, despite the somewhat alienating acting of supporting cast members and the amplified directing style popular in that period, runs in turns ugly and funny and compelling. Most of this is due to Newman, who slumps and slovens from beginning to end much to my admiration.
No one is as casually piercing as Paul Newman, particularly when he's got Goldman's dialogue dripping off his sneering lips. In this case, the star is backed by many other big names, and many of them wear their weight well.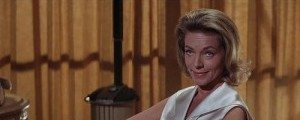 For one, Lauren Bacall — The Lauren Bacall, now no longer the smoldering 21-year-old of The Big Sleep. She returns here to the genre of her earlier acclaim. In Harper, she survives more red points, meaning corpses, but plays a very different role. She's Elaine Sampson, the paralyzed and desensitized wife of missing millionaire Ralph Sampson — a part that crosses General Sternwood from The Big Sleep with Bacall's memorable turn as his eldest daughter, the fiery Vivian.
Elaine, through her husband's attorney Albert Graves (Arthur Hill), hires Archer, or Harper, or whomever to put his finger on the missing man.
Let's not worry about names. Let's just give credit where it's due: to Goldman.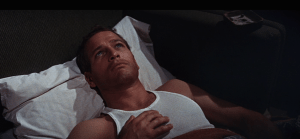 In the opening sequence Goldman gives us all we need to know about Harper. He lies in bed — which is a fold out couch — while his alarm rings. He listens to it chatter, letting it rattle around his head, then punches it off. He does the same to a television that looks apologetic with its end-of-broadcast signal. Harper rises to open the tatty curtains of his one-room flat. Despite the gloom inside, it's broad day out. From a miniature fridge Harper lifts a rack of ice cubes. He empties them into his dingy bathroom sink, so he can submerge his sozzled face. The kettle boils but he's out of coffee and here we get a Newman grin. Welcome to Harper's home.
The man pulls yesterday's full coffee filter from the trash and makes the best with what he's got. His expression will tell you how that goes. And how it looks to keep on going.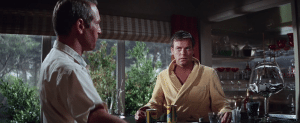 Ralph Sampson is missing. He's got a wife who longs to see him buried, a kittenish daughter who only feels comfortable licking lips — hers or yours (Pamela Tiffin), a studly pilot who saw the man last (Robert Wagner), and an aging actress cum astrologer who's as pickled as punch (Shelly Winters). Through this mess Harper slogs while his own wife (Janet Leigh) does her best to graduate to ex.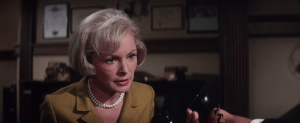 The mystery mirrors that of MacDonald's novel The Moving Target, which was set 15 years earlier, in '49. It's a book I've read, but I wouldn't have known it from the film if my wife hadn't clicked in and kicked me three-quarters through. The story's not Chandler, and it's not Hammett, but it's the next best thing. If you can't have Philip Marlow, or Sam Spade, and Bogart is dead, and Elliot Gould in Altman's The Long Goodbye makes you snap pencils, then let me introduce you to Harper. Archer. Newman. Whomever.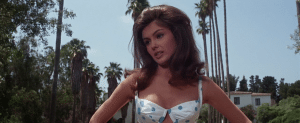 He's as solid as a block of ice, and on occasion as slick. Director Jack Smight (Damnation Alley, Airport '75) doesn't earn his own shelf at the video store, but he does well here more often than not. He has plenty of help from lauded cinematographer Conrad Hall who makes abandoned boatyards and frozen food storage facilities look divinely decrepit. And then there's Newman, snapping off Goldman's wry words, and who cares if young miss Sampson is doing the frug in her bikini on the diving board, or if many of the performances are affected and overdone.
Are we hardboiled or can you make us ache?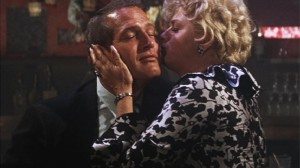 Going into the tale of who does what to whom in Harper and why wouldn't be quite as complex as elucidating the plot of The Big Sleep — which frankly is so confusing even director Howard Hawks had to wire Raymond Chandler for clarification, but Chandler was stumped too — but it's close. In any case, for a plot summary, Wikipedia offers reasonably accurate results.
Skip the Cliff Notes, though. Harper is worth your while.
I adored its opening scene and wish I'd written its closer. Much of what fills the middle satisfies on at least one level, if not many. As I mentioned: ugly, funny, compelling. It's a role Newman melts into. He must have liked it, too, as he played Harper again in 1975's The Drowning Pool.
Harper's a heel. Harper gets hurt. And Harper holds on, even when he wishes he wouldn't.