Happy Halloween you screwballs!
You got your costume all picked out? Are you going as something really scary this year? Maybe Hulk's underpants? Or a female video game enthusiast? Terrifying!!!!
I, I'm proud to say, will be going as Vinz Clortho, Keymaster of Gozer, Volguus Zildrohar, Lord of the Sebouillia. Mayhaps photos will appear here later. Mayhaps not.
But. To celebrate the rising of everything that's foul and beastly on this Hallow's ween, I give you a rare and previously unseen photo from the Stand By For Mind Control archives. A photo with which you might counteract the foul and beastly via some seriously fetching and frisky.
To wit; feast your eyes on this set photo of Jamie Lee Curtis and Kim Cattrall dressed as sixties schoolgirls and flipping you the bird.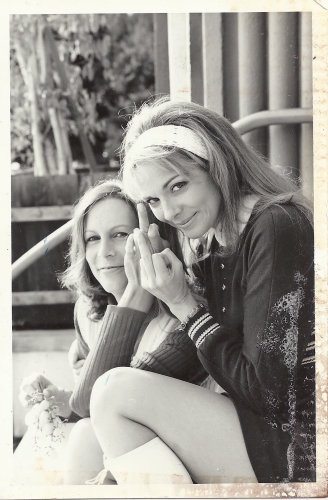 This was taken during the filming of The Heidi Chronicles, shot for TNT back in 1995. Yours truly was lucky enough to be Jamie's assistant at the time and if you get me drunk, I'll tell you some good stories.
She was a hell of a lot of fun to work for and one of the sanest celebrities I've ever come across. Kim was also kind but she had trouble driving stick, if you know what I mean.
If you don't know what I mean, what I mean is that she had trouble operating an old VW Beetle with a manual transmission. There was a funny story there that involves the word "rolling" but this anecdote has gone on long enough. And, now that I think about it, maybe it was Jamie that was driving the Beetle? It's been 20 years. Leave me alone.
Next Halloween, if you're lucky, I will share the photo I have of Steve Martin dressed like an alligator. Or maybe it's a crocodile? It's hard to tell with Steve.
Now, if you'll excuse me, I have to wait for the sign. Then our prisoners will be released.