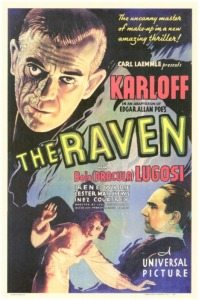 The Raven was not a success. It was too gruesome. Too terrifying. Too unwholesome. It was, in part, the reason England temporarily banned horror movies back in those tender, innocent days of 1935.
It is, therefore, the perfect movie to watch this Halloween night.
It has almost exactly nothing to do with Poe's poem, though Bela Lugosi plays Dr. Richard Vollin, a genius brain surgeon obsessed with Poe's obsessions. A genius, yes, but retired. Whatever to do with young Jean Thatcher, terribly injured in a car accident? Her father convinces Vollin to operate.
And wouldn't you know it, Vollin falls in love with the young lass, much to her father's consternation. Seems he's come to the opinion that Dr. Vollin is a madman with a terribly unhealthy god complex.
Which is exactly true. Vollin is completely bonkers.
To make sure we're convinced of his lunacy, a murderer on the run visits Vollin and asks to be given a new face, that he may lead a decent life. This is Edmond Bateman, played by Boris Karloff. Bateman, though a murderer, seems a decent fellow. He says it's his ugly face that's made him such an ugly man. With a new face, he would be kind and good.
Vollin agrees to operate just a bit too gleefully. He doesn't make Bateman beautiful. He turns him into a hideous monster. And he'll only restore Bateman's face if he helps Vollin with a murder or two or now that he's at it maybe several.
The final act of the movie is the freaky gruesome one, in which we learn Vollin's Poe obsession extends to a dungeon full of booby-traps and torture devices to be used on Vollin's dinner party guests. It's a bit reminiscent (or preminiscent?) of the '71 Vincent Price horror classic, The Abominable Dr. Phibes, which in fact should be the second part of your Halloween double feature following The Raven.
Lugosi is marvelous as the evil Doctor, and Karloff is Karloff, which is fine if you like that sort of thing. I mean he does have something, doesn't he? He's not really the actor Lugosi is, but that face! That voice! He is a creepy man with a whole lot of soul.
Be prepared to run screaming through your house in mindless, abject terror when you watch The Raven. It is like no horror movie you have ever seen!* Beware!
*Assuming you have not seen any horror films made after 1935.