In 2006, Andy Summers, guitarist for The Police, published a memoir titled One Train Later. Musicians' memoirs, or really any memoirs by anyone not themselves a writer, are typically ghostwritten. The musician is interviewed by a writer who then transcribes and edits and organizes the material into a story. If the musician is as conversationally fascinating as Miles Davis, you wind up with an entertaining read. If the musician is as uninterested in reliving his life in interview form as Keith Richards, you wind up with a disjointed brick full of pointless drug stories, maybe two pages of insight into guitar playing, and zero insight into the man. In either case–in every case–you don't wind up impressed with the writing. It's not about the writing. It's about the stories the musician tells.
Summers's memoir is something altogether different. He wrote it himself, for one thing. For another thing, he's a wonderful writer. And wonderful in a unique way. If you read a lot, you'll see right off that he's not a professional writer. Yet if anything, his lack of pretense, his lack of visibly trying, is what makes it such a pleasure to read. His style is all his own. He writes with simple, straightforward honesty and reflection, decorated with just a touch of poetic metaphors and trippy imagery. Not what one expects of a rock and roll guitar player. But Summers was never a typical rock guitarist.
The most surprising thing about One Train Later is that it's not a book about Summers's experiences in The Police. It's the memoir of a musician. Anyone curious about the life of an artist, one who struggled to make it for close to twenty years before, out of the blue, hitting it big, would love this book. One needn't have the slightest interest in or knowledge of The Police to love this book or to fall in love with Summers.
Which you will do if you read it. Summers is just so damn loveable. You want to hug the guy, or at least hug his 20ish era self, as he experiences London for the first time, conveniently at the very moment the psychedelic scene arrived. Summers fell right into the times. He did a lot of LSD and shacked up with a lot of dreamy hippie girls. And he played a lot of guitar, initially for a fairly straight-ahead act with the house gig at a hot club, and later with the hilariously named Dantalion's Chariot, a band so psychedelic they painted all of their instruments white to better aid the light show. They didn't last more than one album.
As a guitar player, Summers loved the strange and complex world of the psychedelic. When at the end of the '60s the blues swept the London scene, Summers didn't join the crowd (though he was rumored to be on the Rolling Stones' shortlist of guitarists to replace Brian Jones). He kept on playing all the weird shit he loved. And when punk arrived, he was even less of a fit. He didn't thrill to playing three chords, loudly. He was into the musically adventurous.
He played with The Animals for a year and an album before Eric Burden broke up the band, and back in London managed to pick up with some mildly successful acts. But not until he was teamed up with bassist/singer Sting and drummer Stewart Copeland for some random event did his fortunes change.
But not right away. Copeland and Sting had this punk band, The Police, they'd just formed with another guitar player, and though they wanted Summers to join them, he said only if they fired the other guitar player. Eventually they did. Sting, previously a bit cool on the the simplistic punk ethic, became more enthused when he realized Summers could play anything Sting wrote. Soon the new trio had a single in "Roxanne" and an album with Outlandous d'Amour. A bastard of a tour schedule followed. They were on their way.
Summers's time with The Police makes up no more than the last quarter of his book. In the recent movie version of Summers's memoir, Can't Stand Losing You: Surviving The Police, the ratio is flipped. Intercut with footage from their reunion tour of '07/'08, Summers's younger days and bands make a brief appearance, but the bulk of the movie follows the history of The Police, as told from Summers's point of view.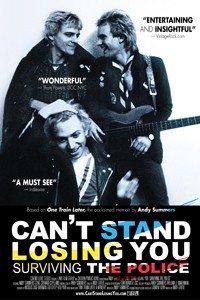 Directed/edited by Andy Grieve, it's not a bad little movie, though unlike the book it's inspired by, it's likely to be of interest mostly to Police fans. It's a history of a band rather than the history of a musician. As such, it suffers somewhat in telling only one third of the band's story; there are no new interviews with Sting or Copeland.
To its credit, there are no new interviews with Summers, either. This is not a documentary of talking heads telling a story. Narration is provided by Summers reading excerpts from his book. Other than that, it's all clips of old interviews and shows and other footage from back in the day. Also interspersed throughout are Summers's black and white photos. During the first years of the band's lengthy tours, Summers discovered photography. Turns out he's quite a photographer.
From the perspective of a Police fan (me, for example), Can't Stand Losing You is definitely worth one's time. Summers, Sting, and Copeland were certainly never boring. Every clip of them in the same room they're talking over each other, taking the piss out of each other, or about to punch each other. I don't know if they ever had a single coherent thing to say in an interview. Which is what makes their interviews so enjoyable. They played up their image to the hilt.
And you can't beat the performances. Say what you will about much of Sting's later music–and I should hope you will say many terrible, terrible things–in The Police, he killed it. Summers is a some kind of minor genius weirdo, and Copeland, well, he's just the best, isn't he? He is. Don't argue with me. I of course would have enjoyed some lengthier concert footage of them playing space-reggae freak-outs like "Shadows In The Rain," but it's a fast-paced doc, so the clips are brief and judiciously sprinkled.
Does Can't Stand Losing You beat One Train Later? Nope. Like most books made into movies, it leaves out much of what made the book so good. So it goes. For Police fans, see the movie. For everyone else (including Police fans), read the book. You'll be surprised how much you love it.
And now, a few nice Andy Summers photos: