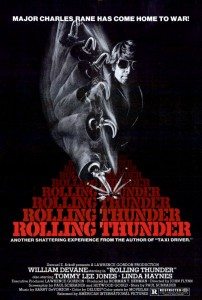 Before Apocalypse Now, The Deer Hunter, and Coming Home, there was Rolling Thunder ('77). Unlike the later three, it wasn't critically acclaimed and awarded golden statues. It was sold as a B movie action flick, released by AIP, and for its time was considered plenty violent. It still is plenty violent, but the most shocking thing about it is how the characters react to it: as just how it goes.
William Devane plays Major Charles Rane, a Vietnam POW released after eight years who's coming home to San Antonio, where his wife and ten year old son happily greet him. Only then again, maybe they're not so happy. Junior doesn't remember his pa at all, and the wife, reasonably assuming Charles was dead, has fallen in love with a local policeman and wants a divorce.
Told of this late the night of his return, Charles takes it in and says simply, "I don't think I'm up for any more of this." She asks what he's going to do. "I'm just gonna sit here."
He sleeps in the garage out back. He doesn't say much. He has few expressions. He seems to be taking everything fine, but fine in the way where you're waiting for the aliens to burst out of his skull. He's going to snap, but when? All he needs is a good reason.
The good reason doesn't take long to find him. Four men come to his house to steal $2,000 in silver coins. They ask where he's got it stashed. Thing is, Charles isn't so keen on answering questions. One imagines he was asked rather a lot of them during those eight years being tortured by the Vietnamese, and one imagines he never answered even one. The men beat him up, burn his hand, and so on, but he's not talking. So they do what any of us would—they put Charles's hand in the garbage disposal. Charles winces at first, but then calm descends. He can take whatever they've got.
But can his wife and son? Nope. They walk in at exactly the wrong time, and junior says sure he knows where the coins are. He runs and gets them. And the bad men shoot everybody.
Yikes. Not a movie that pulls its punches…or its hands, out of garbage disposals.
Only Charles lives. He's got a hook for a hand. His wife's lover, the cop, Cliff (Lawrason Driscoll), wants to hunt down the killers, but Charles, calm as ever, can't remember a thing about what happened or who did it. Cliff is enraged, I would say with good reason. He's desperate to find them. "You'll get over it," says Charles.
Yeah. Right. Charles remembers plenty. Off he goes to Mexico to find the killers, enlisting the help of fellow released POW Johnny (Tommy Lee Jones), who's even more dead inside and disconnected from the world than Charles.
But this all takes time. Linda (linda Haynes), a young woman who's been obsessing over Charles his whole time in captivity, tells him she's his groupie. She'll do anything for him. Will she come to Mexico with him? She sure will.
A lot of time is spent with these two. Rolling Thunder, though it's considered a revenge flick, which to some degree it certainly is, is largely a coming-home-from-Vietnam drama, a low-key character study of a man who as much as he wants a quiet, normal life, is incapable of having one.
Devane is excellent as Charles. He's never loud, never in a hurry, never emotional. He just does what he does, simply and carefully, and doesn't say much about anything. Even better is Tommy Lee Jones as Johnny. It's too bad he's not in the movie much. He's a man with nothing left inside.
Of a song Charles and Linda hear on the radio, Charles says, "I liked that song when I was alive." He was alive before he was imprisoned. What is he now?
Early on, Charles shows Cliff one of the Vietnamese methods of torture: he wraps a rope around his arms, ties them together behind his back, and tells Cliff to yank his arms up. Higher, Cliff. Higher! Twice a day they did it. Charles learned to deal with it by loving the rope. So long as he loved the rope, he was beating them, and they didn't even know it. If any scene in the early going points to the volcano brewing inside Charles, it's this one.
John Flynn directed from a script originally by Paul Schrader, rewritten by Heywood Gould, and it's certainly got that Schrader vibe. He wrote it originally in '73, just after writing Taxi Driver, his other movie about a Vietnam vet waiting to explode. Jordan Cronenweth, of Blade Runner, Altered States, and Stop Making Sense fame, shot the movie, and did so like he was challenging Gordon Willis to a dark-off. Every scene is half-lit, if that. Charles's face is often little more than a shadow.
The final shoot-out in the whorehouse is both sloppy and precise. Two men going about their business of killing anything that moves. "What the fuck are you doing?" cries one of the prostitutes to Johnny. "I'm gonna kill a bunch of people," he deadpans.
Rolling Thunder is a cult film these days. Quentin Tarantino named his distribution company after it. I didn't exactly love it, but it's an unusually dark and compelling movie. Everything in it is boiling just under the surface. There's nothing heroic about it, nothing to celebrate. It is what it is.
(And thanks to the Castro Theatre for screening it in 35mm!)