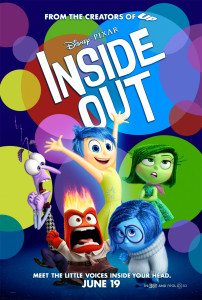 Inside Out is a lovely little movie. It's a return to form for Pixar, which, I was going say, has been churning out less than stellar movies of late, only I just looked into the matter a bit more closely, and what? Brave ('12) won an Oscar for best animated movie? I thought everyone hated Brave. I guess not. And box office? Whoa. Pixar has never come anywhere close to losing their mojo, money-wise. Cars 2 ('11) made over half a billion dollars worldwide. You loved Cars 2, right? With the exception of money-hoovering behemoth Toy Story 3 ('10), Monsters University ('13) made more money worldwide than any Pixar movie since Finding Nemo ('03). Go figure.
No matter. We're not here to talk about box office receipts. We're here to talk about good movies, and Pixar has been running on steam for years. Granted, Pixar's steam could power the animation departments of most of the other studios combined, but still, steam is steam. Inside Out, though, is not hot air. Inside Out is a lovely little movie.
It's directed by Pete Docter, who previously directed Up and Monsters, Inc., as well as no doubt having had a hand in other Pixar productions. Docter and Lasseter and Stanton and the rest of the fabled "brain trust" have their fingers in many a Pixar pie, no matter who's writing and directing. But so anyway, the point being, when Docter is directing, you know you won't be stuck watching a bunch of talking cars.
Personally, I wasn't a big fan of Monsters Inc. Something about how it all takes place in a bland office building rubbed me the wrong way. But the concept behind it is strong. Up is a strange movie conceptually, and I like strange concepts, though all told I didn't love the movie the way many did. It seemed to go off the rails by the end.
Inside Out is Docter's best. Conceptually it at first sounds too-familiar. We're inside a character's head with the wacky bunch of loons controlling her emotions. But as with any good story, it's in the telling. And in the case of Pixar, in the animating. Inside Out features some of the craziest, most imaginative scenarios Pixar's ever come up with, my favorite being the journey through Abstract Thought, which if reminiscent of anything is reminiscent of the more psychedelic Chuck Jones-directed Warner Bros. cartoons. Like Duck Amuck.
The whole world of Inside Out is wonderfully strange and stylized. To me, this is what animated movies should strive for. One of the previews illustrates this perfectly. It was for some new Disney movie called Zootopia, and the preview wasn't really a preview so much as an explanation of the movie. You see, Zootopia is a world just like ours, but—wait for it—with animals instead of humans! Wild, right? They wear clothes, and have jobs, but they're, like, goats and rabbits and frogs. "How do they come up with this stuff?" asked no one over the age of three.
Inside Out is the story of the emotions running the mind of an 11-year-old girl, Riley (Kaitlyn Dias), whose parents move her from Minnesota to San Francisco. The move to a new city and a new school with new kids turns Riley sad and angry. It's up to her emotions—Joy (Amy Poehler), Sadness (Phyllis Smith), Anger (Lewis Black), Fear (Bill Hader), and Disgust (Mindy Kaling)—to keep her from losing the foundations of her personality. Which foundations are represented by Riley's core memories and her islands of personality—actual islands hovering above an abyss filled with lost memories. Her memories come in the form of glowing bowling balls, most of which glow with the golden light of Joy. That is until Sadness starts touching them and turning them blue.
Soon Joy and Sadness find themselves sucked from the safe confines of headquarters into the faraway maze of long-term memory. Without Joy running the emotional control-panel, Riley's personality might well be forever altered into something dark and disconnected from her past.
I don't think I'm giving anything away to say that by the end we learn Sadness is just as important as Joy in maintaining a healthy personality. Which for an animated kids movie is actually one hell of a deep message to be going for. Will it go over kids' heads? The depth of it will, but not the story or the characters. Docter pulls off what I think every adult—especially ones with kids who want to watch the same animated movies over and over again—wishes of animated movies: he's made a movie fun for kids and profound for adults. With plenty of good jokes.
I can easily imagine kids loving Inside Out now…and then watching it again twenty years later and being blown away by everything they didn't get as kids. Kids will love the imagination on display and the humor, but I doubt the movie will make them teary-eyed. Adults? Oh yes. The sadness evoked by the movie comes from the knowledge of what it means to lose cherished memories, to change, to grow up. It evokes a nostalgic sadness for one's own past. The memories of what we had to give up to grow up are neither sad not joyful. They're both and they're neither, or they're one and the same. It's complicated.
Keeping things light, and weird, there's Bing Bong (Richard Kind), a part cat, part elephant, part ball of cotton candy, part dolphin imaginary friend of Riley's she's almost, but not quite, entirely forgotten about. He's instrumental in helping Joy and Sadness make the long journey back to headquarters. He's also hilarious and bizarre and I admit I kind of want whatever adoarable stuffed animal version of him must surely be for sale.
Another of my favorite locations was, naturally, the Dream Factory, protrayed as a movie studio in which dreams are filmed.
We get a few brief peeks into the minds of other characters, mostly at the end of the movie. One scene mid-movie brings us inside the minds of Riley's parents. It's funny, but their characters are never developed. They're just "parents." In a way, Riley's journey feels kind of brief and simple; her potential change of personality is told over the course of only a few days. But in another way, Riley herself isn't the main character. If anyone is, it's Sadness. She's the one who makes the biggest journey of self-discovery.
I hope Pixar continues to take chances like this. But it may be a while before we get something as imaginative and unusual as Inside Out. Next up is a flick about dinosaurs, followed by any number of sequels. Speaking of which, expect one for Inside Out. Few movies are as well set up for sequelization as this one. Who knows what madness lies inside the mind of a teenage girl?