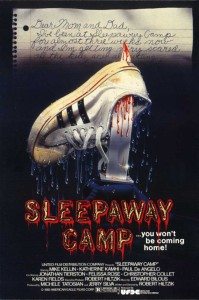 Sleepaway Camp, a 1983 Friday The 13th rip-off written/directed by Robert Hiltzik, is a baffling entry in the teenage slasher flick craze of the '80s. It's almost totally bloodless, the killer is the one character you're so sure is the killer you assume you must be wrong, there is no female nudity, the dialogue is kind of pleasantly naturalistic except when it aggressively isn't, it's not bad in the ways these movies are typically bad, yet it's not good in the way the good ones are good, and the ending—oh, man, the ending—what the hell is the ending supposed to mean?
I'd tell you all about how it ends, but maybe you should watch Sleepaway Camp for yourself just to experience the weirdness.
An ending like this should retroactively paint the whole movie with meaning. But in Sleepaway Camp there is no meaning. It's Hiltzak's lone movie (save a straight-to-video sequel he made 20+ years later). His lack of filmmaking chops shows everywhere. Yet his lack of style and affect gives the movie a naturalness you'd never expect in a teen slasher flick. The kids look like kids. They talk like kids. They act like kids. Except when they don't. Least natural of all is the evil girl, Judy, who's nothing but a caricature of teenage nastiness, with no goal but to ruin the life of the shy, almost mute new girl, Angela.
Angela comes to camp with her brother, Ricky, who's been many times. I guess mom didn't want her girl going to camp? No. She didn't. She's got a reason. A creepy one.
And wait a second, is Ricky really Angela's brother? Hiltzak opens his movie in a very confusing way, in part to hide the big reveal at movie's end, and in part because he has no idea how to make a movie.
First of all, the credits play over an empty summer camp on a cloudy day, with children's voices rising and falling on the soundtrack. Not a bad scary movie opening. The sequence ends on the camp's sign, covered up with FOR SALE. Cut to a summer day with campers water-skiing. Did we just go back in time? Or did something awful happen long ago, and now the camp is under new ownership?
Forget it, doesn't matter. The water-skiing kids are careless and run over a man swimming with his two little kids, a boy and a girl. The man is killed. Are the kids killed? I think it's implied that one is? Maybe? I couldn't tell.
And then we cut to EIGHT YEARS LATER and teenage Angela and Ricky with their insanely over-acting mom, and I figured both kids had lived. Maybe I was supposed to know Angela had been adopted? Or that the mom is a distant relative? Or maybe knowing this doesn't matter?
It's a peculiar movie in how little of anything matters to anyone, characters and filmmaker alike. It seems to exist for one reason: the bizarro ending.
Getting there isn't boring, but it's pretty far from interesting. A rapey cook is killed, then mean teen camper after mean teen camper, and finally a whole bunch of innocent campers, and we're never quite sure who it is, of course, despite every five minutes or so cutting to Angela's silent, staring face in close-up.
The deaths occur off-screen. There's essentially no blood, and not a bit of gore, save the final shot. So in that sense, there's a build-up. Which is something. And come to think of it, the killer is perhaps more cold-hearted and nefarious than their more famous counterparts, killing not only "bad" people, but, by the end, everyone, including innocent pre-teen kids, hacked up in their sleeping bags like a bunch of savaged turtles.
None of this is scary, by the way. Sleepaway Camp leans toward the funny end of cheapo horror flicks, only it's not exactly funny, either. Worse yet, nobody has sex. What was Hiltzak going for? What was his purpose, aside from cashing in on a trend? Did he want his shock ending to mean something, and was he lacking the talent to deliver it? Or was the twist his only goal? The movie's not campy enough to be a laugh riot, but it's not serious enough to be gripping. I'll give it this: it's its own thing.
Sleepaway Camp became a hit on home video and spawned a bunch of sequels I have a hard time believing anyone saw. Hiltzak had no idea a cult following had developed. When he found out, he made his own sequel, which no one continued to see. Should one watch the original? Well. One could do worse. But you have to have a special interest in early '80s, cheap teen/slasher/horror flicks to make it at all worth your while. A Nightmare On Elm Street it ain't.