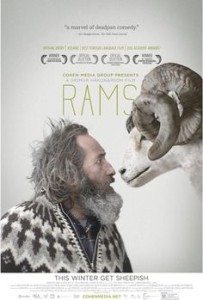 Where are all of the Icelandic movies about sheep and sheep farmers? A question I've often been tormented by. Not long ago I read famous Icelandic novel Independent People by Halldór Laxness, in which I learned all about being a tough, old, silent sheep farmer. Hell of a book, if you're into reading about sheep. If you're more into watching them, writer/director Grímur Hákonarson's new film, Rams (Hrútar), has you covered.
Rams tells the story of two estranged brothers, Gummi and Kiddi, living next door to one another in a vast valley otherwise pretty much empty of humans. They're both sheep farmers. Their properties are separated by little more than a wire fence. And they haven't spoken for 40 years. When they must communicate, it's by letters rolled up and delivered by dog. A nice bit of business, that.
Rams is often kind of subtly funny, but not so you'll laugh out loud. It's funny in a sad way, in the particulars of a lonely, sheep farming life, and the two bitter brothers who live it. Sheep are serious business in Rams, and when Gummi finds Kiddi's prize-winning ram infected by the deadly scrapie virus (i.e. mad sheep disease), the entire valley and all of its farmers are faced with what they fear most: the loss of their sheep.
The only way to eradicate scrapie is to slaughter all the sheep in the valley, whether they're infected or not, and burn everything they might have touched. It means disaster for the farmers. For Gummi and Kiddi, each of whom lives alone on their farms, it means losing their only companions, and neither one reacts well to the prospect. Each finds ways to rebel. They're a couple of rams, these brothers, banging their heads against whatever's in their way.
I'm not familiar with the two leads, Sigurõur Sigurjónsson as Gummi and Theodór Júlíusson as Kiddi, but such places as the interwebs have told me they're two of the best known Icelandic actors, and both give lovely performances, one loud and drunken, the other stoic and quiet. Gummi is the brother we spend the most time with. He toughs out the bad news better than his binge-drinking brother, but he's got some surprises in him. Might be he handles matters worse than his brother, depending on your outlook.
Rams is Hákonarson's first feature film. He's previously made shorts and documentaries. He's got a nice eye for small details and wide vistas. Though Rams is light on action and dialogue, it's paced so you hardly notice, moving right along until reaching an unexpected, touching conclusion. It reminded me a bit of David Lynch's weirdest movie, The Straight Story, another movie about two old, estranged brothers with a lovely ending.
Rams won the Un Certain Regard section of Cannes in 2015, so I'm expecting news of the American remake any day now. I see as the two old brothers Harrison Ford and Harvey Keitel, only they're not sheep farmers, they raise emus in Texas, Iñárritu will direct, and Lubezki will shoot the entire movie in one take.
Anyhow, I kind of want to move to Iceland and raise sheep after watching this. They're so damn adorable. I probably won't, though, will I? No. I'll probably just sit here watching movies. Typical. If you move to Iceland and buy a sheep farm because of watching Rams, let me know how it turns out.
For you lucky Bay Area denizens, Rams opens in San Francisco at the Opera Plaza February 12.