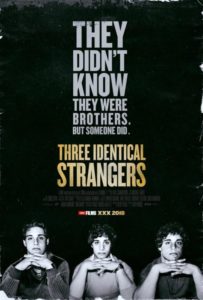 People are predictable, particularly if they're exactly the same as the person next to them. But then, maybe they aren't predictable, even if they are identical? Unless you predict them to be absolute shits, in which case, yes, it's a reasonably safe bet.
Not that the triplets that center Tim Wardle's eerie, topsy-turvy documentary, Three Identical Strangers are absolute shits or even un-absolute shits. It's just the rest of us humans: we're not very nice. Which — good idea here — someone should make a movie about.
Three Identical Strangers tells the bizarre tale of three young New Yorkers who stumble upon their identical siblings despite being separated at birth and denied all inkling of each other's existence. That's the first act, and it's a damn good one. Wardle's film may lean a little heavily on the Errol Morris-style re-enactment, but the story he's telling is nutsy-cuckoo enough to handle it.
To be there, either through re-enactment or photos or film clips, and see these people discover that their alone-ness is only a mirage? Well, it's powerful stuff. And, if you love it, you may want to stop watching once this part of the story reaches orbit.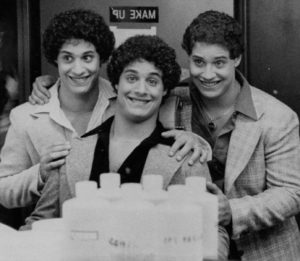 Not because what comes next is as surprising or shocking as the film's marketing implies, but because people are absolute shits and you don't need a documentary to tell you that. Good feelings are hard to come by, so cherish the ones you nab.
But the film. Reunited triplets Eddy Galland, David Kellmann, and Robert Shafran narrate the tale of their separate and then connected lives as those lives grow to encompass the lives of many others, and perhaps all of us at a fundamental level. Three Identical Strangers gives away its first surprise in the title — these guys have hidden identical siblings! — but it hangs tight to its subsequent surprises, each of which is relatively meaty and by turns tragic and infuriating and intriguing. Even posing the question that the film slowly gets around to asking would be giving away the game, so I won't. I held up fine through the increasingly bald teases in Act II and you're up to the task, too.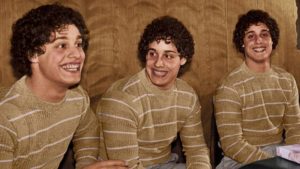 Discovery is only discovery if you're involved in it, and there is real discovery here in Three Identical Strangers.
There is an itch to scratch, one that's sunk deep in the center of your back, as if you'd had a pair of identical siblings your entire life and never knew it until RIGHT NOW. How could such a thing be? And how could such an experience not be unique?
Unless, of course, you remember that humans are shits. And how could you forget, since I just reminded you.
Three Identical Strangers plays a good game. It asks good questions. It is, all told, a good film. At 96 minutes, Three Identical Strangers felt a little long, but also worthwhile. It lifts rocks never intended to be uncovered, and, once hoisted, you can't put those rocks down until you've seen all that's wriggling beneath.
And then — who could blame you? — you might feel like throwing them hard.