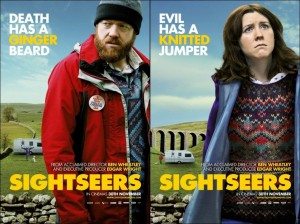 Sightseers is the pleasant tale of a couple, Tina and Chris (Alice Lowe and Steve Oram, also the movie's writers), who embark on a weeklong, romantic roadtrip across the English countryside towing their caravan (that's a camping trailer to we here in the U.S. of A.), and who, having only been dating for a couple of months, must learn to get over their insecurities and accept one another for who they are, warts and all.
Chris's biggest wart, so to speak, is that certain people outrage him. Litterers, for example, or smug jerks with fancier caravans than his, or irritating twats who insist  dog shit be picked up. Chris tends to murder these people, which Tina has a little trouble accepting at first. It does put kind of a crimp in one's vacation. Or does it?
Tina has her own troubles. She lives with her nasty little mother, who blames Tina for the freak sewing-needle-related accident that killed their adorable fluffy white dog, Poppy, a year earlier. She needs this vacation. And she needs Chris. She's filled the caravan with potpourri. This is her dream vacation! She isn't going to let murder ruin it. Plus she herself has abducted a dog identical to Poppy, leading one to suspect she's equally dodgy in the realm of morals.
Sightseers screened last night at SF Indiefest. It's the third feature by director Ben Wheatley. His previous movie, Kill List, was well-received (I haven't seen it yet), and is apparently rather more brutal than Sightseers. Not that Sightseers isn't brutal. The murders are blunt and bloody.
But it's not really about the murders. It's the hilarious story of a couple learning to accept one another. At least it's mostly about that. As things progress it becomes, one might argue, about Tina finding herself. Or is it that Chris turns her into someone else? In any case, it goes along such that you wonder how this movie is going to find an ending.
It finds an ending. It's one of those great abrupt endings few movies have the balls to use anymore. It ends the very second the story is over, and no later.
Alice Lowe as Tina is especially good. She has this kind of sad, long face, and a look of hopeful yearning. When she has to go the pencil museum on her own, you feel her pain. And when she buys the world's largest pencil, you want one too. At least I do. Imagine what you could do with a pencil that big!
I don't know when Sightseers opens in the U.S., but when it does, you will see it, and you will like it.