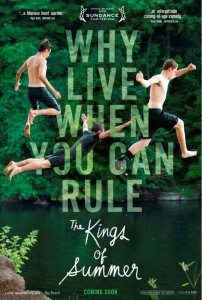 Yesterday's San Francisco International Film Festival screenings included Jordan Vogt-Roberts and Chris Galletta's The Kings of Summer — a lazy, sun-baked concoction that I found as enjoyable as whooping through the woods. Or, at least, as enjoyable as I used to find whooping through the woods before I sprained my whoop and developed a twinge deep in my woods down by the swimming hole.
The plot follows two high school sophomores, Joe (Nick Robinson) and Patrick (Gabriel Basso) who get fed up with family life and run off to build themselves a home in the wilderness. These long-time best friends are accompanied by weird loner Biaggio (Moises Arias) and missed to varying degrees by family members and others portrayed by Alison Brie, Nick Offerman, Megan Mullally, and Mary Lynn Rajskub.
The Kings of Summer felt like something made by the kids it portrayed. I don't mean that it was amateur, because it wasn't at all. I mean I had the distinct feeling that everyone was pretty much making things up as they went along—running off untethered to make their own way because you're not the boss of me—even though that's likely not how it went down at all.
As it happens, more often than not this refreshing, unhindered ambience worked with that peculiar sort of movie magic one can't quite ever explain or recreate in ill-conceived sequels. When The Kings of Summer's seat-of-the-pantsness didn't work — and it didn't work dramatically a few times — the effect wasn't aggravating; I just rolled my eyes and grinned and remembered what it was like to feel free enough to try stupid things, even when I suspected they'd land with a thud. That was back before I developed that debilitating whoop injury.
What was the film like? Picture the same sort of goofy, scattered, hipster comedy you'd expect from the Broken Lizard crew or David Wain, but without the same pressure-packed pace. This film set its sights on a gentle groove that I found almost wholly satisfying. Not hilarious. Not keen. Just perfectly welcome company.
A summertime glow dappled the whole endeavor. The young actors managed to appear and behave like genuine high school kids even when they got figuratively lost in the woods. Moises Arias' Biaggio was little more than pure comic relief, but his clowning didn't spoil the easy rise and fall of predictable drama. It reminded you to stop taking things so seriously — on and off the screen. Nothing in the film will make you clench your brain up, and that's just what you want when you're escaping the heat (or even just pretending to).
I left the screening remembering how I used to feel after Wes Anderson films, back when his world was strange and unreal but still recognizable. The Kings of Summer is no Rushmore but it may be a little bit Bottle Rocket. That being the case, I'll keep an eye out for what director Vogt-Roberts pulls together next. And try to limber up for a big whoop come summertime.