The big city. The simmering fleshpot. The lights, the people, the noise, the great towering cloudscratching skyscrapers! Its lure is age-old. As soon as there were cities, there were kids desperate to leave their backwoodsy childhood homes in search of excitement, fame, and a good, cheap hot dog floating in a tiny tub of suspiciously lukewarm water. For every Luke Skywalker there exists a Mos Eisley. So to speak.
But like Mos Eisley, famed for its villainous beehives (as I vaguely recall), cities are fraught with danger. Suspicious characters lurk down every dark alley. You're liable to count yourself lucky if you're merely robbed of everything you own and left to rot in an abandoned building, your only friend a rat, or possibly a number of talking apes. What began as the adventure of a lifetime is likely to end up with a desperate, life-saving effort to get the hell out before you're eaten alive.
So it goes when you're a fish out of water. Or, more to the point, a pig out of mud. A Texan out of oil? This week's double feature takes us from the safety of our peaceful childhood homes and drops us into the midst of the action. Things will not go as planned.
Midnight Cowboy ('69)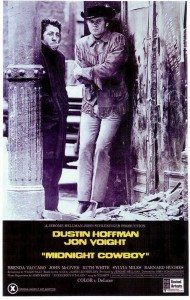 I assumed I'd be opening with the more disturbing picture, but then I actually went to the trouble of running this double bill last week, and I'm not so sure anymore. Midnight Cowboy might be the less disturbing of these two. But fear not, it's plenty grim. Watching it again I realized that more than anything else, this is the kind of movie I miss, the kind of movie nobody makes anymore. Nobody's able to. Who would pay for it? There isn't any plot. There aren't any special effects. It's not a genre piece. It's a movie about two down and out characters scrabbling out a living on the dirty edges of society. It's about their unlikely friendship. That's it.
Join Voight, in the role that made him famous, plays Joe Buck, a young Texan who as the film opens gets himself dressed up in his fanciest cowboy duds, quits his job washing dishes, and jumps on a bus to New York City, where he's convinced he can make it as a hustler, i.e. a male prostitute servicing lustful women.
He sticks out in the city like a, well, like a cowboy in New York. One of the most famous shots in the movie is of a sidewalk packed with pedestrians, and in the middle of this ocean of people, Joe Buck, standing a head taller in his boots and hat.
He follows around women for awhile, and eventually scores with one crazy lady (Sylvia Miles, nominated for Best Supporting Actress for five minutes of screen time), who after their tryst in her fancy apartment breaks down in outrageous sobs when he asks her for money. He gives her $20 instead.
Then Joe meets Enrico Salvatore Rizzo, AKA Ratso, played by Dustin Hoffman, who'd just become famous two years prior as confused nice kid Benjamin in The Graduate. Suffice to say, Ratso is a far cry from that role, and made Hoffman more famous still. He too was nominated for an Oscar, along with Voight.
So anyway, Ratso is a weird, limping, scummy guy barely getting by. He makes Joe as an easy mark at first, but soon they end up befriending one another. Joe moves in to Ratso's rent-free abandonded building apartment, and things, more or less, completely fall apart for both of them, as they dream of better times, and moving to sunny Florida.
Intercut into Joe's story are brief, hallucinogenic, sometimes almost subliminal flashbacks of his childhood in Texas, including the time he and his girlfriend were attacked and raped by a bunch of jealous/crazy/angry guys from town. His girl, Crazy Annie, is last seen being wheeled away to a mental hospital, presumably. The flashbacks are weird and unsettling, to say the least.
Midnight Cowboy was written by the great,  one-time blacklistee Waldo Salt, and directed by John Schlesinger, both of whom won Oscars for it. The movie was rated X when released initially. It's the only X-rated movie to ever win Best Picture. Mind you, back in those early years of the rating system, the porn industry had yet to co-opt the X rating. And furthermore, when Midnight Cowboy was re-released a few years down the road, the board changed its rating to an R. Times change, and fast.
Midnight Cowboy is a wonderful, strange movie. Ratso Rizzo and Joe Buck make for one of the more unsual couples in movie history. The movie is really about their friendship and nothing more, and every moment of it is fascinating. It's funny and bleak in equal measures, often at the same time. The ending too, which I won't go into, but it manages to be both hopeful and terribly sad.
Babe: Pig In The City ('98)
And now the really disturbing one. Watching Pig In The City, you simply can't believe how dark and fucked up it is. It's not even so much the events themselves that are so messed up, though what happens is dark enough, it's how it's shot, with every demented moment highlighted to achieve the creepiest impact possible. If you've only seen Babe, and missed the sequel, you have no idea what you're in for.
Nor did anyone in '98. Parents were outraged. The movie fared poorly, especially compared to the original Babe, a beloved family classic. Kids and parents went in expecting another gently comic romp on the farm, and came out in tears, scarred for life. Reviewers savaged the movie for this reason alone. Half did, anyway. The other half actually reviewed the movie, ignoring expectations. Those reviewers loved it. Gene Siskel named it the best movie of the year.
Pig In The City is a much better movie than Babe. It's a kids movie for weird kids, or more exactly, it's a talking animals movie for weird adults. The original Babe was based on a popular kids book. It was co-written and produced by George Miller. Pig In The City is an original story, also co-written by Miller, and directed by him as well. George Miller, hmm. That name ring any bells? Oh, right, he's the guy who made those Happy Feet penguin movies, and even won an Oscar for one of them. Yes, that's him. And also? Also, he's the George Miller resonsible for Mad Max and The Road Warrior, which movies Pig In The City resembles far more than it does Happy Feet.
On with the story. Babe the adorable pig, after winning big for his sheep herding skills in the first movie, comes back to the farm and manages to almost kill Farmer Hoggett (James Cromwell) by crushing him in a well, thus bankrupting the farm, forcing Mrs. Hoggett (Magda Szubanski) to fly Babe to a far-away sheep-herding contest in the hopes of earning an "appearance fee," thus paying off the creditors and saving the farm. But when they hit the big city airport, they fail to make their connection, because a prick of a drug-sniffing beagle implicates Mrs. Hoggett as a drug smuggler, and she's hauled away to be strip-searched. Thus humiliated, she and Babe wander the dark city streets trying to find a hotel that accepts animals, of which there are none.
Fun for the whole family!
It's like Miller shot this whole thing in Scary Clown Mode, where faces and colors are huge and distorted and something as simple as gliding the camera down the middle of an airplane is completely terrifying. Speaking of clowns, Mickey Rooney shows up as the clown leader of a tiny animal act. He doesn't speak but a few words, and appears to be either insane or on drugs, or more likely both. Once Mrs. Hoggett and Babe locate to the animal-friendly hotel the clown and his chimps and orangutan live in, the clown abducts Babe and enlists him in the show.
The little clown/animal show takes place in a hospital for kids. It's funny until Babe accidentally trips the clown, thus setting fire to the set and to the hospital. Afterwards, the clown has a heart attack and is wheeled out of the hotel strapped to a gurney, presumably to his death. He's never seen again.
Yay, kids! Who's having fun now? Wheee!
Mrs. Hoggett wanders the city streets looking for Babe, ignorant of the whole abduction by clown. The city, by the way, is a crazy conglomeration of every city of the world, and is peopled by a bizarre mishmash of chicks in bathing suits, angry biker dudes, and corrupt policemen. Mrs. Hoggett is further humiliated, and dragged off to jail.
Babe, meanwhile, hangs out with the chimps, the orang, and a variety of dogs. They all hate Babe and want him to go away. And so okay, enough with the plot. In short, more insane antics ensue, Babe works wonders, saves the day, and earns the admiration of all those who doubted him. There's an outrageous finale at a fancy dinner, a series of rapid flashbacks reminiscent of Midnight Cowboy, and somewhere in the middle a shot of a dog in a wheelchair biting on to the underside of a speeding truck, a shot that might as well have been an outtake from The Road Warrior.
Pig In The City is a story of hope, naturally. It's about being kind to everyone, about being fair and honest, and trusting in your friends. It will also completely fuck you up. It's a wonder it was ever made. It easily ranks as one of the best kids movies ever, although watch who you show it to. If your kid is too young or too normal, they might flip out.
The big city is a scary place, people. Enter at your own risk. And hope you make it out alive, back to the farm or to faraway Florida.