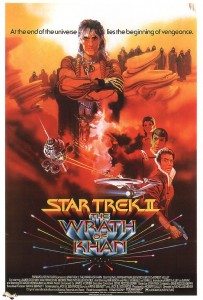 Way back when in that magical summer of '82 the second Star Trek movie, The Wrath of Khan, opened. It was something of a reboot, despite that word not being in vogue at the time, following the boring and mostly awful Star Trek: The Motion Picture. Paramount slashed the budget and handed over directorial duties to Nicholas Meyer, who, uncredited, re-wrote the script in twelve days and ended up making what many Trek fans consider the best Trek movie.
Today, in the rather less magical corporate nerdscape of '13, J.J. Abrams's Star Trek Into Darkness has opened. It follows the '09 Star Trek, his first re-imagining of the series, and has a budget of approximately eleventy-bazillion samolians. I thought his first Trek was, in a word, innocuous. The best part was the young cast he found to recreate the old characters. The worst was how he jettisoned the science aspect of the show and turned Star Trek into a space fantasy with endless action. The movie seemed very carefully crafted to appeal to all audiences: Trek fans, casual movie fans, kids, adults, various housepets, etc. It was corporate filmmaking at its most efficient and slick (if you've got the time and interest, watch Mr. Plinkett's video review of Abrams's first Trek for an incisive and accurate look at how Hollywood conceives of and creates these kinds of movies).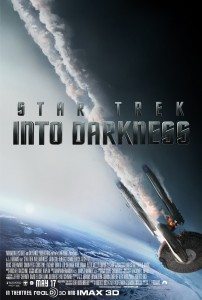 Last night I watched Star Trek Into Darkness, and if you don't mind my saying so, I fucking hated it. It's a boring, unemotional slog, written by idiots and directed by a man on record as saying he never liked or "got" Star Trek to begin with. In a word, it's insulting. To someone like my compatriot the Evil Genius, who never watched nor cared about Star Trek back in the days, it was the same deal as the first Abrams Trek. But if, like me, you watched and loved the original Star Trek, if you actually find the characters, not to mention the series' philosophical underpinnings, compelling, this latest movie is a slap in the face. It's J.J. Abrams prancing around like a dancing jackass, laughing in your face, crapping on your head, and demanding you eat it and like it. Well, screw you, Abrams. You and George Lucas deserve each other.
Pitting these two movies against one another almost seems beside the point, and hardly any fun at all. Skyfall vs. Moonraker, now that was a fun competition. But this? I'm tired and angry just contemplating it.
The plot of Star Trek II: The Wrath of Khan is not complicated. Khan, a genetically engineered superhuman from the past, who grappled with Kirk long ago (in the TV episode "Space Seed"), and was marooned by him on what was at the time a lovely little garden planet, is accidentally discovered on what is now a desert hellscape by Chekov, who's searching for a dead planet on which to test a new terraforming, life-creating scientific thingamajig called the Genesis Device. Khan nabs Chekov's ship, kills the scientists, steals Genesis, and hunts down Kirk like Ahab hunting Moby Dick. Kirk, meanwhile, is on the Enterprise overseeing a training mission captained by Spock. Khan attacks. And the battle of wills and intelligence is on.
The plot of Star Trek Into Darkness is so mind-boggling stupid I'm not even sure I can recount it. It begins by ripping off Raiders of The Lost Ark, only without that boring part where Indy actually finds the golden head. It just jumps right into the part when he's running from the natives. Kirk runs, the natives chase him, Spock leaps into an erupting volcano to neutralize it (what the–?), things go wrong, and Spock's going to die. Kirk makes it back to the Enterprise–hiding underwater because all giant spaceships that only function in zero gravity have that ability–but learns that if the ship rises from the depths, allowing the transporter to work and save Spock, the natives will see it, thus violating the Prime Directive not to interfere with other cultures. In the volcano, Spock is cool with dying. He patters out "theneedsofthemanyoutweighttheneedsofthefew," when to his surprise Kirk violates the rules and saves him.
Now to make some sense of this first insulting scene we have to go the end of Wrath of Khan, in which Spock dies. The thing about Wrath is that is has a theme: aging, dying, death. The movie opens with the Kobayashi Maru test, a no-win simulation given to Starfleet cadets. Turns out Kirk took it three times in his cadet days, and on the third reprogrammed the computer to let him win. The point being, he's never had to face death. During the course of the movie, he's almost beaten by Khan, almost buried alive, but he's always got a way out.
Until the ending. Khan initiates the Genesis Device, the crippled Enterprise can't get away in time, they're all going to die. To save them, Spock fixes the warp drive despite the radiation that will kill him. In other words, Spock's solution to the no-win situation is self-sacrifice. Separated by a wall of glass, Kirk faces his dying friend, and Spock reminds him that the needs of the many outweigh the needs of the few…or the one. Spock dies, and Kirk has finally faced death, allowing him to grow as a human being.
Needless to say, this is a powerful moment. How many summer blockbusters feature heroes who sacrifice themselves for the greater good? The whole movie is tied together thematically by this scene. It's all about Kirk and the others aging, tiring, looking death in the face. Khan is essentially death personified. He's out there, and he's going to get you. You can't run forever.
So the opening of Into Darkness makes a joke of this right off the bat. Spock utters the words to call back Wrath, but so perfunctorily and with so little meaning you wonder if you even heard them.
Later, Admiral Pike chews out and demotes Kirk for failing to obey Starfleet Regulations and for believing the blind luck resulting in no crew member deaths is a testament to Kirk's wisdom. You might, if you had a brain, think this was the set-up of the movie's theme. It is not. There is no theme. Kirk will learn no lessons about anything in the movie.
Again, the plot? It seems that Admiral Marcus (a scenery chewing Peter Weller) thawed out the frozen 300 year old superman Khan to use his superior, warrior intellect to help design a super deathship with superweapons to use against Klingons, who have been acting up of late. Khan helped, but it made him mad, because he didn't want to be woken up, and because Marrcus didn't treat Khan's 72 superhuman crewmembers well, or then again maybe he killed them? Did Khan say that? He says something about his crew, yet we find all 72 of them still frozen. In fact Khan, or maybe Marcus, has kidden the frozen crew inside superduper photon torpedoes, and once Khan goes rogue and kills a bunch of people and hides out on the Klingon planet Kronos, Marcus "allows" Kirk to hunt him down and shoot all 72 torpedoes at the planet, thus killing Khan, killing all 72 crewmembers, and starting a war with the Klingons, which according to Marcus is going to happen anyway, so we might as well just get it going now. Whew.
Makes perfect sense, right? As far as plot goes, I think we have a clear winner in Wrath.
To enter into the stupidities of the Into Darkness storyline is a fool thing to do; we might never extricate ourselves. But what the hell. Let's get it on. The thing is, none of it makes a single bit of sense. Why is Khan mad, to begin with? Because he was woken up? Because Marcus was somehow mean to his crew? Who knows? And if Marcus is so scared/mad at/done with Khan's crew, why not just bust open their cryotubes and let them die? The plan is really to hide them in specially designed torpedoes and get Kirk to shoot them at Kronos and then, when Kirk fails to do so, fly out to meet him in the superduper deathship designed by Khan, and blow up the Enterprise and everyone on it? Truly now? That's the plan?
Meanwhile, Carol Marcus, Admiral Marcus's hot physicist daughter, lies her way onto the Enterprise because she, um, something mumble mumble. I guess mainly she's there for another link to Wrath, Carol being the designer of Genesis and mother of Kirk's son. Now at first, watching Into Darkness, you think she must be an enemy agent or something. Spock is very wary of her, and surely she must serve some purpose, right? Even maybe a sad little writer's purpose? Yes, you think, here it comes, when she runs onto the bridge of the Enterprise, announces she's the Admiral's daughter, and that if she talks to him—he's right outside in the deathship about to blow up the Enterprise—he'll spare them all. So she says hi, he, obviously, just beams her aboard the deathship, and that's all she does in the movie. Let's put it this way: in the Wikipedia plot summary of Into Darkness, she's not mentioned once.
Then there's the tribble. McCoy injects one of Khan's superduper blood cells into a dead tribble to, um, something mumble mumble. In truth, probably to incite spontaneous orgasms in Trekkies hoping the cells cause the tribble to mutate into like ten million more tribbles, and then, by gosh, think of all the laughs! Yay!
Does Admiral Marcus blow up the Enterprise? He tries to, but wait! Scotty, in a plot thread too dumb to cover now (or ever), snuck onto the deathship and disarmed it. Or something. And then Khan and Kirk are literally shot from one ship to the other, because you see in this instance the transporter won't work, due to, um, something mumble mumble, which is actually an ongoing issue in this movie. Sure, they've got transporters, but they only work according to the needs of the plot, a baffling scientific principle at best, and cause for no end of confusion.
The upshot is that Khan winds up on the deathship all by his lonesome. He has the Enterprise beam aboard his 72 frozen buddies, after extracting a promise not to send over armed torpedoes instead, and because of Khan's superior intellect, he doesn't bother to check, and sure enough the armed torpedoes all blow up. The 72 frozen supermen are back on the Enterprise, all extracted from their torpedo casings in like 30 seconds off-screen.
And then I don't know, I guess this all took place in Earth's orbit? And the Enterprise is crippled and plunges down to the planet below? That's it. And they can't power up the ship, and that's when Abrams really just up and says "FUCK. YOU." to anyone who ever liked Star Trek or its characters. He actually replays the end of Wrath of Khan, beat for beat, only he calls "reversies!" and has Kirk sacrifice himself instead of Spock. Really. That's what happens. Because, you see, Kirk understands that life is, um, no, it's that he's learned that disobeying Starfleet regulations is, wait, no, it's because he saved Spock's life once before, so, no, that's not it. Hmm. Okay, here it is: Spock died in Wrath, so Kirk will die here. That's the logic at work. There is no other meaning.
Kirk dies (yeah, right), and Spock, in order to give his character "depth," reacts with rage! He yells "KHANNN!" just like Kirk did in Wrath, because that's what angry Vulcans do.
Cut to Khan, still alive in the deathship, which crashes into Earth. Wait, what? Khan is alive and–? Forget it. Spock beams down to fight Khan, they duke it out in what looks like a warm-up for whatever atrocity Abrams plans for the next Star Wars movie, only he can't kill Khan, because the tribble is alive! Khan's blood will bring Kirk back to life! Hurry!
Only doesn't the Enterprise now have 72 other superhumans they could get the blood from? Shhh, my child, be quiet now.
Kirk is—you'll never guess—brought back to life, the day is saved, everyone is happy. The end.
So you see what they do here. They take this powerful, meaningful, emotional ending of Wrath, pull a switcheroo in which they transplant Kirk's character into Spock, and Spock's into Kirk, make the death scene in and of itself meaningless, having nothing to do with plot or theme (of which there is none in the movie), and then render it still more meaningless by resurrecting Kirk within about five minutes of screen time.
This is what I call insulting. To me it actually feels hateful. It feels like Abrams is saying, "Hey you fucking morons who like this garbage, here's your callback to that dumb movie you like, only way more explodey and violent, ya know, like Star Wars, i.e. movies I understand. I know you're going to eat this shit up. Open wide!"
When Spock dies in Wrath, Kirk doesn't scream with rage and seek revenge. It's not about revenge (not on Kirk's part, anyway). It's about self-sacrifice. It's about a real understanding of the no-win situation. Kirk's change is internal. Only through Spock's sacrifice can Kirk become a complete person. Only then may Kirk embrace the youthful part of himself. "I feel young," he says at the end of the movie. At the start he feels old and tired and useless.
This kind of thinking is totally alien to Abrams. He makes a joke of it. The movie is so tone-deaf there is no tone. What's the point of having Kirk and Spock as characters if they have zero relation to their namesakes? If their every motivation is based solely on what's convenient for the filmmakers, with no regard for consistency or emotional logic? I've never seen a director do something like this, where he goes overboard in pandering to his core audience, but in a way that shows his violent disgust with them.
I watched this entire movie dumbstruck. It's so flat, so stupid, so empty, and so insulting. It's a wonder that Abrams is where he is. He was hired to direct Mission Impossible III owing to his having created a couple of hit TV shows, and completely embarassed himself. It's one of the most poorly directed major movies I've ever seen. Next came Star Trek, a huge step up, it seemed. Then came Super 8, a half-enjoyable, half awful imitation of Spielberg, an imitation so exacting there wasn't a shred of individual style in it. And now this Into Darkness abomination, which aside from its budget is shot like a TV show. Abrams doesn't seem to have a grasp on film directing at all. So, yeah, a natural for Star Wars.
This wasn't much of a fight between movies. Wrath of Khan, despite its being a touch silly, cheaply made, and possibly only of import to Trek fans, is a genuinely good movie with a real theme and real emotion driving it. Into Darkness is awful in every way, and in the strangest move I've ever seen, actually endeavors to tear down Wrath of Khan, to mock it, to erase any real feeling it engendered. What a bizarre thing to do.
And to think, I haven't even touched on the demented notion of turning Star Trek into some kind of hyper-militarized war movie, or of the total lack of human relations between the characters. Oh well. Life is short. Is there anything good in the movie? Most of the performances are fine. I like Simon Pegg, and Karl Urban does a great McCoy. Oh, and that oyster-headed dude who hangs out with Scotty. I like him. He has all the best lines.
The winner is Star Trek II: The Wrath of Khan. If you're in a Star Trek kind of mood, I suggest renting this over torturing yourself with Star Trek Into Darkness. For that matter, watch Star Trek V. At least it's full of laughs.