I like these movies much more than I thought I did. They're about time, and time is interesting. It does things to people. We can't help but make choices as time moves through us, or as we move through it, and the more choices we make, the more life becomes both deeper and more constricted. Richard Linklater's trilogy (so far) of movies with Julie Delpy and Ethan Hawke tells a fascinating story of two characters intertwined in time, the choices they make, and, with the third film, what those choices have done to them.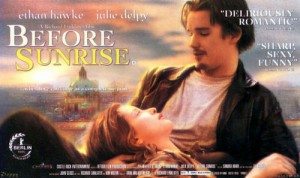 The movies are almost like a fictionalized version of Michael Apted's documentary Up series, but with only two characters. Just watching Jesse and Celine (Hawke and Delpy) age is fascinating in itself, let alone the psychological changes they go through. All three of the movies are better for there being three movies. When they make a fourth—and they will—its very existence will improve the other three.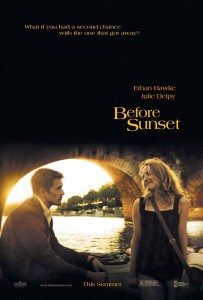 It's also curious how the series works as a trilogy. It's like Star Wars. The first film stands completely on its own. The second doesn't really work without having seen the first, and leaves you hanging with one of your hands cut off (can we say a psychological and/or metaphorical hand is severed in Before Sunset? Sure we can!), and the third film is overrun with ewoks. If by "ewoks" we mean "the emotional turmoil resulting from maintaining a long-term relationship."
I saw Before Sunrise when it came out in '95. I was a year older than the characters Jesse and Celine. I'd even spent a month one summer cruising around Europe on a Eurail pass. I met all sorts of interesting people. Did I meet anyone as interesting and beautiful as Julie Delpy? Alas, no. So maybe I was a little aggravated to see her fall for a guy as dopey and pretentious and full of himself as Jesse. I always thought of the movie as being very good, aside from Hawke's performance. Watching it again last week, I realize I failed to give him credit. Maybe Hawke the actor was indeed a pretentious dope back then. I don't know. But whether he's drawing on his own life or purely acting, he creates a very plausible character. It's like Keanu Reeves in The River's Edge or Bill And Ted's, who you truly believe as a dumb teenager.
Which the thing is, the weaknesses in all three films aren't due to weaknesses in the script or the acting. They stem from who these characters are and where they are in life. So in Before Sunrise, you want to punch Jesse for being so obnoxious, and you get a little bored at times, as you would wandering around Vienna all night talking the bullshit philosophy talked of by 23 year olds. And as for the kiss, Celine has to make the first move. Nice going, Jesse. You dope.
In Before Sunset ('04), the characters meet in Paris and talk for 80 minutes after not having seen each other for nine years, so instead of bullshitting about the mysteries of the universe, a lot of the conversation consists of information, jobs, relationships, etc. These two aren't quite as engaging as they were in the first movie, but then the theme of the movie is whether romance is real, for them or for anyone. Turns out their chance encounter affected them hugely, perhaps for the worse. Both are unhappy in life. Their unhappiness stems from nine years of "what might have been." Romance doesn't show up until the last scene, until the tail end of the last scene. We fade to black at the moment the romance is rekindled.
In Before Midnight we catch up with Celine and Jesse as a couple with twin daughters, on vacation in Greece. It's the most difficult of the three movies. They're at a crossroads in life, with the question arising, "should we stay together?" They argue passionately and intensely. Their relationship appears both headed for an end and potentially stronger than ever. They laugh as much as they yell. The fighting is at times painfully bitter. They almost, but not quite, have sex. It's sure not as fun a film as the first one. But it's much stronger than the second.
Although, again, like any good trilogy, the second movie improves immensely with the existence of the third. Before Sunset is a stepping-stone, the bridge between the romantic chance meeting and the reality of a relationship. The weakness of Before Sunset is that it's essentially the same set-up as the first movie—two people meet by chance—and get to know one another. And yes, it's not quite by chance—Jesse wrote a best-selling book based on his experiences of that night nine years before, in part with the nebulous hope of finding Celine through it, and sure enough, she sees the book and his name and shows up at his reading in Paris—but even if the meeting isn't pure chance, the movie is still about two people, almost strangers, finding a way to connect, and this time without the romance of new love on a long Vienna night. I don't think Before Sunset would make much sense without the existence of Before Sunrise before it, whereas Before Sunrise stands on its own.
But even Before Sunrise improves with the existence of the other films. Watch it again and feel the weight of the future hanging over it. It deepens the experience to know a future of which the characters are ignorant.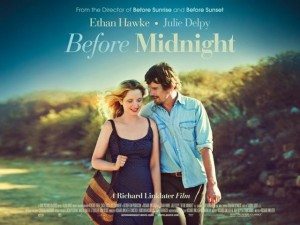 Traipsing about the intertubes as I do, I see that many feel Before Midnight is the strongest of the three films. I'm not sure I agree. It's the most mature, without a doubt. The acting and the writing is strong and purposeful. There's just something about the romance of youth, and a chance encounter never to be repeated, that makes it so good (or is it that my acerbic personality hides a starry-eyed romantic at heart? It is very possible, my friends). At the end of the movie, as the sun rises, Linklater includes static shots of the empty, daylit locations where Jesse and Celine spent their night, adding to the feeling of ephemerality and the sad beauty of it all.
But Before Midnight. It's very good. It's the longest of the three, yet the end feels sudden the way it creeps up on you. Not badly so. The movie is so involving, and the last half hour so intense, that you only realize it's over as the last lines are spoken. It's also different in that the first third of the movie involves a lot of other characters, with Jesse and Celine apart. I worried this was going to be a large departure from the style of the first two movies. But the major scene with all the characters at dinner is excellent, and the rest of the movie reverts to Jesse and Celine walking and talking. Which is what we came for. Walking and talking.
As to that dinner scene, it's very smart. Along with Celine and Jesse is another couple about their age, a young couple, their host, an old man, and an old woman. The first couple, unlike our heroes, get along wonderfully, but realistically. They're confident in each other. They fight, but in a way that feels much healthier and wiser than the evidently tense and frustrated Jesse and Celine. The young couple, maybe 19 or 20 and glowing with romance, tell of their chance encounter a year before. They're essentially Celine and Jesse from the first movie, only they kept in contact after their magical night, and life is grand. The older man is long seperated from his wife, and very happy. The older woman's husband died, and she's slowly forgetting him, and is just glad to be passing through this world. Meanwhile Celine and Jesse are playful and talkative, but there's a huge undercurrent of frustration, worry, and doubt bubbling up in everything they say.
After that, it's all Celine and Jesse, dealing with the reality of their choices. Their characters have grown in interesting ways. They're so young in Before Sunrise. When I first saw it, I was madly in love with Julie Delpy, because how could you not be? Yet by the second movie, her charming, youthful neuroses had become much less charming. I began to think that yes, this is indeed how that kind of personality ages, and it's not so cute anymore. Only then you get to the end of Before Sunset and she plays the most disarmingly lovely song ever on her guitar before dancing to a Nina Simone song, and you're in love with her all over again. In Before Midnight, Celine is seriously, neurotically messed up. Realistically so? Yes. Though if there's anything I'd fault the movie for, it's that I felt it leaned too heavily on Celine as the screwed up one. Jesse is still a dope in his way, but in terms of undying love and commitment, he feels like the one holding them together (or am I blinded by seeing it from a male perspective?).
Do they stay together? Before Midnight ends like Before Sunrise: ambiguously. It's impossible to say what will happen to these two. Will they stay together and grow stronger, or give up and separate? I'd believe either outcome. Before Sunset is the one movie of the three that ends with no ambiguity. Celine dances before Jesse, and says what she's been saying all afternoon, "You're going to miss your plane." He says, "I know," and there's no doubt a week of sex is going to follow, at the least.
All three films are notable for long, uninterrupted takes, and a feeling of spontaneity and improvisation in the meandering conversations, discussions, and arguments. They are not improvised. Every word is scripted. There is great care taken in the writing of these movies. Linklater wrote the second two with Delpy and Hawke (no doubt they helped on the first one too, though they are uncredited). These kinds of scenes require a lot of thought and rehearsal. Creating the kind of spontaneous, carefree vibe they do takes a huge amount of work, and it pays off. You feel like you're listening in on people talking off the top of their heads.
As I said, I like these movies more than I thought I did. The second one barely registered with me when I saw it in '04. I didn't think I'd ever say I liked Hawke as an actor. But at least as the character Jesse, he nails it. I still like Before Sunrise the most of these three. Then again, Before Midnight is a an unusual, powerful movie. I recommend them all, and look forward to seeing what happens nine years from now.