Here we are at double feature #69, and with a number like that, though we might have gone with, say, Last Tango In Paris or In The Realm of The Senses, we here at Stand By For Mind Control have taken a far trashier route. Because we are not above high-class trash. Indeed, we are well below it. It's not all Ingmar Bergman, Peter Weir, and Werner Herzog around here. We love—and hate—movies of all stripes. And when those stripes are rubber left on a desert highway by a generously bosomed, go-go dancing, knife weilding ultra-vixen who'd sooner cut your balls off than give you the time of day, we can do nothing but watch in slack-jawed awe.
So too will you. You might want to put a pillow on the floor to cushion your plummeting jaw when you watch the two films we have on tap for you today.
These movies are not for the faint of heart. They are not for the average moviegoer. For there is trash, and then there is trash, and when there is trash like this kind of trash, that trash becomes the opposite of trash. It becomes movie gold. The kind of gold you cap your teeth with.
Put your dancing pants on, people. It's time to get crazy.
Faster, Pussycat! Kill! Kill! (1965)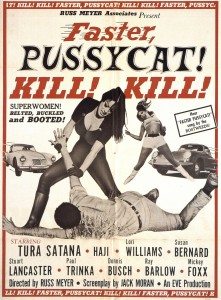 Aside from having the best name in the history of film, Faster, Pussycat is notable for being, arguably, the best movie ever made by Russ Meyer. Meyer was well known for making exploitation movies filled with naked, large-breasted women. Thing is, those kind of movies, it turned out, people liked. Pretty soon every idiot with a camera was making nudies. So Meyer had to go deeper. Deeper into the weird, into the melodrama, into the very heart and soul of America! By which I mean fast cars, fast women, and non-stop sex and violence.
And so Faster, Pussycat was born. It is a tale of three go-go dancers, Varla, Billie, and Rosie (Tura Satana, Lori Williams, and Haji), who murder some lame-ass square they beat in a drag race, kidnap and drug his girlfriend, Bunny, and wind up somewhere in the desert in the home of a wheelchair-bound old man and his mentally questionable, he-man hunk of a son, appropriately named Vegetable. Seems the old man is sitting on a pile of cash. The go-go dancers want it. They will do whatever it takes to get it.
It's tough to capture the manic lunacy of this movie with words. Saying it's over-the-top is like saying the universe is big. If Nic Cage was in this movie, he'd be playing the normal guy. It opens with a voice-over saying, "Ladies and gentlemen, welcome to violence! The word…and the act!"
Every scene oozes sexuality. There's no nudity, but breasts strain to burst free from beginning to end. Varla, the ringleader, is the the most bad-ass evil woman ever put on film. The dialogue throughout is gloriously snappy and pulpy. When a gas-station attendant says he wants to see America, all the while staring down Bunny's cleavage, Varla says, "You won't find it down there, Columbus!" Or this gem: "Honey, we don't like nothin' soft. Everything we touch is hard."
It's shot in black & white. It looks great. Meyer knows what he's doing with a camera. He also co-wrote and edited the movie. The man is a true auteur. This may be a bizarre bit of lunatic trash, but it's not dumb. It's a fast, tightly plotted, hard-driving movie, with a hot soundtrack to boot.
Switchblade Sisters (1975)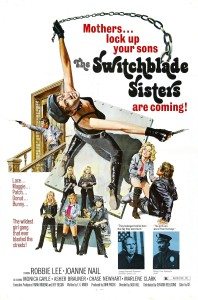 The ultimate deadly knife-fighting girl-gang movie, directed by Jack Hill, whose two previous movies were the Pam Grier blaxploitation classics, Coffy and Foxy Brown. Quentin Tarantino dubbed him "The Howard Hawks of exploitation filmmaking."
Switchblade Sisters is a brilliant kind of something, that's for sure. Hill understands one very important thing about this kind of movie: it's all about the commitment. The actors may be suspiciously undertrained, their dialogue may be exceedingly ripe, but when they deliver it with the passion and commitment they do in this movie, none of that matters. You're with it, all the way to the bloody end. And holy hell does this movie ever have a bloody end.
It's a story as old as time. There's a new girl in town, Maggie (Joanne Nail), a cute blonde chick. She sits at the wrong table at the local hamburger joint, and the Dagger Debs, the local girl gang, don't like it. But when their leader, Lace (Robbie Lee), tries to kick her ass, it turns out Maggie's an equally badass ass-kicker. When the cops show up, Maggie's thrown into juvie with the other Debs, where they're assaulted by the fat lesbian warden in a scene you won't soon forget. I admit you might want to. But that will not be your fate.
The Debs are paired up with a boy gang, The Silver Daggers. Lace is dating their leader, Dominic (Asher Brauner). Lace invites Maggie to join the Debs, but the Debs' number two tough-girl, Patch (Monica Gayle), who lost an eye for the gang, doesn't trust the newcomer.
As you might well imagine, Patch is right. That Maggie's a duplicitous one. She gets it on with Dominic behind Lace's back. It's almost like she wants to take over the gang for herself.
Meanwhile, a rival gang led by Crabs (Chase Newhart), rapes one of the Debs. They plan to get revenge at the roller-rink, but everything goes to hell in the resulting blood-soaked gunfight. Was Crabs tipped off by Maggie? Patch thinks so, and convinces Lace.
People die horribly. Double-crosses abound. The Debs join forces with a group of African-American militants to take down Crabs's gang, in a street battle featuring a tank (unless I just made up the part about the tank).
In the end—because how could it be otherwise?—there's a knife-fight between Maggie and Lace. It doesn't work out ideally for anyone.
The acting across the board is spectacular in this thing. I've never seen so much scenery chewed. But damn are these kids ever committed. Robbie Lee as Lace is like nothing you've ever seen. I've never watched anyone so literally grit their teeth in rage—and still deliver lines.
And the lines. It's full of winners, like Maggie to the cops: "No, let me give you some advice, cop. You can beat us, chain us, lock us up. But we're gonna be back, understand? And when we do, cop, you better keep your ass off our turf, or we'll blow it off! Ya dig?"
Though boy-gangs play a major part in the plot, Switchblade Sisters is all about the women. The guys are there as window dressing, to be killed when convenient. The real drama is between Lace, Maggie, and Patch.
This is exploitation trash at its finest, shot in garish '75 color, when blood looked like bright red paint. It's a fine follow-up to the '60s trash of Faster, Pussycat. I recommend adding beer to the mix for best results.