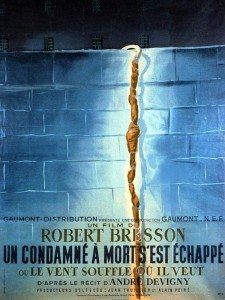 Heathen that I am, I'd never seen any of Robert Bresson's movies until, oh, just now, or thereabouts, when I watched A Man Escaped, his fourth feature, from '56. Bresson is thought of as sort of the godfather of the French New Wave, or the inspiration for it, anyway, not being experimental in the way Truffaut and Godard and Resnais and Melville and so on were.
Judging solely on A Man Escaped, Bresson's style relies heavily on the notion of realism. There is nothing obviously showy in the movie. The camera doesn't often move. He frames his scenes tightly, to the point where one feels cramped, unable to see or even know what lies outside the frame.
Which is appropriate, this being a story about a man plotting to escape from prison. I'm not sure if this is the first prison-escape-flick in cinema history, but I'm having a hard time coming up with any earlier examples. There couldn't be any purer example of the genre, at any rate.
It's set during the German occupation of France. Fontaine (François Leterrier), a prisoner of war, is introduced riding in the backseat of a car with two other prisoners. As the car slows, Francois opens the door and bolts. The camera doesn't move. We stay looking at the back seat and the quiet, handcuffed man who Francois had been sitting beside. In the background, out of focus, Francois is chased down by a pair of Germans, beaten offscreen, and put back in the car.
In other words, he wasn't going anywhere, and Bresson wants us to know it. It's a tense little introductory scene before he runs, as Fontaine eyes the door handle, the driver shifting gears, slowing, speeding up, and finally stopping, giving Fontaine his chance.
Once he's locked up, the story is simple: Fontaine plots his escape. First he files away slats in his cell door with a stolen spoon, to give him an egress. But walking the hallways at night isn't enough. He's got to get out, and get over multiple walls. He begins creating a rope, and hooks to toss over the walls. He has brief conversations with other prisoners, none of whom have the guts to make an escape attempt.
One man does. He goes it alone. He doesn't make it. He's executed a few days later. Fontaine bides his time. This is essentially the whole movie. Not until the end does he make his attempt. Considering the name of the movie, you'll likely have a good idea as to whether or not he makes it out.
So the bulk of the movie lets us consider this one man's refusal to be locked up. He shows little expression. He is stoic and committed to his task. He talks briefly with an old man in the cell nex to his. He provides voice-over now and then, allowing us insight into his fears. The jailers are almost invisible. I'm not sure we ever get a good look at any of their faces. Late in the movie, a teenaged prisoner is thrown into Fontaine's cell. Is the kid a spy? He was helping the Germans before being imprisoned. Will Fontaine have to kill the kid?
Having seen only this one Bresson film, I'm impressed. I can't say it blew me away, yet something about it is very compelling. It's shot with loving care, and for being so simple and unadorned, it's very cinematic, very visual. I like that. Still, being, as I said, a bit of heathen, I'm going to have to watch some more of Bresson's films, in the hopes I see more deeply into what made him such a powerful influence on the filmmakers of his era. (Coming up next: Pickpocket and Diary of A Country Priest).
And as for A Man Escaped, if you're a film fanatic, you'd better check it out. It lays out the blueprint for all the escape movies to follow, much like Jules Dassin's '55 crime film, Rififi, laid out the blueprint for all heist movies to follow. In fact, those two would make a lovely double feature. You're welcome.