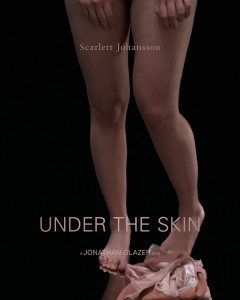 Some films have a story; others have drama.
Some films have a message; others have ideas.
Some films are erotic; others stand naked.
Under the Skin, the spidery little art house picture — best known for Scarlett Johansson's revealing performance within — claims the latter half of these couplets as its territory. It is, in moments, breathtaking. Much of the rest of it is purposefully obtuse and alienating.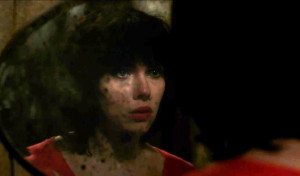 Some films have a story, but Under the Skin avoids anything that blunt. In one of the creepiest, most disorienting openings I've seen in some time, director Jonathan Glazer introduces us to his film's lead character: Scarlett Johansson's unnamed facsimile of a female. She is alien in the sense that that word means 'foreign' and 'disturbing.' Where she comes from and what she is, this film will not help you guess.
What she does; this is easier to parse. She trolls the streets of Glasgow in a white panel van, searching for solitary men she can seduce. As she resembles Scarlett Johansson, this is not a terribly onerous task. But Under the Skin does not doll the actress up or present her face and body as fantasy. They both appear mundanely real. Appealing, to be sure, but of humanity.
This feels perverted because, in Under the Skin, she is most definitely not of humanity. There are things that humans must do and things that humans mustn't do. Scarlett's character doesn't and does both in a way that breeds deep unease. It is not the horror of blood and shock, but the horror of the pervasively wrong. If you are not disturbed watching some of these scenes, you are not human.
Setting his vision along the streets of Glasgow, featuring actual citizens who were filmed unknowingly, Glazer further disturbs this already chaotic poem. It will not surprise you to hear that the Glaswegian accent can be a tough ride. What gets spoken in Under the Skin is frequently as mysterious as what occurs and why. As the film starts with Scarlett learning language, thus it continues, involving us in the act of interpretation. Throughout the film, sound and score, language and noise blend to blur the lines that allow comprehension. It is mesmerizing and threatening.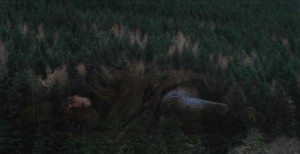 Some films have a message, but Under the Skin only offers ideas. Glazer's ideas, based on a novel by Michael Faber, are hard to even delineate. Is he asking what it means to be human? Is he exploring the possession inherent in sexuality? If you think so; then yes.
Some films are erotic, but this one — even with Scarlett Johansson spending much of the film in total or partial undress — is never. Her body, as she studies it naked in a mirror, is only skin surrounding something else. Something mysterious and black. Something horrifying and fragile and — as you'll see — more beautiful than its exterior wrapping.
That is what Under the Skin leaves you with: the thought that who you appear to be may be only superficially relevant to what you are. An actor with neurofibromatosis, Adam Pearson, reinforces this in a fashion that is decidedly not After School Special.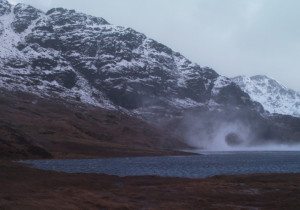 This is a film with some of the most intense, insane imagery seen in cinemas lately. Almost always dark and in shadow, cinematographer Daniel Landin's work provokes you to imagine. I've heard the film compared to Kubrick and Lynch, and there is a touch of both here. Like 2001: A Space Odyssey, Under the Skin plays with images of birth, cellular activity, and cosmic mystery. Like The Shining, it offers a flood of offal. In the ways that the trees bow subdued before the Scottish wind, one remembers Twin Peaks. There are other moments that aren't so easily named and codified.
In the trap laid for Scarlett's victims, there is something wrong in the rightest way. It will remind you of nothing before seen. In future films, however, I bet you will see scenes that remind you of what exists in Under the Skin.
In truth, Under the Skin frequently left me bored, mind wandering. I exited the theater with no clear idea of what I had seen or what had been conveyed. Scarlett Johansson follows up her role in Her with another inhuman performance that left me happy to enjoy her presence, but hesitant to call what I experienced acting.
Under the Skin isn't for everyone, but that's the thing about art. How it will affect you depends on what lies inside.