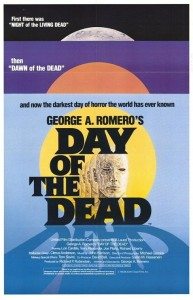 George A. Romero has been known to call his third zombie movie, Day of The Dead ('85), his favorite, which presumably has much to do with his experience making it, because after revisiting Day of The Dead for the first time since somewhere deep in the '80s, I am here to report that it's hardly any fun at all to watch.
Night of The Living Dead ('68) and Dawn of The Dead ('78), in which Romero invented the modern flesh-eating zombie, are nothing but fun. And horrifying and goofy and ripe with social commentary. I've watched those two over and over again through the years. Day of The Dead I forgot about. I guess the zombie-loving kid I once was liked a dash of panache with his gore, bless his tiny little heart, and gave up on it. I should have trusted the kid.
One thing Day of The Dead has going for it is Romero's awesome zombies, which still look better than anything made today. His zombies are in one sense cheaper and sillier than current zombies—their skin is painted a greyish-blue, and they stagger around hilariously like a bunch of unpaid extras (which they are)— but in another way they're far scarier and goopier. We have gore effects genius Tom Savini to thank for this. He's got a weird knack for stretchy skin, goopy twisting entrails, and gunshot wounds. His zombie effects remain unsurpassed. I think this is due to love. That and some sort of personal psychic damage the trauma of which he works out through his special effects. His creativity is a wonder to behold, from the first zombie we see, whose rotten tongue flops out of his missing lower face, to the top half of a head, severed with a well-placed shovel, whose eyes track the fleeing heros as they make their final escape.
Savini has a sense of humor, is what it comes down to. I have to imagine him laughing himself silly at his most gruesome effects. Like another severed head, that of a fresh kill, hooked up and kept alive by a mad doctor's machines, kind of moaning and rolling its eyes. Poor fella.
Then there's Bub, the smartest, kindest zombie of them all, played with expressive genius by stage actor Sherman Howard in what is surely the single greatest zombie performance ever put on film. The scenes with Bub give the movie a spark of life, and a spark of humor, otherwise missing.
Which is the worst part of Day of The Dead, its lack of humor. For its first half hour, nobody does anything but yell at each other. It's depressing, and not in a meaningful, thematic way. It's monotonous and meaningless. The characters in Day of The Dead are one-dimensional and dull, with the sole exception of Bub the zombie. If that's supposed to be thematic—the zombie is the most human character—it's not well-supported. It feels like an accident of acting ability.
The setting doesn't help. Aside from the opening and closing scenes, the movie takes place in an underground bunker with twelve characters, most of them army guys who have but a couple of lines before dying. Another two are such bizarre caricatures of human beings I didn't know what to think. Finally there's Captain Rhodes (Joseph Pilato), whom me meet having just risen to power after the death of the prior captain. He's enraged. Always. So tightly wound you think his head might pop off, even without a zombie tugging at it.
Sarah (Lori Cardille) is the ostensible hero. She's a very serious doctor. We're told she's studying why the dead are walking and trying to find a cure, but all she does is yell at Rhodes and gently mock the other doctor, the mad doctor, Dr. Logan, AKA Frankenstein (Richard Liberty, giving the only other plausible performance aside from Bub). Logan's plan is to tame the zombies, to housetrain them, essentially, to eliminate their desire to eat people. His star pupil is Bub.
The other two mildly important characters are John (Terry Alexander) and Bill (Jarlath Conroy), the philosophizing, Jamaican helicopter pilot and the charmingly alcoholic radio operater, respectively. They're of the opinion that life would be a whole lot nicer chilling on a deserted island and making babies with Sarah (though is there a subtle suggestion that these two guys are a gay couple? I couldn't tell if I was only imagining it or if it was on purpose). Why they haven't taken the copter and done just this is never explained.
We join the movie, as I was saying, mid-argument. Everyone's angry. The army guys want to flee, but where to go? Logan and Sarah want to keep experimenting, but to what end? So we get a half hour of yelling, so badly written and acted I almost turned the damn thing off, followed by a few lengthy conversations about zombie taming and the benefits of living one's life happily rather than underground with a group of unhinged army fuckwits, and then, finally, at least 45 minutes in, we're allowed some zombie-munching action.
It's strange structure for a movie. Maybe because, due to his budget being cut in half prior to filming, Romero had to trim his script extensively. There's no real story, no real theme, no real characters. It's everyone angry followed by everyone running and shooting, thankfully broken up by a few wonderful scenes with Bub, who appears to have once been a military man himself. He salutes Captain Rhodes. Rhodes refuses to return the salute. Bad move, Rhodes.
The funniest scene in the movie is when at the end Rhodes runs down a hallway to find Bub picking up a gun from a fallen soldier. Uh oh. As if zombies weren't bad enough. This one's got a gun! Run for the hills!
A final notable character is Pvt. Miguel (Anthony Dileo, Jr.), who's introduced on the edge of cracking up. He's Sarah's lover, though we never see them do anything but argue. After a zombie bites him, and after Sarah hacks off his arm with a machete to stop the virus spreading, he sneaks up to the surface and lets all the zombies invade the compound. Nice going, Miguel. Had to take everyone with you, huh? Classy.
It's no mystery who's going to survive this movie. Sarah, John, and Bill fly off to their island, and we leave them chilling on the beach. Not exactly a happy ending, not exactly a sad one. Not caring about these characters in the least, it's hard to know what to feel. Relief that it's over, mostly.
Romero's first two zombie movies work because they have lead characters you care about. Even if, thematically, his point is that the humans and zombies are indistinguishable, his protagonists feel like real people. In Day of The Dead, the people are one-dimensional. A few are one-dimensionally nice, the rest one-dimensionally awful. You can't effectively damn humanity if your movie is lacking realistic humans. All you can do is tell Tom Savini to tear them apart in ever more fantastic ways. Which is something, at least.